By James Moreland
Great Falls, VA
May 15, 2011
For Washington Running Report
Like Sleepy Hollow, the Great Falls section along Georgetown Pike is a pretty well kept secret. Not that many races get held there. The ones that do have names like Difficult Run, named after one of the many parks along the roadside. You really do [button-red url="http://www.joecassellafoundation.org/about-us.php" target="_self" position="left"] More About Joe [/button-red]have to slow down to transverse this section of town with its winding turns and steep hills but the view is great.
Last year in the inaugural year the skies opened up a drenched the field. Everybody proclaimed the course a challenge. "So you are going to Great Falls. Expect a really hilly course."  We did and it wasn't. Great Falls Village went all out. The police cordoned off all the roads. The rumored shortage of parking was just that – rumor. One veteran runner was told to prepare for a tough finish and ran too timidly in the first half only to learn that there were virtually no hills on the course.
The entire course was lined with more cones than you could shake a stick at. No chance of getting lost.
The scores of kids returning from the mile fun run were all laughter and smiles, probably because they knew what the 5K racers would find out soon enough, the course was actually fast. A pack of three flew away recklessly up the opening rise. The first time anybody knew something was up was about a half mile into the race when we heard a couple of squeals as two young runners went down. Then turning the corner we discovered the course was going cross-country. The country already soaked from last night's rain was a steep down hill in the mud. That only lasted for fifty meters and after another hundred meters of flat on the grass runners were on the road again. Just before the 2K sign runners returned along the path, making the course technically a cross country race.
Cresting the hill there was a chance to see runners taking on the down hill, which was distinctly tougher than the uphill. The rest of the way the race tilted up and down a tad but barely past flat with the steepest down hill section the final tenth of a mile.
As late as two miles the pack was still three with Birhanu Feysa, 29, of Silver Spring, MD leading the way. The other two were straining some and third place Seife Geletu, 29, of Washington, DC (left) fell off the pace to finish in 16:22. That was still well ahead of Edi Turco's event record from last year at 16:46. Turco, 38, a fine submaster, could not stay with the lead pack. Today he did well to hold off Vinnie Derocco 17:25 to 17:35. Derocco came in from San Diego to take a shot at the 30-39 age group medal. Ryan Foster, 25, was runner-up and earned $100 for a nifty 15:51. Feysa stayed golden to set the new standard with 15:47 and take home $200.
Before the race, runners noted that there were a lot of fast women runners. Fast is the technical term for runners that spend lots of times running warm-ups in front of the starting line. Last year champion Mijiko Phelps of Reston, VA(below). She won in a runaway 19:59, ahead of Gina Cassella's 21:30. This year it was evident early that she was running for second place. At forty, her time of 20:20 was impressive. Keneni Orgesa, at 39, was one of only two runners in the top eight younger than 40. She pulled away easily winning it all in 19:18.  Fourth place Anita Freres, 46, was third master in 21:49. That was well off her normal pace. Her husband noted that she had finished fourth yesterday at the We've Got Your Back 5K in 21:05.  She started slower than normal, possibly a victim of hilly hearsay heresy.
Perhaps the biggest story of the women's race was 56-year-old Heather Sanders. From McLean she must have known the course. She ran a very nice 23:34 for the top grandmaster spot. She had the second best age graded time behind Orgesa for the women and edged out all of the men from Turco on back.
Ted Baca, 65, is back after taking some time off from racing. He definitely started too conservative, thinking hills, but still had a very nice 23:44.
After the race there were so many pastries, muffins, fruit, and beverages (hot and cold) to choose from. With four massage tables and music playing in the lovely courtyard it was so nice the rain held off to allow runners to linger. At the finish line of the race, friends and family of Joe Cassella lined up to congratulate runners with high fives as they crossed the ChronoTrack mats.
Awards
Overall Male 				

Place	Name	City	Age	Overall	Chip	Gun	Pace
1	Birhamu Feysa	Silver Spring, MD	29	15:47	15:47 5:05
2	Ryan Foster	Washington, DC	25	2	15:50	15:51 5:07
3	Seife Geletu	Washington, DC	29	3	16:22	16:22 5:17

Male 14 & Under						
1	Daniel Hulett	Great Falls, VA	12	35	23:02	23:10 7:28
Male 15 to 19						
1	Benjamin ShaperoGreat Falls, VA	17	523	22:08	22:08 7:08
Male 20 to 29						
1	Chris Hamel	Methuen  MA	27	6	18:07	18:07 5:51
Male 30 to 39						
1	Edi Turco	Arlington, VA	38	4	17:25	17:25 5:37
Male 40 to 49						
1	Stephen Crago	Vienna, VA	42	10	19:19	19:19 6:14
Male 50 to 59						
1	Michael Sundel	Falls Church, VA	50	22:34	22:39 7:18
Male 60 to 69						
1	Ted Baca	Arlington, VA	65	43	23:41	23:44 7:39
Male 70 & Over						
1	Bill Pepelko	Great Falls, VA	76	230	34:51	35:13 11:22

Overall Female 				

Place	Name	City	Age	Overall	Chip	Gun	Pace
1	Keneni Orgesa	Washington, DC	39	9	19:18	19:18 6:14
2	Mijiko Phelps	Reston, VA	40	14	20:20	20:21 6:34
3	Afsaneh Azar	Vienna, VA	41	18	20:58	20:59 6:46

Female 14 & Under						
1	Adriana Rosas	Silver Spring, MD	11	23:34	23:34 7:36
Female 15 to 19						
1	Kathryn West	Great Falls, VA	17	42	23:40	23:44 7:39
Female 20 to 29						
1	Katie Muething	Arlington, VA	25	25	22:11	22:13 7:10
Female 30 to 39						
1	Carolyn Reiderman	Chantilly, VA	30	23:52	24:01 7:45
Female 40 to 49						
1	Anita Freres	Rockville, MD	46	22	21:49	21:52 7:03
Female 50 to 59						
1	Heather Sanders	Mc Lean, VA	56	38	23:32	23:34 7:36
Female 60 to 69						
1	Diane Goyette	Reston, VA	65	204	32:59	33:23 10:46
Female 70 and over						
1	Marjorie Crago	Gainesville,  FL	70	35:07	35:51 11:34
Recent Stories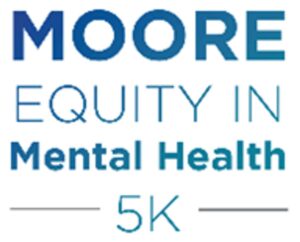 About APA's MOORE Equity in Mental Health 5k
The APA's Division of Diversity and Health Equity invites you to join us in combating mental health inequities facing young people of color and in honoring mental health advocate Bebe Moore Campbell.