By James Moreland
Silver Spring, MD
October 23, 2011
For the Washington Running Report
The police cadets had a large squad fast pacing the course.
Last year the first section of the new Inter County Connector (MD200) opened on the west end in Rockville. More than 500 hundred runners took the opportunity for a toll free jaunt. This year no one was going for a PR because last year's course is now open for business. This year's course was the course moved east to Silver Spring. Participants entered onto the nearly finished section at New Hampshire and drove halfway along towards the next exit at Route 29. Next year look for the race in a new spot for section three.
The event started on a perfect autumn morning with clear skies that just peeked over forty degrees at 9:00 a.m. when the scores of cyclists began. Their journey was a ten mile out and back and was not timed. The 5K got started about 25 minutes later, after a few speeches and of course the National Anthem. Runners were told to stay off the shoulders which were not yet finished. One of the runners smiled and said, "I like the thought of running in the fast lane."
One of the speakers was Mark Worley with the Special Olympics. The race raised nearly $20, 000 for that cause. Worley of Columbia, MD had a very nice race finishing third overall in 20:21. That was one step ahead of the top woman Robin Stanley.
The race did not draw any of the region's elite racers. Most of the runners were drawn by the chance to race on the deserted highway. There were quite a large amount of families racing together. One of the fastest was led by 11-year-old Samuel Pasti who was in the top ten overall until the final quarter mile, finishing in an excellent 22:52. The young lad had a huge edge racing back up the hill from the turnaround. However, the final half mile is all downhill and that favored those with longer legs.
Race winner Craig Steigerwalt bolted out early. Actually, quite a few of the younger runners did but the first 1000 meters are all uphill and many bit off more than they could chew. As the top runners finally headed downhill at the mile Steigerwalt slowed and turned around more than once, seemingly surprised that he had no competition. He cruised home in 19:25. Runner-up Danny Weiss was the top teen in 20:06 but he was sure to be hearing footsteps urging him faster.
There were no awards for the masters runners but the second and third women were in there mid forties. Jennifer Weeks, 46, just missed a Ranked Runner qualifying time with a solid 23:28. Leisha Self, 49, was next in 24:12. Each division has a qualifying time to become a Ranked Runner. Bob Chase, 66, was the only man with such a time, finishing as the second fastest master in a very credible 22:47.  Jeanette Novak, 67, added a 35:52 to make her second qualifier for the fall season, making her a Ranked Runneras well.
After the race and refreshments were finished, it was time to exit. We were directed east to Route 29. Too bad the southbound lanes were still closed.
Award Winners
Pl    Name               Bib  City           Age   G   Gun     Chip    Pace
 1    Robin Stanley      166  Derwood  MD     30   F   20:22   20:22  6:34/M
 2    Jennifer Weeks     139  Baltimore  MD   46   F   23:25   23:28  7:34/M
 3    Leisha Self        283  Potomac  MD     49   F   24:12   24:12  7:48/M

 1    Craig Steigerwalt   68  Elkridge  MD    27   M   19:25   19:27  6:16/M
 2    Danny Weiss        282  Potomac  MD     17   M   20:06   20:06  6:29/M
 3    Mark Worley         75  Columbia  MD    25   M   20:21   20:21  6:34/M
Recent Stories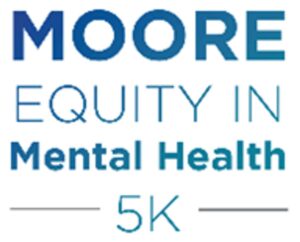 About APA's MOORE Equity in Mental Health 5k
The APA's Division of Diversity and Health Equity invites you to join us in combating mental health inequities facing young people of color and in honoring mental health advocate Bebe Moore Campbell.