Finish lines, pacing and water stops.
Colored powder, costumes and glo sticks.
How could going from point A to point B could be so different?
In the end it's simple: racing versus participating. And sometimes one can lead to the other.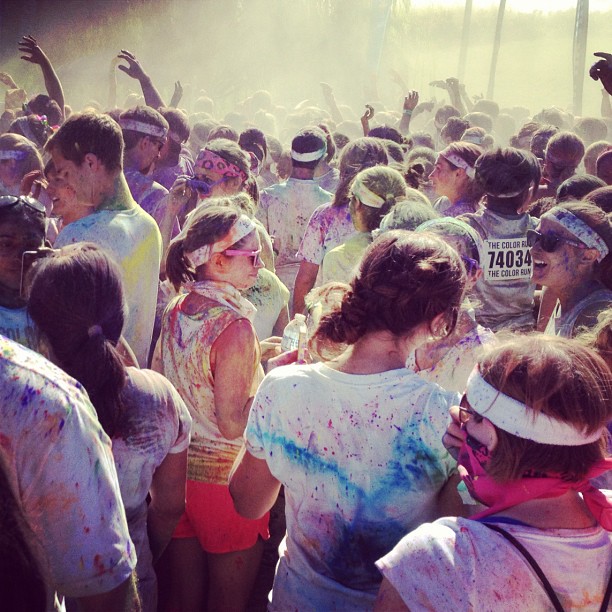 In the mud. Covered in paint. Glowing in the dark. Chased by zombies. Under barbed wire. Plop down $40 and you're in. Everyone goes home happy — the organizers make a bundle, the runners have fun and a bib to go with the story. Some events call themselves 5ks, but they're nothing like what the typical weekend racer has seen. There are no clocks, no age group prizes, no quibbles about the course being short. But the events get people moving — at least for a while.
Diva Dash event manager Sharon Cutler said she's seen participants use her race, held in Frederick, Md., as a "gateway drug" to the sport. With obstacles, costumes and mud pits, the women's-only race has a clock, but the race is more about personal challenge than head-to-head competition.
"Not everyone out there is inclined to get PRs in every race they run," she said, but added many women see their potential as runners and transition to more traditional races.
The same goes for the Color Run, a series of more than 170 events worldwide, in which participants are pelted with paint powder over the course of five kilometers.
"This race is not focused on competition because we try to promote camaraderie with your fellow runners and create a fun, happy atmosphere," said Jessica Nixon, the series' national spokeswoman.
Large parking lots, like Washington's RFK Stadium, seems to serve as a local nexus with the traditional running world. It's a short distance from the Anacostia Riverwalk Trail, where every day joggers and runners log their miles, just for the sake of running, and in the middle of the summer dozens of elite Ethiopian runners vied for a big cash prize in a competitive 5k.
The Run or Dye 5k, similar to the Color Run, was held at RFK. Months later, revelers made their way through the Dance Party 5k course around the stadium's parking lots. Some came to run, but most came to dance. Though organizers advertised it for both fitness and the afterparty, the aroma of booze and tobacco from participants waiting to groove meant they weren't fretting over positive splits.
But some indeed came for the run. Bianca Johnson and Jennifer Anyaegbunam traveled from Charlottesville. Bianca signed up after losing what she described as "a lot of weight," and ended up finishing her first 5k.
Her friend likes to punctuate fitness with fun and festive events.
"Part of the fun is the preparation – buying costumes and dressing up," Anyaegbunam said.
Though they appreciated that the race was untimed, keeping it fun, they kept track of their own times. Anyaegbunam was proud to report that she finished the run without stopping.
"People who take themselves too seriously here stand out," said Washington resident Isaiah Williams, who came to the event with three friends who ran collegiately. Williams did not.
"I'm a competitive person, but I didn't want to do a regular race," he said. "The fanfare and spirit attracted me to this one."
Jacqueline Fox of Alexandria got her start at the Run or Dye 5k. She considered herself unathletic while she was growing up.
"I would do anything to avoid sports — including hiding from gym class in the nurse's office," she said. "As I learned more about healthy nutrition, I knew that incorporating healthy physical activity into my life was important."
To prepare for the event, Fox began running 3.1 miles a day at her local gym and loved the experience. Since then, she has completed two additional novelty races – the Color Me Rad 5k and the Electric Run – and a traditional race (the Crystal City Twilighter 5k). She plans to continue with both kinds of races.
"I have fallen in love with the supportive atmosphere at races," she said. "There are always plenty of spectators and other runners cheering each other on and the energy just can't be beat. Most of my races have been untimed, but I've been able to finish each race strong and be proud of the effort I put in."
Arlington resident Shannon Burke has also embraced novelty races–though she is not exactly a novice to the sport. After participating in high school track, she ran only sporadically until she decided to run 13 races in 2013. When she planned her race schedule, Burke decided that these novelty races would count. She has done the Hero Rush, Color Run, Run or Dye, Louzilu, Ridiculous Obstacle Course and Electric Race. She has also participated in the Warrior Dash and the Primal Mud Run. She mixes up novelty runs with competitive races, appreciating both for different reasons.
"It really just depends on the race," she said. "I think the novelty races could give you a more fun time during the running. But the regular races often have better SWAG and can provide you with a better time that can build your running self-esteem."
Mindy Mucci of Alexandria also likes to combine novelty runs with more competitive longer traditional races. She has done a Tough Mudder, Spartan Race, Glo Run, ROC Challenge, and just completed her longest race to date, the Woodrow Wilson Bridge Half Marathon.
"I was a decently-fast kid growing up, but I think it's because I equated speed with being finished more quickly. I've carried that philosophy with me to my current running days," she said.
Mucci likes both novelty and traditional races, saying "I think they both serve their purposes, which for me are: giving myself incentive to keep in shape and exercise leading up to the race and to have a good time (especially when it's over)."
Color Run spokeswoman Nixon believes the lack of a clock prevents races like hers from being intimidating.
"People from all different athletic backgrounds can participate in this event," she said. "The Color Run is an attainable goal that novice runners can work to achieve and hopefully will act as a catalyst to inspire continual healthy living."
She estimates that about 50 percent of Color Run participants have never run a 5k before. About 70 percent of the participants are women, mostly between 18 and 35. Since most of those runners are novices, Nixon says, "We hope that our events can be the jumping off point that some people might need to know that they can accomplish their fitness goals. A 5k fun run may not seem like a daunting task to a seasoned runner, but many of our participants train seriously before this event and make huge changes in their lives in order to be able to complete it."
The participation in novelty races is generally skewed toward women. Organizers from different races attribute this to the abundance of paint, tutus, costumes, feather boas and other accoutrements, but no one knows for sure. Mud runs and warrior dashes, though, tend to make up for the relative glamour of novelty races by their excess of dirt.
Diva Dash's gender restriction help draw participants who might not otherwise feel comfortable participating in a coed race.
"By taking men out of the equation, we remove a whole lot of the intimidation factor," Cutler said. "Our event is much kinder and gentler – we eliminate some of the aggressiveness, and our event is all about support and encouragement."
She believes the costumes and personalized race bibs attract women.
And the Dance Party 5k? That was open to anyone who wanted to have a good time. If they kept running, well, that's fantastic.
"I tried this last year and actually liked running," said Samantha Marquart of Washington. She has since done a handful of 5k races and the Nike Women's Half Marathon. "I'm going to do the half again with my sister and our four cousins to celebrate my sister beating cancer."
She brought along a friend who doesn't run and doesn't plan to after the party, but that was just fine with Samantha. She knows what the event has meant to her.
"I hated running, but I did this because it seemed fun and stupid. I like being ridiculous," she said. "Now I'm going to do another half marathon. With grad school and work, running has become a big part of my life and helps keep me sane. I wouldn't have started without this run."
Recent Stories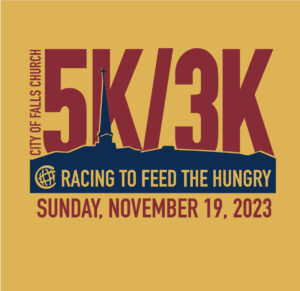 The out and back Falls Church City 5K/3K course is mostly flat on the W&OD Trail starting and finishing at 103 Columbia Street. Overall male and female winners earn free shoes and medals are awarded to all categories. Great family