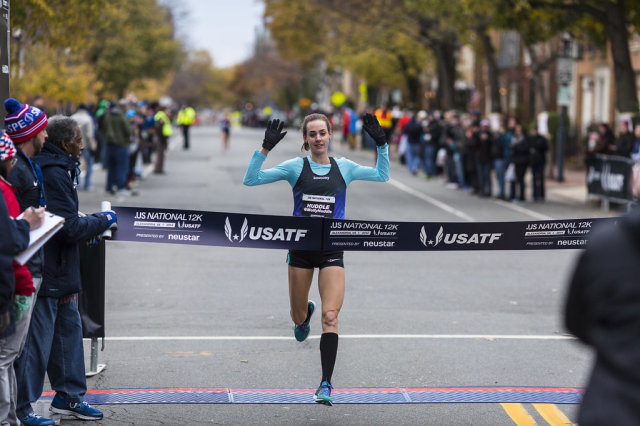 Molly Huddle won her record fourth U.S. title on the roads this year at the .US National 12k Sunday in Alexandria, running 38:08 to repeat as champion at that distance and of the U.S.A. Running Circuit. She won the inaugural 12k event last year in a world's best 37:50.
[button-red url=" http://www.national12k.us/Results.aspx" target="_self" position="left"] Results [/button-red]Her move in the third mile this year put distance on pursuers who included Emily Sisson (38:21), Kim Conley (38:42) and Sara Hall (38:48), all of whom were in striking distance after the race strung out from Huddle's early pace. By 8k (25:31), she had a 13 second lead over the chase pack, which closed to a 10-second lead over Sisson at 10k (31:57) before she tacked three additional seconds onto her margin in the last 2k.
"I wanted to take it out between 5:00 and 5:10 for the first mile (she hit 5:10) and just see how I felt because I had been a little tired coming into it," Huddle, 30, said of the cumulative fatigue from the season, which saw her collect national road racing titles at seven miles, 20k and 5k. "I thought I'd just keep it up and see what happened. I just didn't let up."
Huddle plans to cut back on road racing early in the year to focus on 10k for the world track and field championships. She set the American Record in the 5k this summer at 14:42.64.
Around toward the end of the third mile, Huddle opened up a one-second gap that strung out Hall, Conley, Sisson and Emily Infeld (sixth, in 39:13). By 5k , Infeld, a Georgetown alumna, had dropped back from the lead group.
"I didn't really know how it was going until halfway, when I knew people had fallen off, but most of the race I think I just had about a 10-second lead, so if I let up at all, that would go away quickly if I slowed at all," Huddle said.
Fellow Providence resident and Ray Treacy athlete Sisson, 23, is in her first season of road racing while in Providence College's MBA program, and made her debut at September's CVS 5k, the national championship, which Huddle won, and the Tufts 10k in Boston in October.
She trailed Huddle by 10 seconds at 10k (32:07) but carried a 16-second lead over Conley and Hall. Huddle felt that Sisson was capable of this kind of race after her recent workouts, but Sisson herself was trying to avoid any lofty goals early in her road racing career.
"During my first two races, I had a lot of fun and there wasn't any pressure, but after two you start to look at a pattern and since I ran well, this race got me a little nervous," she said."People told me I'd enjoy road racing, and I really do. I love the atmosphere, the feel of the road, the courses."
After winding through the streets of Old Town Alexandria last year, the 12k course followed the George Washington Parkway south before turning back. That cut down on the turns around which runners could make moves and surprise pursuers, but also gave runners a look at the lead they held.
"I liked the turns last year," Huddle said. "(This year) you felt like you were going straight for a very long time and I went from mile marker to mile marker. I think the spectators like the out-and-back setup. I got to see what was happening in the men's race."
Third place finisher Conley, 28, saw the new course as a challenge. She ran 39:29 last year for fourth place.
"I usually divide a race like this into segments," she said. "With fewer turns, there were fewer segments. It would have been easier mentally to have shorter straight stretches, but I guess having more turns is harder on your body."
Conley, of West Sacramento, Calif. was hoping for a slower pace, but held on when Huddle took control from the beginning and battled Hall, 31, of Flagstaff, down the finishing stretch on Union Street. She was a 2012 U.S. Olympian in the 5k, but is adapting to longer distances as she shoots for her half marathon debut in Houston this January.
"There's a little more time to think in longer races," she said. "I'm working on being better at concentrating, but there's a lot of explore(mentally during) these longer races."
Infeld, 24, of Portland, Ore., watched several Hoya teammates and alumnae race last year while she waited for a diagnosis for an injured back that turned out to be a sacral stress fracture that took her out for six months. She had finished second to Huddle twice in fall 2013, at 5k and 10k.
"It was a long recovery, but I've had good training since then," she said. "Getting back into racing shape takes longer than I thought it would. I felt like I gave it all I had out there, I just don't have it all back yet."
Eugene, Ore. runner Alexi Pappas, 24, could sympathize. She is beginning her competitive season, like Huddle focused on the 10k in 2015, and saw the confluence of runners' seasons play out on the GW Parkway.
"This is my first race (this season), and it's not to say I didn't prepare, but this was a challenging step for me," she said. "I felt like I was brave, I didn't give up, but I learned a lot, like listening to my own body and running my own race was important."
She wound up eighth in 39:49, a fair result from a converted steeplechaser. The race field got her motivated for her nascent season.
"With a 5k race, you'll have some certain runners, and with 15k you'll have a different crowd, but the 12k really draws this amazing field that blends those groups," she said. "There were a lot of women in this race that I really admire, so it was an experience I really appreciated. This is the kind of thing that's getting me fired up for a 10k on the track."
Frances Koons, 28, of Laurel, Md. was the only local elite runner in the women's race and she, like Pappas, is getting into the swing of things. She finished 15th in 40:36. In April, she finished third in the U.S. 10 Mile Championships, held in conjunction with the Cherry Blossom Ten Miler.
She recently moved to Maryland to teach and coach at the Sandy Springs Friends School in Silver Spring.
"I just started in September, so things have been a little crazy, but I want to run the Club National Cross Country Championships, so I figured this was local and had fantastic competition, so why not," she said. "I just wanted to not embarrass myself."
Though her school lacks a track, she's training on the school's 140 acres of grassy fields and soft trails and on a roughly one-mile paved path in a nearby neighborhood.
"I'm getting faster when I run it, whatever distance it is," she said.
In the masters championship, Perry Shoemaker of Vienna, Va. triumphed in 42:54 comfortably over Chapel Hill's Alexandra Bigelow (46:24) and a runner from Freeport, Maine named Joan Samuelson.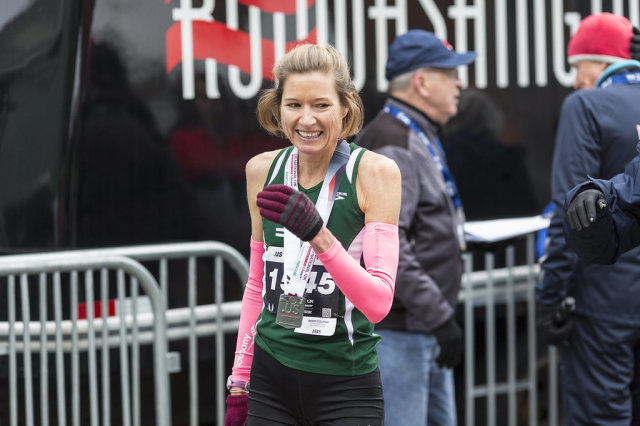 Recent Stories

Both 5K and 1 mile courses are USATF certified. The 5K course has some moderate hills. The 1 mile course is flat making this a perfect PR course. We are really looking to get a broader participation base.
Funds go