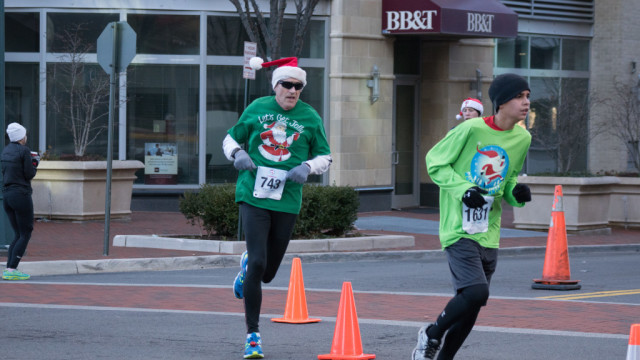 Some children may still have been nestled all snug in their beds, but others dashed away Sunday morning at the Run with Santa 5k in Reston.
[button-red url=" http://s3.amazonaws.com/media.racebx.com/transfer/gen/5/4/8/54846beb-c354-43c3-b0ee-0c9fc0a86526/2014-Santa-Results.htm" target="_self" position="left"] Results [/button-red]At what many called a great family run, kids and adults alike donned Santa hats, ugly sweaters and jingle bells to be greeted by Santa Claus at the finish line on a brisk but sunny winter morning.
Runners wear base layers, hats and gloves to keep warm during winter runs, but Zoo Flynn, 43, had a more unconventional way to stay toasty: a tree skirt wrapped around her waist.
"It definitely keeps you warm, we didn't know that last year," said Flynn, who also wore a tree skirt to the same race last year in the show. "This year we thought we're definitely doing the tree skirts again."
Flynn said she is not an avid runner, but loves the run environment at the annual race.
"It's really great seeing all the kids who are out here actually running it. It's kind of embarrassing too because they finish before we do," she said.
Some of those kids were Ethan Sanderson's elf helpers: sons Evan, 11; Eric, 8; and Emmett, 5. Sanderson, a Vienna resident who dressed as Santa, decided to bring his three sons to the race in costume as a surprise to his wife, who was away on a weekend trip.
"My wife went out to Landsdowne — (on) one of those overnight Groupon deals — so we thought we'd send her Facebook pictures to surprise her," he said.
Sanderson's Santa costume was pretty lifelike, including a white beard and a fake gut that did more than just shake like a bowl full of jelly.
"I had to keep the arms up higher, it interrupted the normal gait. I kept having wardrobe malfunctions where the gut kept coming out," he said.
His oldest son did the 5k with him – saying that he had to keep dragging his dad along – and the two youngest did the kid's fun run following the race.
While some were out at the race in costume or just to have a good time and get in the holiday spirit, others ran the race competitively or were using it as a tune up for future competitions.
Ryan Hagen, of Sterling, won the race in 15:10, matching his winning time from the Reston Turkey Trot on the same course. Hagen said his plan was to go out aggressively and maintain that throughout the race.
"I kind of took it out hard and just tried to maintain that. I went out like I thought, then the third mile was straight into a pretty heavy headwind so that slowed us down a bit," he said.
Hagen, who is the manager of the Potomac River Running store in Reston, said he recognized another local runner at the starting line who he'd been competitive with at a turkey trot and said he wanted to try to outrun him. While the two stuck together for about the first mile, Hagen took the lead the finished the final two miles alone.
"I've been doing a lot of training on my own so I've been kind of used to trying to push myself out by himself, but it is always nice to have someone there next to you," he said.
Susanna Sullivan, who runs with Capital Area Runners, finished seventh overall and was the top female finisher in 16:57. After recovering from a stress fracture this fall, Sullivan said she was just hoping to have a good race.
"It was a fairly controlled effort, but I was happy with the time, happy to get under 17," she said. "But we just wanted it to be a hard but controlled effort to get ready for next week."
Both Hagen and Sullivan are competing in the USA Track and Field Club Cross Country National Championship next weekend and used Sunday's race as a tune up.
The lead pack of men got out ahead pretty quickly, so Sullivan settled in with the chase pack on the hilly course.
"There are some decent hills in this one so I tried to be conservative early since the first mile is net uphill," she said. "It was a challenging last mile, the last half mile is mostly uphill, so I was trying to just hang on. I didn't know what was going on at all behind me, I really tried to focus on running my own race."
Maureen Ball of Herndon has run the race before and likes knowing the so course well, saying that it gives her a good way to gauge how she's doing. Ball also said she loved the race's great swag – including a bright green tech t-shirt with Santa on it and a pin with the race's logo.
"It's all about the cute t-shirt," she said.
Ball liked the variety of costumes at the race, where most participants were in some sort of holiday gear.
"You've got antlers, you've got Santas, you've got Mrs. Santas, you've got men in tutus," Ball said. "Where else can you see that?"
While there was a sea of red and Santas around the finish line, some costumes were a little more unique. Natalie Metz, 14 of Herndon, stood out in neon green furry leg warmers and full face paint, doing impressions of the main character of her favorite movie: Jim Carrey's "How the Grinch Stole Christmas.
"Lots of random people came up to us," Metz said. "Some one say that's the girl who stole Christmas."
She was joined by little sister Nicole Metz dressed as Cindy Lou Who and friend Sophie Barkhordari dressed as the Grinch's pet dog, Max.
While the costumes may have been a hit among other runners, they proved a little difficult to run in. Metz said her leg warmers kept falling down during the race and Barkhordari said her dog ears almost blew off in the wind.
Still, it was worth it, as they placed second in the costume competition.
"Now we're going to have to beat this next year," Barkhordari said.
The top costume prize went to four women dressed as the "Baaa Humbug" sheep.
"Pinterest played a minor role in it," said Heather Helmig of Burke. "We wanted to be something different."
The women said they spent about six hours brainstorming the costume idea.
"We started with Bah Humbugs, we were going to be bugs. Then we morphed into sheep and went baaaaa," said Kathy Jones. "It was a whole brainstorming process."
The women made the costumes themselves. Each wore sheep ears and a t-shirt that said "Baaa Humbug" covered in cotton balls and rhinestones around the wrist.
For three of the women, it was their first ever 5k. The women trained with the Couch to 5k training program and finished in about 31 minutes.
Recent Stories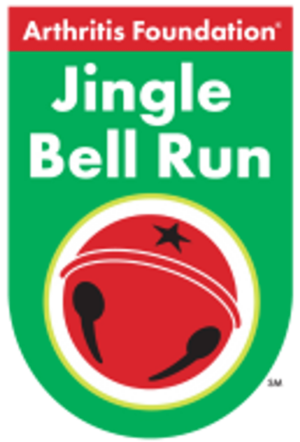 Be part of the original festive race for charity and signature Arthritis Foundation holiday event! Wear your favorite holiday attire and together, we'll jingle all the way to a cure! Register as an individual or bring a team of friends,