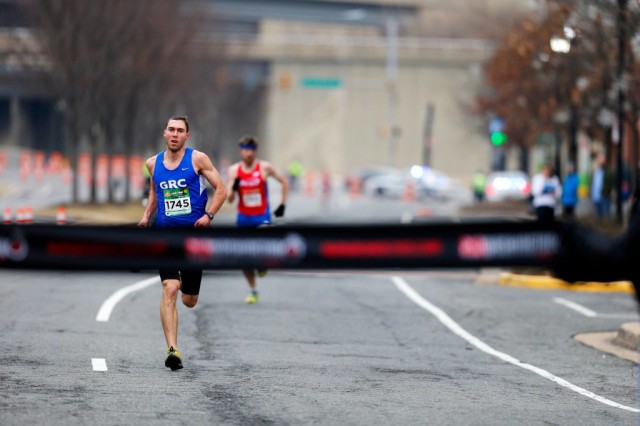 Georgetown Running Club runner Kevin McNab's pre-race ritual is quite unorthodox, to say the least. Some runners prefer to get a quick warmup the morning of the race, while others load up on carbs and water for sustenance. McNab, however, said he is lucky if he arrives to the race venue more than 10 minutes before start time.
Sunday was no different.
[button-red url=" http://www.zippyraceresults.com/search.php?ID=4647″ target="_self" position="left"] Results [/button-red]"This morning was less hectic than races in the past. Catching the Yellow Line on the weekend is like rolling the dice, in terms of whether you're going to make it somewhere in time," McNab, 28, said. "I made it with like 15 minutes to spare before the race started—which is pretty good for me."
While unorthodox, it works for McNab. He breezed through the finish line in 15:14 to claim a first-place finish in the 2015 Love the Run You're With 5K at Arlington's Pentagon Row.
Pacers/New Balance runner Andrew Brodeur placed second overall, coming in at 15:17.
"It was a great competition between Andrew and me. We started out and it could have been one of those very slow races where everyone just runs as this big group that breaks up with a half a mile left to go. I saw that happening," McNab, who ran collegiately at Texas A&M University, said. "I decided to push the pace a little bit and we strung out through about a mile. It was Andrew and I running shoulder to shoulder pretty much the whole way. We turned around and came back and I hopped on his back for a little while and made a surge. He made a counter surge and laid the hammer down. I made one last big push—I probably lost like 10 years of my knees' life going down that last hill. I value the win more than I value my ability to walk."
McNab and Brodeur last raced against each other in November's Stache Dash 5k where Brodeur edged McNab for first place.
"There were similar circumstances, except that time I ended up winning. We've been going back and forth," Brodeur, 24, said. "Going into that last mile, I was thinking about his strategy. I knew he was going to make a move soon and I was trying to prepare for it. I actually tried to make a move before the downhill to see if I could get rid of him before then, but he held on. When I finally got down that hill, my legs were just beat. They were spinning at that point. I just couldn't keep up with him."
Earlier in 2014, McNab kicked to victory in the Germantown 5 Miler and Freedom Four Mile.
More than 1,400 people participated in the Valentine's Day-themed race that took runners on Arlington's South Joyce Street and Army-Navy Drive, before ending at Pentagon Row, a stone's throw from the Pentagon City Mall.
And as with many holiday-themed races, team participation was strong.
Amy Laskowske and Joanna Russo (24:20) chose Ovaries Before Brovaries — inspired by the NBC sitcom Parks and Recreation— as their team name and finished first among female team runners with a combined time of 20:50. Laskowske also placed first among individual female runners with a time of 17:19.
"This race was fun because of the team aspect. Joanna and I did one of the paring teams and while we didn't run together, we came up with a team name and competed under the same gender. But we won, so that was great," Laskowske, 27, said. "The course was fun. I hadn't run a 5K in a while. I love running, but I really like the team aspect—I like the camaraderie more than the times. Joanna did great. It was nice because I was able to finish and then watch her finish. I cheered her on and she cheered me on since it's an out-and-back course, so we could see each other. We obviously wanted to win, and we did. So we're pretty pumped about our medals."
Champps Americana opened its doors to runners for a post-race party and medal ceremony. And despite it being early morning, the sports bar was filled to near capacity. A deejay with karaoke equipment posted up near the back of the restaurant as runners trickled in throughout the morning. A microphone was available to brave souls who wanted to exercise their vocal cords.
Melissa Reyes (42:16) and Nicole Frisone (42:16) didn't wait for an invitation. The two belted out their version of the Neil Diamond classic "Sweet Caroline," which garnered the approval of those in the restaurant who joined in the chorus from their seats.
"I was not intoxicated at all," Frisone, 29, said with a laugh. "I just wanted to do it. There's no shame in our [race] time and there's no shame in our singing. It was all fun."
The two recently began running together, but met on a rowing team at Georgetown's Thompson Boat Center a while back.
"I took Melissa to a 5k in January, and now she's back for more."
Reyes ran her first competitive race with Frisone in January at the 2015 Walt Disney World Marathon Weekend in Orlando, Fla. And while Sunday's weather wasn't as warm as sunny Central Florida's, Reyes said she still enjoyed the race.
"How could you not have a good time? We sang the whole way, right into the karaoke," Reyes, 42, said. "When we were running we sang a little Bon Jovi and a little Blind Melon. We also sang a little "Shake It Off" by Taylor Swift. We're definitely doing this again."
Recent Stories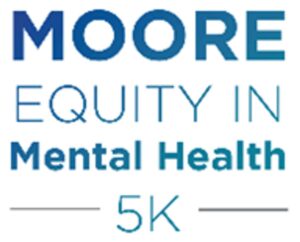 About APA's MOORE Equity in Mental Health 5k
The APA's Division of Diversity and Health Equity invites you to join us in combating mental health inequities facing young people of color and in honoring mental health advocate Bebe Moore Campbell.