Arlington Police released a composite sketch of a suspect involved in the attempted sexual assault of a runner on the W&OD Trail July 31.The victim was attacked from behind as she was running in the Glencarlyn Park area of the trail at approximately 8:45 p.m. The suspect forced her to the ground and attempted to cover her mouth with his hand. The female victim was able to scream out for help, causing the suspect to flee northbound on the trail.The subject is described as a dark skinned Hispanic male between 20-30 years old, approximately 5'6" tall, weighing 140 pounds. At the time of the incident the subject was wearing long baggy grey shorts without a shirt. The victim, working with Fairfax County Police Department sketch artist, was able to provide details for the sketch, at left.If anyone has information on the identity of this individual or details surrounding this incident, please contact Detective K. Bercovicz of the Arlington County Police Department's Special Victim's Unit at 703.228.4235 or at

[email protected]

. To report information anonymously, contact the Arlington County Crime Solvers at 866.411.TIPS (8477).
Local high school rising juniors Kate Murphy (Lake Braddock) and Noah Lyles (T.C. Williams) won events at the Pan American Junior Championships in Edmonton.  Murphy won the 1,500 m (4:21.357) and Lyles won the 200 m (20.27) and finished second in the 100 m (10.18). Other area athletes who finished on the podium include:

Hanna Christen, a Lake Braddock alumna and UNC sophomore, was second in the 3000 m steeplechase (10:31.79)
Caroline Alcorta, a West Springfield alumna and UNC sophomore, was third in 5,000 m (16.48.471).
Chase Weaverling, a Poolesville alumnus and Virginia sophomore, was third in the 10,000 m (30:53.13)
Pat Henner, Georgetown University's director of track and field and cross country, has resigned following the conclusion of investigations into sexual misconduct and hazing and racial bias, both of which exonerated him. Prior to his eight years as director, Henner served as an assistant coach for eight years.
Germantown Pulse reported that a National Capital Region Transportation Board grant will help pay for a shared-use path in Clarksburg.
The US Track and Field and Cross Country Coaches Association have named Anthony Belber (Georgetown Day School boys) and Desmond Dunham (Wilson High School girls) their coaches of the year for D.C.
Georgetown alumna and D.C. resident Rachel Schneider won the 1,500 meters at the North American, Central American and Caribbean Athletics Association Championships in Costa Rica, running 4:14.78.
An engagement ring was found the weekend of Aug. 1-2 on Beach Drive near Meadowbrook Park. Contact [email protected] for more information.
Recent Stories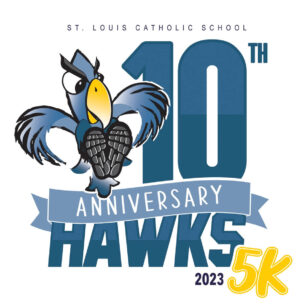 2023 will be the 10 year anniversary of the St. Louis Hawks 5K and Fun Run for Health & Wellness. The USATF certified course runs through the historic Hollin Hills neighborhood in Alexandria, VA.
The Hawks 5K goal, in conjunction