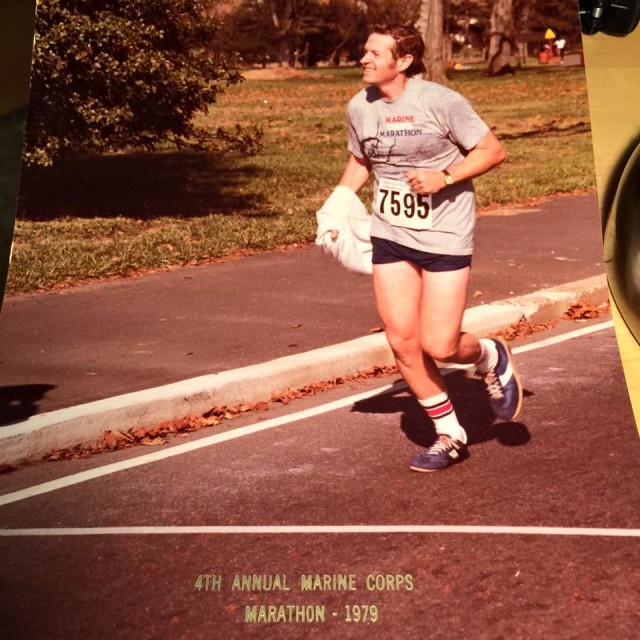 Inside the body of a government worker beat the heart of an entrepreneur.
When James Christopher Farley Jr. had paid off his family's house in Arlington, it just meant he was in a position to mortgage it again when his son, Chris, came to him with a plan to buy Pacers Running Store in Alexandria.
"The bank turned me down, my accountant asked if I was buying 'a piece of the blue sky,' but my dad believed in it," he said. "He took a chance. He's the reason there is a Pacers."
That chance allowed Mr. Farley, as he was known to Pacers employees, to make his family even larger as he worked alongside his wife and four children and helped the business grow beyond Old Town. That large family is mourning him after he passed away Aug. 29 after a battle with lung cancer. He was 72.
[button-red url="http://obits.dignitymemorial.com/dignity-memorial/obituary.aspx?n=James-Farley&lc=1143&pid=175687818&mid=6574366″ target="_self" position="left"] Guestbook and more photos [/button-red]He was raised in Princeton, N.J. — which is now home to a Pacers Running Store — and attended the Hun School and played baseball. He attended Lehigh University, served in the Army in Thailand and drove a taxi in the Washington, D.C. area while studying economics at George Washington University. While at a wedding in North Carolina, he met Adrian Zimmerman, who became his wife of 43 years.
"They were friends of the bride and groom and he fell head-over-heels in love with her," Chris Farley said. "It was a cheesy love story."
They settled in Arlington while Mr. Farley worked at the Government Accountability Office for 25 years and as a Department of Justice contractor for another 10. Well before investing in Pacers, Mr. Farley was a regular on the nascent D.C. area road racing scene, running roughly 10 marathons, finishing two JFK 50 Miles and running about six to eight races a year, "back when there were just about 10 serious races a year around here," Chris Farley said. "It was something he did, got out there and ran, saw some of his friends. He introduced me to the sport."
After Chris turned the tables and convinced his parents to get into the running store business, Mr.Farley took on a variety of roles, bookkeeper chief among them, but he relished the chance to move shoes among the stores as the business grew around the D.C. area. Along with Adrian and Chris, he worked with the rest of his family at times in the stores — sons Brian, now of Ann Arbor, and John, of D.C., and daughter Denise, of Boulder, who serves as RunWashington's advertising sales director.
The connection to the stores did not stop when he came home.
"He'd get a call at home and drop everything to take a pair of shoes from the Clarendon store to Old Town," Chris said. "He'd tell the customer to go get lunch — the shoes would be there when they were finished. It was an hour out of his day but he loved the chance to show the customer how much we cared."
As the business stretched at times from Fairfax to Silver Spring, he braved the mid-day traffic to deliver shoes because it gave him a chance to see all of the stores' employees and because it kept costs down.
"He was a good businessman and a real fiscal conservative," said Kathy Dalby, now CEO of Pacers and previously managing partner of Pacers Events (and RunWashington's publisher), started as a sister company to the running stores. "He ran a tight ship and kept us on track even when we were growing. He'd remind us that a penny saved was a penny earned, until we had to pay taxes."
Linda Kennedy, an Arlington native who now serves as human resources director for Pacers, felt immediately at home with Mr. Farley when she met him, and that continued when they worked together.
"He had a good feel for people, not everyone can do it quite like he did," she said. "He could really see into people, and even the last few weeks, when I went to see him, he'd ask how the employees where. I was more focused on how he was doing, but he had to know."
Those employees ranged in age from high school students to one of Mr. Farley's peers in his 70s, who called him "Lefty," a remnant of their baseball playing days.
The Nationals' move to D.C. was a boon for Mr. Farley, who relished trips to the ballpark with family and friends. Sundays in the fall were focused on football, and Kennedy accompanied the Farleys to the most recent playoff game at FedEx Field in 2013.
"We had such a blast," she said. "He really loved our teams, even though they have it tough."
He also loved trips to Myrtle Beach with a dozen or so friends, where they played 36 holes of golf a day, played poker late into the night and, as Chris said, "were a bunch of 50-and-60-somethings acting like they were in their 20s."
He tailored his hobbies to those of his children, doting on Brian (and wife Tara's) two daughters, traveling to Boulder for Denise's hikes and triathlons and watching John's dance performances with the D.C. Front Runners, including at the Pacers 14th Street grand opening in late July. At that grand opening, he remarked about how much he liked the several skylights in the new store, crediting them with bringing healthy light onto the sales floor. And, he got to watch the recording of Chris' podcast, Pace the Nation, to which he listened regularly.
"He was passionate about helping people get in shape and having healthy lifestyles," Chris said.
And he walked the walk, too, literally. While suffering from kidney failure in the mid-2000s, he would schedule his dialysis treatments as early as possible so he could be out at the Washington-Lee High School track, walking laps for a workout before going to work.
Chris said that his father made it clear to his mother that he wanted a big family. He had that in his four children, and it grew to give him one that stretched throughout the D.C. area.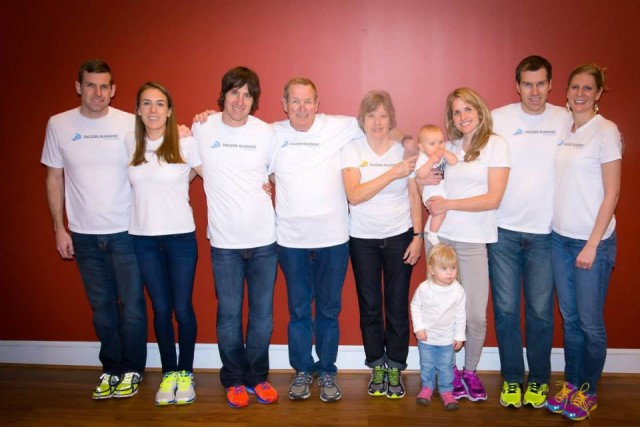 Recent Stories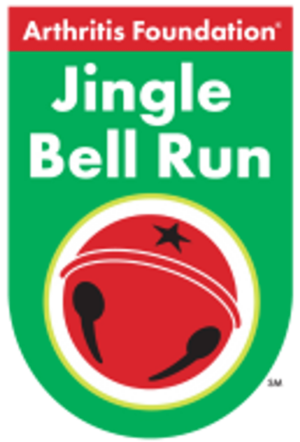 Be part of the original festive race for charity and signature Arthritis Foundation holiday event! Wear your favorite holiday attire and together, we'll jingle all the way to a cure! Register as an individual or bring a team of friends,