In the months leading up to 2015's Fall marathons, RunWashington will follow several local runners as they prepare for their races. We'll chart their progress as they train their legs, lungs and minds for the challenges they'll race on race day. Each week, we'll catch up with our runners and see how they're doing. Read more about Amelia McKeithen, who is running the Marine Corps Marathon, here.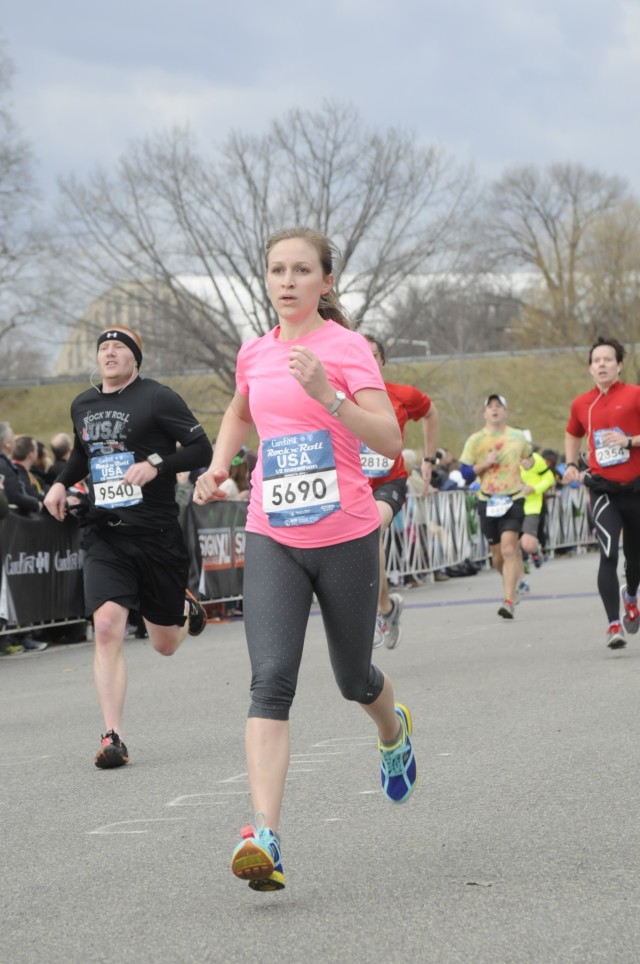 Amelia McKeithen is quick to apologize that she doesn't have anything fun to report since the last time she caught up with RunWashington.  But the first thing she admits to is having missed a long run due to a recent trampoline injury.  The offending apparatus was set up at the end of a float trip, and may not have been properly set up.
Her knee is fine, and she had recently been on a ten-mile run.
"My new job starts an hour before my old one, so I get to work out in the mornings and not feel too rushed."  She has also been enjoying the cooler temperatures this summer, one of her main concerns was the D.C. heat.  "It's been a really cool August," she said, appreciatively.
She's been doing long runs in the teens, including a 15-mile run starting from Georgetown recently where she was supposed to meet up with fellow Children's Inn fundraisers, but rode her bike to the wrong boathouse in Georgetown.
"I kept looking but of course there were millions of training teams," she said. "I was bummed about missing them, but I got a couple of extra miles in."
For her overall training, McKeithen is running a few days a week and getting long runs in, but not adhering to any particular plan, or sticking solely to running.
"There are too many fun workouts to make them all running," she said.  He current favorites are elevate interval fitness and fuse pilates ladder classes. "I feel like the other stuff is gonna help me," she said, even guessing that her quick bounce back from her trampoline injury was due to her extensive cross training.
She's also planning on starting on a hydration and fuel plan.  "I've just never taken water or fuel with me on a run before," she said, adding that she's ordered a hand held water bottle as well and has been trying energy chews.
She's raising money for the Children's Inn at N.I.H., and with her training comes that responsibility.
Any runner who's been on either end of the fundraising conundrum knows it's a slippery slope.  The causes are nearly always worthy, and like most causes, in need of funds, but how do you make sure to strike the balance of encouraging but not cajoling, raising awareness without repeating yourself?  Having tken the fundraising course for racing before, McKeithen has a few tricks up her sleeve, though she admits "It's still hard to reach your peer group."
She has found inventive ways.
"When my friend and I signed up back in March, we put together a bracket pool – a portion was for the winners and a portion went to the Children's Inn – it was a fun little fundraiser," she said.
McKeithenhas already surpassed the minimum $600 fundraising goal, and raised her goal to $1,500 goal, which she recently surpassed. Overall as of mid-September, Children's Inn runners have raised $49,402 of their $55,000 goal.  So McKeithen seems to be well placed in company of overachievers.
That $1,500 McKeithen recently reached covers a week's stay for a family at The Children's Inn.  With over two months until race day, she's sure to exceed that goal, and, if fundraising goes like her racing career until this point, she'll most likely exceed her own expectations once again.  As long as she doesn't get too distracted by trampolines.
Fern Stone, chief development and communications officer with The Children's Inn, said that special events like race fundraising  bring in about 30 percent of the Children's Inn's revenue. The Inn is a privately-funded house on the National Institutes of Health campus that houses families of children undergoing treatment there.  Families pay nothing to stay at the facility, regardless of the duration of their stay, and receive services ranging from room and board to education and recreation opportunities.  "We support families in a very holistic manner," Stone said.
The type of fundraising or "friend-raising" as Stone calls it, is a particularly useful way to both raise money and awareness for the cause, because runners tend to target their close friends, family, and colleagues, "it's a way of spreading the word, saying 'I've made a commitment that this is an organization that's important to me."
Special Events Coordinator Julie Ofrecio said "our runners have been a great outlet in raising awareness," and that the Marine Corps Marathon and 10k fundraising has raised awareness for The Children's Inn not just in the D.C. metro region, but right on the campus of NIH, a vast facility with many different areas, not all of which are aware of the work the Children's Inn does.
Recent Stories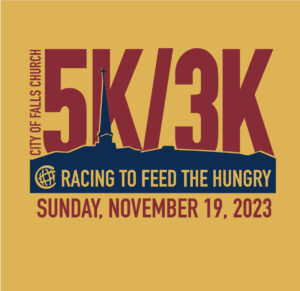 The out and back Falls Church City 5K/3K course is mostly flat on the W&OD Trail starting and finishing at 103 Columbia Street. Overall male and female winners earn free shoes and medals are awarded to all categories. Great family