Security fears following a bombing at the Seaside Park, N.J. Semper Five 5k has prompted the cancellation of the McLean Run for the Warriors 5k, scheduled for Oct. 1. " …The Board felt it had a responsibility to protect all involved. With the event less than two weeks away, (there) simply would not be able to execute the safety plan which includes increased security everyone deserves," the race announced via Facebook.
Julie Culley has been named interim director of track and field and cross country at Georgetown University, following the departure of her predecessor, Mike Smith, to Northern Arizona University. Culley, who ran the 5,000 meters at the 2012 Summer Olympics, served as an assistant coach at Georgetown for two years and is expected to fill interim role through the 2016-2017 school year, she said on Pace the Nation.
The Goblin Gallop 5k has reach the end of the line after 22 years. The race, which raises money for the John Quadrino Foundation to fund travel, mortgage payments and wigs for families whose children are undergoing chemotherapy, was unable to find a major sponsor this year. It was held at Fair Lakes Shopping Mall until 2009, when it moved to Fairfax Corner.
The parkrun series has added weekly time trials to Roosevelt Island at 9 a.m. Saturdays. Another series will begin Oct. 15 in College Park on the Paint Branch Trail, also at 9 a.m.
Arlington's Randy Myers served as a finish line doctor immediately after winning the Bird-in-Hand Half Marathon Sept. 10 in Lancaster, Pa.
Recent Stories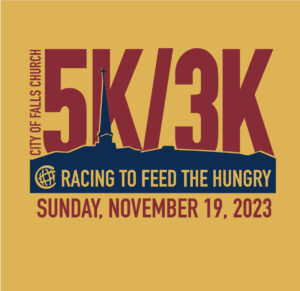 The out and back Falls Church City 5K/3K course is mostly flat on the W&OD Trail starting and finishing at 103 Columbia Street. Overall male and female winners earn free shoes and medals are awarded to all categories. Great family