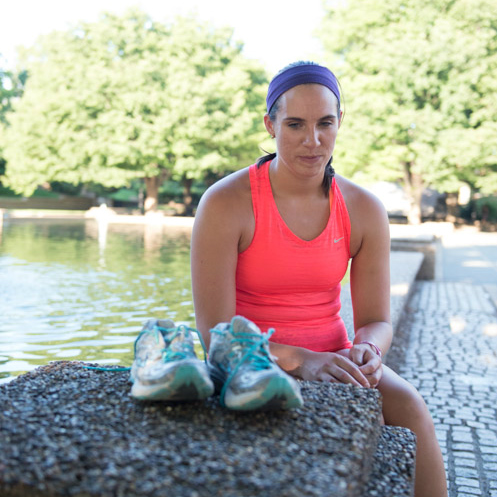 As two runners pass on an early morning shakeout, they nod and imagine saying to each other, "If nothing good happens today, at least we ran."
Not Marla Westervelt.
"When someone waves to me, I wonder why," she said. "I'm just thinking about how much I hate it."
Though the love of running binds thousands of strangers in the D.C. area, some engage in it without pleasure. Why, then, are they doing it to themselves? Some want the exercise, some are triathletes and will have to run eventually, and some just don't know.
Count Nida Ahmad among them.
"I find it boring," she said. "I've tried listening to music, I've tried running with people, I've tried speed workouts, trails, everything. It just isn't fun."
Yet she still signs up for races and runs anyway when November Project friends pitch them. Why?
"I feel accomplished after I'm finished," she said.
She's the outlier to the maxim "If you don't like the journey, you're not going to like the destination."
Running is a big part of the journey for triathletes. If they want to get to the finish line, they'll have to get through it. And sometimes it crushes their dreams.
"Having running at the end of a triathlon is a cruel joke," said Mike Hughes, a D.C. resident in his first year of training. "You can cruise on a bike and coast for a little in the water, but when you're running, you have to be 'on' the whole time or you won't go anywhere."
"In my first triathlon, I was first out of the water and held my own on the bike," said David Kraft, of D.C. "When I got to running, everyone passed me."
Kraft swam from the age of four until he graduated from Penn State, with a trip to the 2008 Olympic Trials along the way. He was already starting to get tired of "staring at a black line" at the bottom of the pool.
"I thought the word 'Ironman' sounded cool, so I bought a bike my junior year of college," he said. But then he was confronted with a dramatic imbalance between the legs of the race, and even if he wasn't a collegiate-level swimmer, his running prospects were grim.
In the eight years since he started, he's filled out a Bingo card of injuries: shin splits, knee stuff, IT band. He's been analyzing his struggle, and sees where things can go wrong, but he can't quite make them right. He bounds along, preferably on grass for a softer landing, and doesn't exhibit a gait that even looks like it's any fun. And he's learned the limits for how hard he can try.
"With the swimming and biking you can push yourself really hard and there's no impact, but you can't do that with running," Kraft said. "If I try to apply the same effort to running, it is a disaster."
Over the last two years, he's had his best success running very easy. If he does any hard running, it's on a track and he focuses entirely on his mechanics. Afterward he spends about a half hour stretching, using a foam roller and "the stick." And then Kraft has to do it the next day, too, lest he tighten up dramatically.
"I love that I can jump on the bike, ride 60 miles, roll for five minutes and I'm good to go," he said. "The time and effort I have to put into running and staying healthy is getting to be a bit much."
To the point where he is considering leaving the sport.
"I just don't really enjoy running that much," he said. "But I also don't have anything left to prove to myself or others. I just dread going for a run."
The closest he comes to enjoying his runs are a few miles in, when he has warmed up and his heart rate lowers.
"There's not a whole lot of enjoyment when I'm out there, even for the easy days. I'm not looking around at the birds or the scenery. I just don't know what it's like to want to go for a run."
Jessica Wyndham is taking the opposite approach and running directly at her weak point. She has signed up for the Marine Corps Marathon, but it's a practical matter for her.
"If at any point I want to do an Ironman, I'll have to run a marathon, so I'd better be able to do one," she said.
She was on her secondary school cross country team in her native Australia, but participation was compulsory. She was much more interested in using running as a method to get up and down the netball court.
"It was running with a goal — getting to the ball," she said. "I didn't think about it as a sport."
She had a backhanded compliment for it.
"I recognized that it was a good weight management tool," she said, scraping the bottom of the barrel for compliments to pay running.
It's easy for her to boil down her distaste.
"I wasn't good at it, it hurt and it wasn't fun," she said.
Now she is in year three of triathlon training.
"It's hard to stop in the middle of a bike ride or when you're swimming, but it's easy to stop running and walk," she rationalized.
She also doesn't have a family disposition toward running. Her father didn't run marathons and have advice to hand down to her. In fact, her partial Cuban heritage would discourage it.
"Cuban women don't do things to make themselves sweat," she said. "They play leisurely games of tennis."
"Maybe if I force myself to train, I'll get better and enjoy it," she said. "But I could also imagine finishing the marathon, feeling proud of myself and then not running for a long time."
Kevin Mallon understands the frustrations that come with running.
To the athletes he coaches through Endorphin Fitness' Fairfax location, he stresses goal setting and variety.
"It's important to set goals, not just overall but in each workout," he said. "It helps keep them interesting. And you can break the monotony by running trails or hills and doing track workouts."
Joining a group to be surrounded by likeminded athletes who can support a would-be runner may help.
That works for Erin Glavich, a D.C. member of the YTri triathlon club that also counts Westervelt, Hughes and Wyndham among its members.
"I need a team or a goal to keep me running," she said. "I've never experienced what they call the Runner's High," she said. "I've reached that Zen moment swimming, so I know it's possible."
Courtney Drake was motivated to run by abject and irrational terror.
"I started seeing all of these zombie movies and I realized I couldn't run more than a mile if there was an apocalypse," she said. "Then I realized there were other practical reasons I should be able to run."
Like Ahmad, she left few stones unturned.
"I tried intense pump up playlists, workouts, everything, but it wasn't  enjoyable," she said. "I enjoy it more when it's over than when I'm actually running."
She's had some help from the November Project with that last part. The accountability that other participants adds helps her keep going and gets her out of her own head.
"Usually I'm thinking 'This hurts, that hurts, I should stop,'" she said. "I'll look for any reason to stop: 'I need to smell that flower.'
Now I see people at my own level. I know if they could run, I could run.
She'll also do some running with her collie, Lunchbox, but she's outmatched and resorts to some gamesmanship to tire her dog out.
"We'll run for a mile, but then I'll take her to a dog park," she said.
Westervelt, also a triathlete who used to be a swimmer, doesn't feel like she's good at running, but she has diagnosed the problem.
"The form doesn't come naturally to me," she said. "Swimmers tend to have weak glutes and legs, and that makes it hard to run. Being someone who is good at other sports, it's not appealing to do something I'm not good at."
She also doesn't have the same base of knowledge with the sport.
"I know how to train myself to swim and bike, but I have no idea how to run. That's why I like the YTri atmosphere — there are people there to train me."
She ran by herself for the first time in mid-July.
"I ran extremely slow, but it wasn't the worst time I ever had," she said.
She actually ran three miles instead of the planned two.
"I was listening to my headphones and all of a sudden, they said I had done a mile. I was shocked. I just kept going and it wasn't painful."
Recent Stories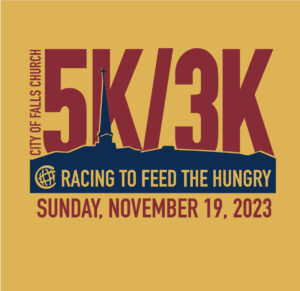 The out and back Falls Church City 5K/3K course is mostly flat on the W&OD Trail starting and finishing at 103 Columbia Street. Overall male and female winners earn free shoes and medals are awarded to all categories. Great family