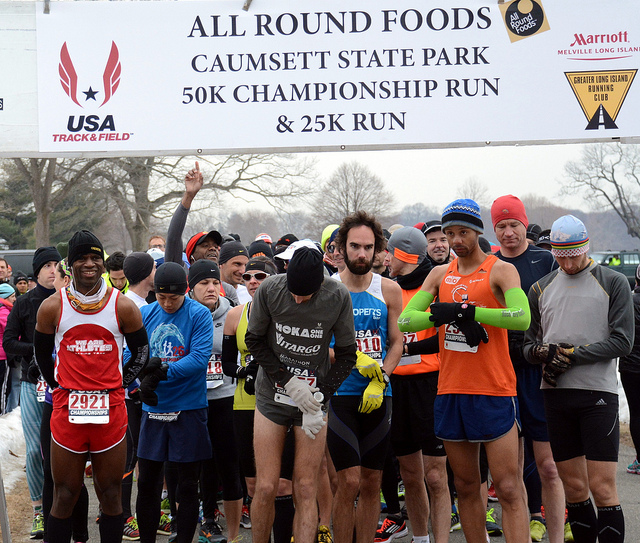 We talk a lot about walls in marathoning. We push through them–effortlessly or gasping for breath–on our way to the finish line. Race over.
One problem: the finish line is the real wall. No negotiations. This requirement doesn't move for any of us. We must change, not the race. The most successful marathoners don't break through this final barrier–they hit it, full force.
Ethan Coffey has a unique relationship with walls: by his own admission, when he faces the mystique of the 26.2, he's still trying to hit the mark.
His January 2014 victory in the Charleston (S.C) Marathon in 2:34:06 set a new personal standard for a runner who "used to throw up from nerves before races in high school," while a student at Chantilly.
"When I won the Charleston race," says Coffee, "I realized I really had the potential to win marathons. I'd like to train for more."
A few weeks and a few more miles later, Coffey still has staying power.
On March 1, Coffey, now a Knoxville resident, definitively won the USATF 50k Road Championships at Caumsett State Park on Long Island, N.Y., posting a new course record of 2:53:32.78 and upsetting four-time champion Michael Wardian's (Arlington, Va.) 2008 record of 2:55:05 in the process. Ethan estimated Wardian to be his most likely competitor for many reasons, with the veteran runner's historically consistent performances topping the list.  However, Wardian finished the race with a time of 2:59:31.69, placing second after progressively slowing past mile 10.
"At mile seventeen, I knew I was feeling good. No wall or anything." says Coffey, "When [Wardian] realized he wasn't going to beat me, he dropped off."
Adding to Coffey's victory, back-to-back reigning champion Joseph Gray (Renton, Wa.) held strong in an initial three-man pack, but began back-pacing with Wardian, only to quit the race entirely. This was an unexpected underperformance, considering Gray's near record setting win in 2013.
"In the last 10k it was just me," says Coffey, "My legs really felt good. I was able to just keep going after everybody else dropped off."
Coffey also easily beat out Josh Ferenc (Saxtons River, Vt.) who trailed into a late third place with a time of 3:04:16.91.
After besting two juggernauts of the 50k distance, one would think a runner like Coffey would be relatively satisfied. He broke through several barriers, right? He set a course record. He went farther, faster. He won.
But, perhaps unsurprisingly, like all winners, Coffey looks to past runs to understand his potential for performance. He judges himself by his failures as much as his successes. And, though a 50k is not a marathon, he uses what he knows about his relationship with the two distances to define and redefine himself as a runner.
"I've never been intimidated by the distance of a marathon. I just kind of went past that distance pretty easily. But my marathons haven't always gone very well for me," he says. "I think my 50ks, though, have gone better than my marathons. In the 50k, I don't usually struggle with the wall. But I think I have been lucky."
The 50k winner knows, though, that luck isn't everything. And sometimes a perceived weakness at one distance can be a distinct advantage in a different race. Clearly, Coffee's perceived struggles with the marathon have forced him into a different running bracket and led him to his most recent victory; however, he expresses mixed emotions about his relationship with the more iconic distance.
"People have tried to blame my poor marathon performance on getting too worked up," he says. "But that's not it. I'm definitely calm. I take it all seriously. But with the longer distance, I feel more in control of the run. I'm not sure why."
Not getting "worked up" allows Coffey the opportunity to run smarter and take down opponents like Wardian and Gray. "I had done the math beforehand. Basically, I went out to win. I think that's why things went pretty well for me," he says, "I knew I had a chance. In general, I'm able to pace myself better in the 50K."
But there is also a residual part of Coffee that still does want to get worked up. Wants to hit a wall. Hard.
"My goal is to break 2:20 in the marathon," he says, "The real goal is to run an Olympic goals qualifier. And I think I could do that. I see myself able to do that."
One more thing Coffey will be doing in the near future will be running the Boston Marathon. And, of course, he has set very specific goals–goals that speak to the hybrid nature of his marathoner/ultramarathoner identity. "I'll be running Boston, but I'm going to do it a little differently," he says, "I'm planning on running the course twice. 52 miles in less than six hours. That's my goal."
With such a decisive 50k win and undoubtedly promising marathon potential at his feet, perhaps it would be easy to wonder why Ethan Coffey doesn't just pick a side of the 26.2 and run with it. But why should he have to? Coffee may, indeed, be the kind of runner who can hit a barrier and then run past it. Maybe he is that lucky.
Or maybe, as he's figuring out how to deal with the path ahead, he is just listening to his own confident advice. "I just kind of realize that nobody outside of myself can tell me how I should run," he says, "What I do is impressive enough."
0
Comments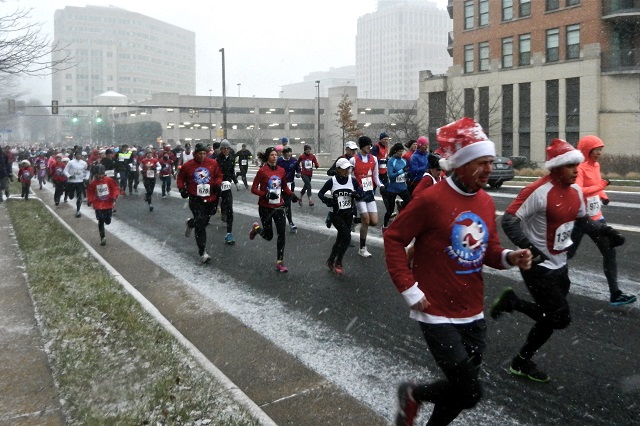 Let it snow. You never know who might win.
Saturday, Dec. 8, was the first time Ethiopian Beyasa Moleta, 25, had ever run in the white stuff. Wait until we get to see what he can do in prime conditions.
Ayele Kassaye, 24, tried to catch him. For a moment, in the blinding drifts, it was impossible to tell which graceful countryman would tear the tape first. It all ended in a sliding, shoe-tearing lunge across the finish line, leaving both men on the ground.
"I think I finished first," said Beyasa Moleta. He had.
Moleta hurled himself across the finish line of the Potomac River Running's 2013 Run with Santa 5K in Reston, with an overall winning chip time of 15:26. The dramatic finish saw Kassaye cross officially at 15:27.[button-red url="http://www.albanyrunningexchange.org/results/search.php?ID=3636″ target="_self" position="left"] Results [/button-red]
Moleta came to Saturday's race to overcome challenges, to beat valid competitors, and to find out about running in future races.
"I had a good race today. I can do better with more practice, though," said the winner. "This was my first time running on snow. I don't have any practice running on this. But that's okay."
Moleta expressed respect for his fellow competitors, knowing they all faced tough conditions: "The other runners are very good. They made the race today very good. But the [snowy] conditions today were bad. I think maybe if they have had more practice on (slippery) roads, it is easier for them," he said, grinning and shivering after his victory.
He may believe he needs more practice running on untried surfaces, but Moleta managed to beat an impressive field. In addition to Kassaye, who recently placed sixth in the 2013 Woodrow Wilson Bridge Half Marathon (1:06:51), the winner also beat out New York based Kenyan Abu Kebede, 23, finishing fourth with a time of 15:31.  As if the race between Moleta and Kassaye weren't tight enough, the race's third place finisher— recent George Mason track star and IC4A Qualifier Robert Reynolds, 23—logged the same net time of 15:31, but managed to steal third by a fractional margin.
In such uncertain conditions, Ethiopian Seife Gelatu, 31, was also a relevant contender for the win. However, with a time of 15:47, he would have to accept fifth.
Competition was fierce, but Beyasa Moleta was more than up to the challenge. "I felt good. My legs felt good. I ran a little slower because of the cold, yes. But everything felt good today," he said.
This sentiment was echoed by local cross-country veteran Susanna Sullivan, 23, of Falls Church, Va. With a finishing time of 17:15, Sullivan easily beat her competition. Tezeta Dengersa, 33, grabbed second in 17:29. Selamawit Mekuria, 28, placed third in 18:02.
"I'm happy," said Sullivan, " I was hoping to break 17 minutes. My training has been going good. I have run three races in the past week. But I got out here today, and this felt good."
Sullivan is definitely one of those cold weather runners Moleta dreams of being someday: "I jogged a little around the corners. But I ran for Notre Dame—I'm used to the snow."
Like Sullivan, most local runners, competitive and recreational, were quite happy "it was beginning to look a lot like Christmas" during the race.
Andrea Nelson, 35, winner of the 35-39 age group in 20:25, claimed she was a bit out of her element at the Run with Santa 5K, but not necessarily because of the snow.
Nelson said, "I usually do endurance races. Marathons, ultra-marathons, Ironman. My last race was the Chesapeake Ironman."
Finishing her September Ironman in 11:41:16, she found the 5k to be a different type of challenge: "I'd rather do a marathon any day because I know a 5k is going to be so intense. I know it is going to be 20 minutes of pure sucking," she said, laughing.
Nelson called the wintry day "fun and magical," clearly in high spirits.
The day's magic-maker was none other than the big man in red, Santa Claus. Santa officially deemed the run a success, though he did admit that his personal time was "a bit slow" this year.
"I think it's because Mrs. Claus tried to trip me. She's a stinker, that Mrs. Claus!" said Santa. However, "All of the runners were very good, though. Nobody's going on the Naughty List!"
This was probably good news for PR Running Store, Arlington's group of naughty-but-nice elves, presents on legs, ugly sweater carolers, and one very large Gingerbread Man (played by Matt Ferguson). Before heading to the start, runners were lining up, waiting to have their pictures taken with the fun-loving group. This was the first year Ferguson and his friends from PR Arlington had joined the Reston Run with Santa 5K: considering their popularity, they should consider making this run an annual tradition.
Two young runners who definitely made Santa's "Good List" this year were Cooper Girolamo and David Monserrate of the Yes You Can running team at Forestville Elementary School in Great Falls, Va. "This is our fifth 5K," said Cooper, "The third time we've done the Run with Santa," added David.
Both runners enjoyed running as a way to spend time with friends and family. And, of course, they both had wish lists for Santa. Cooper knew he had been good this year: "Yes!" As for David? An honest, "Maybe."
So what's on winner Beyasa Moleta's wish list this holiday season? He's already seen snow and a fortuitous win.
"Right now I don't have a manager. I don't have anyone to help me sign up for races for the future, so maybe I can find that," Moleta said.
For a wish like that, winning a race with Santa can't hurt.
2
Comment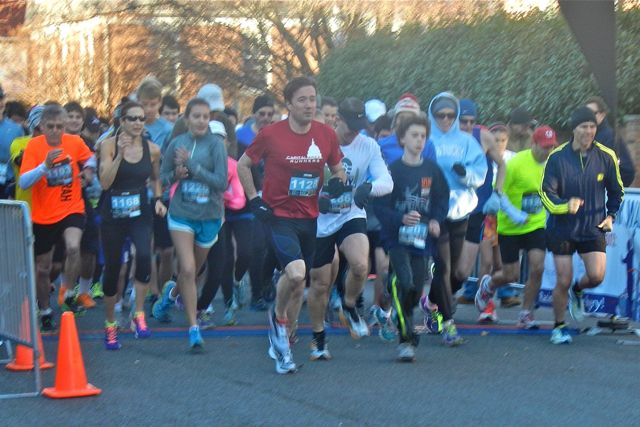 What might be better than a crowd of eager runners hungry for a win? Simple: a crowd of eager runners racing to feed the hungry!
Saturday, November 23, marked the second year that Columbia Baptist Church in Falls Church held its Spend Yourself 5k along the W&OD trail. For runners and organizers alike, this community race holds a clear sense of running for a purpose.
Husband and wife team Janine and Daniel Aronowitz organized the annual race as part of the larger Spend Yourself mission: the pair helped orchestrate an event that connects the strength and spirit of running with the pure desire to aid others locally and globally. The primary focus of this race was providing a Thanksgiving meal for families in Fairfax County.
"We want to be feeding people spiritually and physically. There are 400 running today and 300 eating," Janine said. "That creates a unique synergy in our community."
The relationship between running and giving is a powerful one, according to Janine. "We always wanted to use running," she said. "We welcome people throughout the community to run and to give. No matter your belief, people like to do good."
Before the race kicked off, runners had a chance to donate food or money to Columbia Baptist Church's Hunger Ministry. Runners generously donated this year, with few runners coming empty-handed. Neil Eckard, the church's vice-chair of deacons, was optimistic about this year's donations.
Surrounded by a table full of cans and boxed meals, and eyeing a queue of runners waiting to drop off their goods, Neil said, "I hope the donations this year exceed last year's — especially the food."
In return for a food donation, runners were entered into a lottery for a free pair of shoes from Road Runner Sports.
Being a family-oriented community race, the 8 a.m. start was low-pressure with few runners setting blistering time goals. The flat, out-and-back course offered little difficulty to runners.
Marshall High School Sophomore  Justin McFaul of Vienna crossed the finish line with a winning time of 17:31. With a previous 5k PR of 16:53, Justin said, "I'm happy with today's run. Running is just fun." Like many other participants, Justin was invited to the run by one of Columbia's regular members.
Following the lead, Jeffrey Grabosky of Alexandria pulled in looking strong with a close second at 17:41. Samuel Mrozinski of Silver Spring took third with a time of 18:26.
The top female finisher Kathy Goetz of Reston easily won her division (seventh overall) with a time of 20:14. Mary Rachel Robins, also of Reston,  couldn't quite catch Kathy, but posted a time of 20:55. Ellen Meinhart of Falls Church came in third at 21:56.
While all of the Spend Yourself runners ultimately supported the event's admirable cause, many also saw the race as a way to run a convenient local 5k as part of their personal training program. Christopher Carney, Falls Church local and sixth place overall finisher, used the course as a "bounce-back" run after recently completing the Marine Corps Marathon in October.
"This race is so close—I could almost walk here from my house," he said, "I ran [today's race] at my half-marathon pace." Chris used the 5k as a recovery run, citing its non-competitive atmosphere as one of the features that made this race a good choice for a post-marathon follow-up.
Indeed, Chris was in good company as many of his fellow runners were Marine Corps Marathoners looking to hit the pavement again with a shorter November run.
For Hannah Resig, a member of Columbia Baptist Church who also ran the MCM, the Spend Yourself 5k also gave her a chance to return to the type of philanthropy that drives her running. When Hannah ran the MCM, her motivation was a charitable goal, so her desire to run in her church's 5k was a natural extension of her love of running and giving.
Hannah explained, "There are a lot of charities out there, so it is good to work for your own community. Being able to integrate your faith with what you love—running—it's just a great feeling to be able to do that."
This spirit is one Daniel Aronowitz hopes to spread by hosting this race. And Daniel isn't just a man of words: he is a man of action. "I ran today, yes I did! And I was pushing my two kids in a stroller!"
Certainly, strollers, dogs, and a walking crowd were welcome at the Spend Yourself event. As Daniel explained, "We want people to know that everyone can come. The [3k] walk is a big part of our event because it is friendly to families. The 5k is great for runners, and the walk is great for everybody else."
Daniel summed the day up best: "We want to do good things in our community—for people who like to run, for people who need food, for everybody."
2
Comments