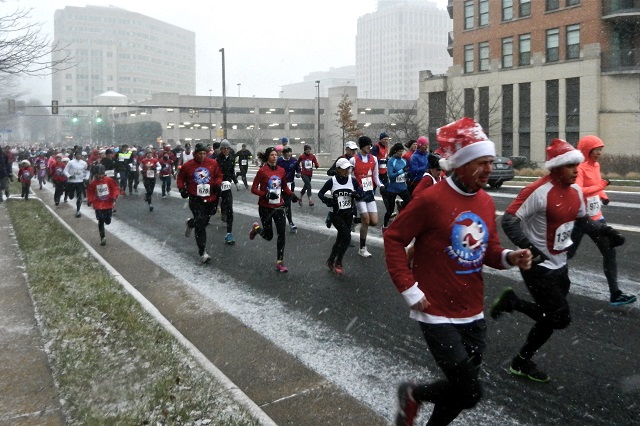 Let it snow. You never know who might win.
Saturday, Dec. 8, was the first time Ethiopian Beyasa Moleta, 25, had ever run in the white stuff. Wait until we get to see what he can do in prime conditions.
Ayele Kassaye, 24, tried to catch him. For a moment, in the blinding drifts, it was impossible to tell which graceful countryman would tear the tape first. It all ended in a sliding, shoe-tearing lunge across the finish line, leaving both men on the ground.
"I think I finished first," said Beyasa Moleta. He had.
Moleta hurled himself across the finish line of the Potomac River Running's 2013 Run with Santa 5K in Reston, with an overall winning chip time of 15:26. The dramatic finish saw Kassaye cross officially at 15:27.[button-red url="http://www.albanyrunningexchange.org/results/search.php?ID=3636″ target="_self" position="left"] Results [/button-red]
Moleta came to Saturday's race to overcome challenges, to beat valid competitors, and to find out about running in future races.
"I had a good race today. I can do better with more practice, though," said the winner. "This was my first time running on snow. I don't have any practice running on this. But that's okay."
Moleta expressed respect for his fellow competitors, knowing they all faced tough conditions: "The other runners are very good. They made the race today very good. But the [snowy] conditions today were bad. I think maybe if they have had more practice on (slippery) roads, it is easier for them," he said, grinning and shivering after his victory.
He may believe he needs more practice running on untried surfaces, but Moleta managed to beat an impressive field. In addition to Kassaye, who recently placed sixth in the 2013 Woodrow Wilson Bridge Half Marathon (1:06:51), the winner also beat out New York based Kenyan Abu Kebede, 23, finishing fourth with a time of 15:31.  As if the race between Moleta and Kassaye weren't tight enough, the race's third place finisher— recent George Mason track star and IC4A Qualifier Robert Reynolds, 23—logged the same net time of 15:31, but managed to steal third by a fractional margin.
In such uncertain conditions, Ethiopian Seife Gelatu, 31, was also a relevant contender for the win. However, with a time of 15:47, he would have to accept fifth.
Competition was fierce, but Beyasa Moleta was more than up to the challenge. "I felt good. My legs felt good. I ran a little slower because of the cold, yes. But everything felt good today," he said.
This sentiment was echoed by local cross-country veteran Susanna Sullivan, 23, of Falls Church, Va. With a finishing time of 17:15, Sullivan easily beat her competition. Tezeta Dengersa, 33, grabbed second in 17:29. Selamawit Mekuria, 28, placed third in 18:02.
"I'm happy," said Sullivan, " I was hoping to break 17 minutes. My training has been going good. I have run three races in the past week. But I got out here today, and this felt good."
Sullivan is definitely one of those cold weather runners Moleta dreams of being someday: "I jogged a little around the corners. But I ran for Notre Dame—I'm used to the snow."
Like Sullivan, most local runners, competitive and recreational, were quite happy "it was beginning to look a lot like Christmas" during the race.
Andrea Nelson, 35, winner of the 35-39 age group in 20:25, claimed she was a bit out of her element at the Run with Santa 5K, but not necessarily because of the snow.
Nelson said, "I usually do endurance races. Marathons, ultra-marathons, Ironman. My last race was the Chesapeake Ironman."
Finishing her September Ironman in 11:41:16, she found the 5k to be a different type of challenge: "I'd rather do a marathon any day because I know a 5k is going to be so intense. I know it is going to be 20 minutes of pure sucking," she said, laughing.
Nelson called the wintry day "fun and magical," clearly in high spirits.
The day's magic-maker was none other than the big man in red, Santa Claus. Santa officially deemed the run a success, though he did admit that his personal time was "a bit slow" this year.
"I think it's because Mrs. Claus tried to trip me. She's a stinker, that Mrs. Claus!" said Santa. However, "All of the runners were very good, though. Nobody's going on the Naughty List!"
This was probably good news for PR Running Store, Arlington's group of naughty-but-nice elves, presents on legs, ugly sweater carolers, and one very large Gingerbread Man (played by Matt Ferguson). Before heading to the start, runners were lining up, waiting to have their pictures taken with the fun-loving group. This was the first year Ferguson and his friends from PR Arlington had joined the Reston Run with Santa 5K: considering their popularity, they should consider making this run an annual tradition.
Two young runners who definitely made Santa's "Good List" this year were Cooper Girolamo and David Monserrate of the Yes You Can running team at Forestville Elementary School in Great Falls, Va. "This is our fifth 5K," said Cooper, "The third time we've done the Run with Santa," added David.
Both runners enjoyed running as a way to spend time with friends and family. And, of course, they both had wish lists for Santa. Cooper knew he had been good this year: "Yes!" As for David? An honest, "Maybe."
So what's on winner Beyasa Moleta's wish list this holiday season? He's already seen snow and a fortuitous win.
"Right now I don't have a manager. I don't have anyone to help me sign up for races for the future, so maybe I can find that," Moleta said.
For a wish like that, winning a race with Santa can't hurt.
Recent Stories

Both 5K and 1 mile courses are USATF certified. The 5K course has some moderate hills. The 1 mile course is flat making this a perfect PR course. We are really looking to get a broader participation base.
Funds go