DC Area Fun Run
Saturday, October 9
October 9
8:30am - 9:30am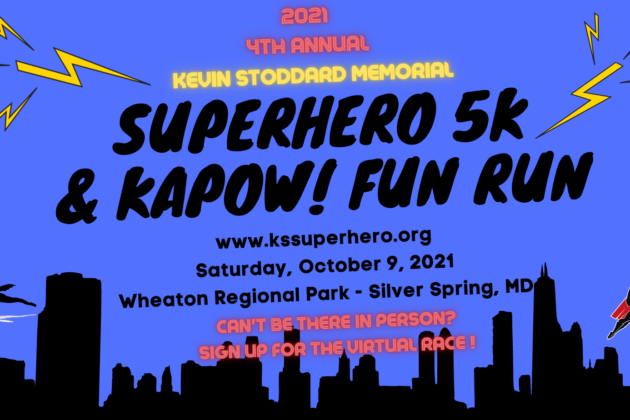 Wheaton Regional Park
2002 Shorefield Road
Silver Spring, Maryland 20902 Map
Event Info
Join us the morning of Saturday, October 9, 2021 in Silver Spring, MD for a race in memory of Kevin Stoddard. All proceeds go directly to the SuperHERO Foundation in Kevin's honor to help others fighting a superheroic battle against mental illness and addiction. Challenge yourself and go for gold in the 5k! Or break out your best cape and channel your favorite superhero in the 1-mile fun run. Want to join the fun and donate to a good cause, but can't be there in person? Consider signing up for our virtual race and soar with us in spirit.
Our 5k is a chip-timed race that winds through the beautiful Wheaton Regional Park and Brookside Gardens. We encourage all types of runners and walkers: avid runners, joggers and walkers to participate. Prizes will be awarded to top 3 men and women overall, as well as medals for top men & women in the following age groups: 13 and under, 14-19, 20-29, 30-39, 40-49, 50-59, 60-69, 70-79, 80 & over.
Superhero costumes are encouraged, and prizes will be given out for the most creative! We want to see superheroes of all shapes, sizes, and strengths embody Kevin's superhuman spirit, so bring on your capes, masks, and supernatural tricks.
October 9
9:00am - 12:00pm
Lake Fairfax Park
1400 Lake Fairfax Dr
Reston, Virginia 20190 Map
Saturday, October 16
October 16
8:00am - 11:00am
Event Info
In its 10th year of an in-person run, Ben's Run benefits kids with cancer at Children's National where Ben was treated for leukemia before he passed away. Goal is to raise $1 million after 10 years. About 1,000 runners and walkers typically register for the 5 mile, 5K or one mile fun run. Welcome ceremony at 8a and gun time is 8:30a. Registration is open at www.bensrun.org. $30 until Oct. 1 and $35 thru race day on Oct. 16. Location: Stonegate ES, 14811 Notley Road, Silver Spring, MD 20905. Packet pick up the day prior at the school, or on race day. Large Silent Auction starts Friday night into Saturday. COVID guidelines to be posted at bensrun.org.
October 16
9:00am - 10:30am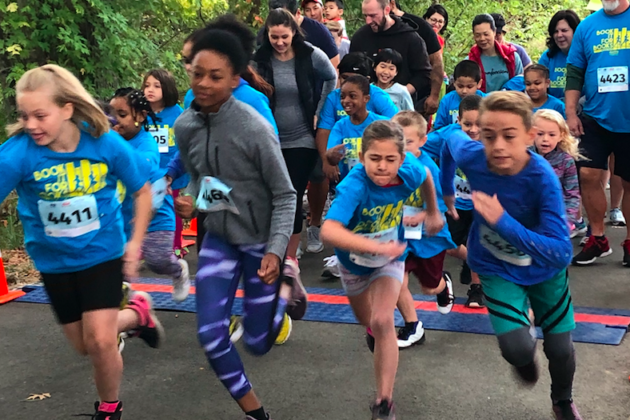 Bluemont Park
329 N. Manchester St.
Arlington, Virginia 22203 Map
Event Info
Book It For Books 5K/One-Mile Run/Walk is Reading is Fundamental of Northern Virginia's fund- and fun-raiser to help supply books to over 20,000 vulnerable children in the NOVA community. When: October 16, 2021. Book It is an-person event at Bluemont Park in Arlington, Virginia — with a hybrid option for those who prefer to participate at a distance. Click to run, walk, or donate right here: https://potomac.enmotive.com/events/register/2021-book-it-for-books-5k! Start time for in-person: 9:00 a.m. The Book It Run/Walk is open to serious runners, fun runners, walkers, families, and kids — with book character costumes optional. Kids in strollers are free. Come run and have fun and support children's literacy at the same time!!!