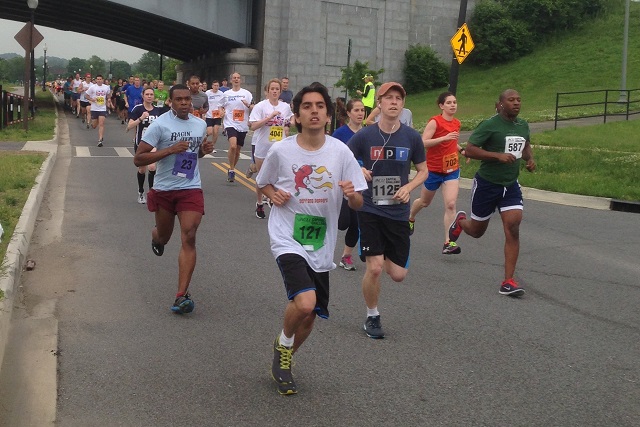 A lot of federal and media employees found out what their coworkers looked like in shorts at the ACLI Capital Challenge.
[button-red url="http://www.capitalchallenge.com/2001_cabinet/history2001.html" target="_self" position="left"] Results [/button-red]The annual three-mile run, a staple of many offices in Washington, featured strong individual performances from the Executive Branch, with Coast Guard's Patrick Fernandez edging House aide Paul Balmer, and Erin Taylor of the General Services Administration outlasting Rachel Beckmann, another Coast Guard team member. The out-and-back course in Anacostia Park featured a slight headwind after the turnaround. Both Fernandez and Taylor train with the Capital Area Runners. Balmer lead Rep. Earl Blumenauer's (D-Ore.) Red White and Blumenauer team to the House championship for the fifth consecutive year.
Taylor recruited four other GSA employees to join the Human "Capitol" Running Club.
"Everyone runs, in some capacity, but I think this is the first time we've had a GSA team," she said. "We didn't a chance to train together because we entered the team so late, but I'm hoping we have a few teams next year and will do some group runs."
Some runners surprise their colleagues with hidden talents. Jake Berube, who led the Daily Caller team (the Daily Ballers) to a second place finish in the Print Media division, was the "surprise fast guy" on his team that included a former collegiate runner. Though he was on the track team at the University of Southern Maine, he was a decathlete, with the longest running event spanning a mile. That's where he started.
"I ran the first mile really fast and I was just trying to survive the rest of the way," he said.
Sen. Rob Portman (R-Ohio) looks ahead to the race every spring.
"Everyone on my staff loves to run, and in order for them to run, I have to run, so two months before this race, I start running again," he said. Members of Congress have to participate in the race for their offices to field teams. "I'm 58 years old, so my knees and the back aren't great, but I try to run every two days. I always hope to run eight-minute miles."
The junior senator clocked just over 8:20 pace on his way to a 25:04 finish, for the top male finish in the upper house. Kay Hagan (D-N.C.) was the top female senator, in 35:15. Portman finishes jsut ahead of Kyrsten Sinema (D-Ariz.) the top female representative.
Portman's Communications Director Caitlin Dunn said most of her colleagues were active runners, with many completing the Cherry Blossom Ten Mile Run, the Rock 'n' Roll USA Half Marathon and the Philadelphia Marathon.
Tom Cotton (R-Ark.) was not only the fastest male representative, at 39th place out of 667, he was one of the fastest runners overall. His title came a day after he earned his party's nomination for this year's Senate race.
"I try to run most mornings, wherever I am," he said. "Arkansas is a great state for running, with the mountains, the river valleys, the plains. Between deployments, I was was stationed in Arlington, so I've gotten used to running here, too. I can be the fastest man in Congress, but if I was still in the Army, my soldiers would just call me a slow old man," he said.
Recently-confirmed U.S. Circuit Court Judge Nina Pillard won the women's Judicial Branch title in 23:20. She gathered three of her clerks and one of her fellow judge's clerks to form a team, after D.C. Circuit Court Judge Brett Kavanaugh told her about the competition shortly after she was confirmed. Kavanaugh's team led the Judicial standings.
"We chose our team on eagerness," she said. "We didn't train together, but we exchanged plenty of emails about running to get ready for this.
D.C. Superior Court Judge Robert Okun was the first male judge across the line in 20:47.
Nine-year-old Annie ran the race with her mom, All Things Considered Producer Justine Kenin. Annie is third-generation Capital Challenge, following in the footsteps of James Kenin, whose name now adorns the award for worst team name (WUSA-News Your Daddy won this year). NPR sported approximately 50 runners, making it one of the largest contingents at the race.
"She knew I ran this every year and she asked to do it last year," Kenin said. "I told her she could only run if she trained for it."
Annie felt it was one of her better races, riding high off of Saturday's Girls on the Run 5k, the culminating event for her elementary school training group.
"I like running with my mom and my friends," she said. "This wasn't my best race, but it was pretty good."
When she shared her motivational strategies, it sounded akin to what a lot of coworkers might have said to each other before grabbing a danish and heading back to the office.
"A lot of them break down and say they can't do it," Annie said. "I tell them, 'don't say can't, because can't never helps anything.'"
0
Comments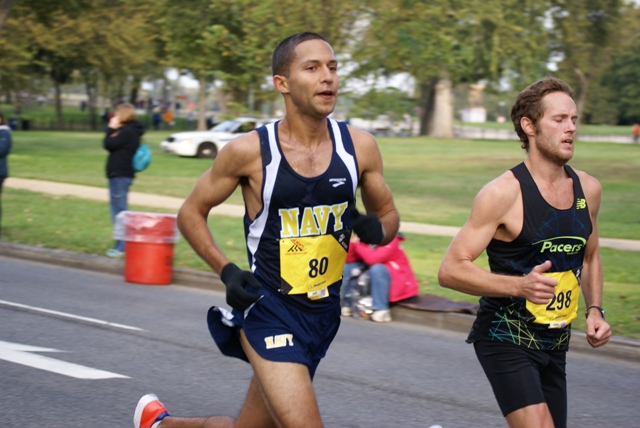 It's frustrating when people attribute competitive athletes' success to natural ability.
Anyone who dabbles in competitive endurance sports knows natural ability will only take you so far. The mind and the heart separate the good from the truly great. In every elite athlete there is a visible intensity with which they pursue nearly everything they do.
That describes Patrick Fernandez, an officer in the United States Coast Guard stationed in the National Capital region and one of the military's top distance runners. I understand why he is a truly great runner. He finds inspiration all around him — what would seem an obstacle is to him a welcome challenge and he sees every day as an opportunity for self improvement.
With this approach, I don't think anything will stop him from achieving his lofty goals in running, in the military and in life. One of which is the Marine Corps Marathon this fall. Later, a U.S. Olympic Trials qualifying time in the marathon (sub-2:18). Patrick finds inspiration and motivation to fuel his athletic pursuits through his day-to-day experiences and in the people that surround him. His grandfather was a competitive distance runner. In grade school a gym teacher noticed running distances came somewhat easily to Pat. With his grandfather's influence and encouragement from his gym teacher, he competed in his first official running race in third grade. From there the love and passion for running only grew. Patrick ran on his high school's first cross country team to make the California state meet, then on the track and cross country teams at the U.S. Coast Guard Academy.
Though he was a successful runner through high school and college, it wasn't until after college, when most athletes' interest in training wanes, that Patrick really found his stride.
As an active duty Coast Guardsman, Patrick faces a bombardment of obstacles to training. Facing an inconsistent sleep schedule, and piecewise training, he saw training while at sea as keeping him grounded. Port calls were opportunities to experience exotic locations in a way others could not. From hours in a metal box running on a treadmill, the ship rolling with the sea, to climbs up Mount Ballyhoo in Dutch Harbor overlooking the snowcapped peaks of the Aleutian islands.
He had one of his breakthrough performances during his first attempt at the Marine Corps Marathon. He set a challenging goal of finishing in the top 10 in under 2:30, but he was weighed down by thoughts that the goal was too ambitious. Instead of letting doubt and negativity take over, Pat found the motivation he needed during a training run in  Washington, D.C. Halfway through a 20-mile run, he stopped to read the granite monoliths surrounding the Theodore Roosevelt Island memorial. On the tablet titled Manhood was the quote "It is hard to fail, but it is worse never to have tried to succeed."
While he may have heard these words in the past, reading them at that moment was exactly the reminder Patrick needed that the only route to greatness involved facing his self doubt head on.
He stepped up to the starting line of his first marathon reciting Roosevelt's words in his mind. Patrick went on to wipe away any bit of reservation he had about his ability to race 26.2 miles. He ran his way into third place in 2:26, surpassing what he earlier thought was too ambitious a goal.
To concisely explain his feelings toward competitive running Pat directed me toward a quote from the book Again to Carthage, by
John L. Parker, Jr. He felt it perfectly described why he loves competitive running and why he eagerly takes on the  hardships of training.
"When you're a competitive runner in training you are constantly in a process of ascending…It's not something most human beings would give a moment of consideration to, that it is actually possible to be living for years in a state of constant betterment. To consider that you are better today than you were yesterday or a year ago, and that you will be better still tomorrow or next week… That if you're doing it right you are an organism constantly evolving toward some agreed-upon approximation of excellence."
The human body and mind have boundless capabilities. With hard work and self discipline anything is possible. The mindset drive's Patrick's intensive training and it is why he has continued to improve as a runner. His next goal is an Olympic Trials qualifier in the marathon, sub 2:18. He has since joined the Capital Area Runners and is coached by
George Buckheit, leading to a remarkable year, including victory at the Historic Half Marathon in Fredericksburg, Va. in 1:11 and the Navy-Air Force Half Marathon.
The Athlete, by Patrick Fernandez
The Athlete indeed is a breed that is rare,
His lungs need much more than a mere mortal's air;
He'll inhale his Dreams, and exhale the Impossible,
To suffocate Doubt, and surmount every obstacle.
He cannot subsist on just bland food and drink,
His body needs more to be pushed to the brink;
Victory his prey, which he stalks in life's jungle,
He feeds on great feats, to ensure Failure crumbles.
His muscles, though strong, cannot fully contract,
Unless he has in him a reason to act;
With Hope as his weight, he will strengthen his soul,
To lift all that's daunting, and reach for his goal.
It isn't just blood flowing deep in his veins,
His heart needs a means to erode what constrains;
Belief mixed with Grit are pumped into each limb,
To ignite both his Drive and Desire to win.
His habitat more than some comfort-filled cage,
His sheer Will alone needs a much larger stage;
The whole world his book, where he writes his own chapters,
To publish his Courage and show what he's mastered.
Though his body may slumber, his mind never rests,
Preparing itself for a new day of tests;
And when the sun rises, so too does his Pain,
Which he gladly endures, to lend History his name.
So should you encounter this rare, untamed breed,
You'll know why he suffers, you'll know why he bleeds;
It's more than just proving how strong or how swift,
It's to cast off life's limits, and unleash life's Gifts!
0
Comments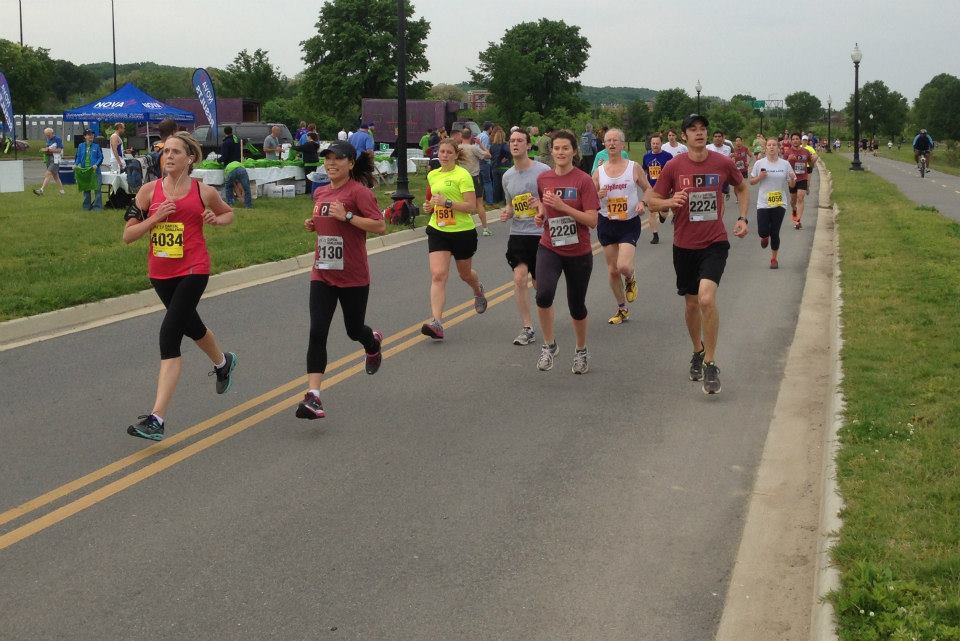 For one day, instead of putting their noses to the grindstone early, hundreds of federal employees from all branches of government showed up in Anacostia Park to run the ACLI Capital Challenge.
[button-red url="http://www.capitalchallenge.com/2001_cabinet/history2001.html" target="_self" position="left"] Results [/button-red] Several members of Congress participated, and several acquitted themselves well over the three-mile course Rob Portman (R-Ohio) and Kelly Ayotte (R- N.H.) finished first among U.S. Senators and Reps. Tom Cotton (R-Ark.) and Kyrsten Sinema (D-Ariz.) were the first from the House to cross the line.
[button-red url="https://www.facebook.com/media/set/?set=a.659491597411409.1073741846.189448104415763&type=1″ target="_self" position="left"] Photo [/button-red]Rep. Earl Blumenauer's office was represented well up front by Paul Balmer, who began working for the Oregon democrat. Balmer finished fourth.
It was Blumenauer's 16 time running out of the 17 years he's been in office.
"It's a terrific event, the whole office participates," he said. "It's an opportunity to focus on an event. I don't train anymore but still run four or five times a week."
Blumenauer tries to schedule meetings during runs or walks.
"It's an efficient use of time, when you have endorphins kicking in, you think better," he said. "The world would be a better place if more people ran, walked, or biked."
The U.S. Coast Guard swept the top individual spots, with Patrick Fernandez in 14:46 and Rachel Beckmann in 17:59. Fernandez went on to win the Marine Corps Historic Half Marathon five days later.
The FBI (Full Blooded Intensity) eeked out a team title over Navy, which FBI team member Jim Keesling hoped for but did not expect.
"It has been a fun and storied rivalry and a challenge trying to stay competitive with Navy," he said. "I have really enjoyed running with them and competing in such a great event. I ran my first Capital Challenge in 1998 when we narrowly defeated Navy and saw them easily beat us the past two years so it was really fun coming up victorious this year. Their team captainSue Himes knows how to put together great teams and I wish her the beat in retirement."
Himes has also served RunWashington and the Washington Running Report for several years as its Military Running columnist.
Matt Thomas of Alexandria was running late to join his Navy teammates. He was able to make it to the start in just in time.
"It was a rude awakening to run that hard off of no warm up," he said. "Two and a half miles in and I was like ugh, I felt that breakfast gripping me pretty tight."
Holley Simmons, was the most tired of her Washington Post Express teammates and put up the least fight when they dressed her like a copy of the commuter daily. She is a fashion and dining editor who is not a habitual runner.
"It got pretty hot under there," she said.
0
Comments