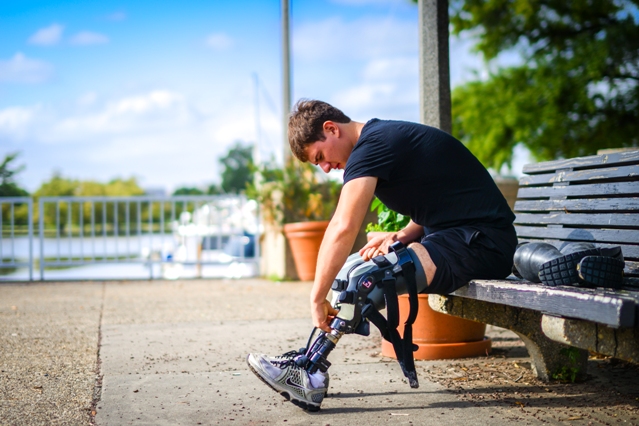 They're often the first ones out of the gate at races, cranking wheelchairs along courses and chasing the thrill. No matter what was taken from them, they won't relent in their pursuit of happiness.
John Mullen tried that – hand-cranking the Army Ten-Miler – but he wanted more. He was wounded in Afghanistan while serving in the United States Army. It was there he began his journey from the perils of the
combat zone, to learning how to walk again, and then learning to run as a double amputee. Prevailing over adversity, picking the harder road.
Mullen grew up playing football, basketball, running track and field and competing in Olympic weightlifting. When he enlisted in the Army in July 2009, he displayed such strength and endurance during his first day of physical training that he was tabbed to be a 240 Machine Gunner, a routine that would involve carrying more than 100 pounds in gear. After completing the required training, he joined the 10th Mountain Division, which deployed to Kandahar, Afghanistan in May 2011.
"My division monitored a village that had seen increased Taliban activity," he said. They worked in 72-hour cycles, with a one-mile trek between the posting and command outpost. For three months, Mullen worked this
routine without incident. But the Taliban had been monitoring the duty patterns.
The Taliban opened fire while Mullen's shift was en route. Once the relieving platoon got the situation under control, Mullen's platoon headed back to the command outpost. Suddenly he fell to the ground.
"I was engulfed in a world of white," he said. "I was unable to comprehend what had happened."
Mullen had stepped on an improvised explosive device (IED). The explosion tore off his legs a few inches below the knee, removed part of his thumb, and damaged nerves in both of his arms. Sensory overload prevented him from being able to pinpoint what was injured. Through two shots of morphine, he heard the words "double amputation" over the radio transmission.
The medic and radioman applied tourniquets to both of his legs and tended to his wounded arms, saving his life from blood loss. One month later that same medic who was instrumental in saving John's life was killed in action.
Mullen was transported to Kandahar AFB and then on to Bagram AFB, Landstuhl Regional Medical Center in Germany, then to Walter Reed National Military Medical Center in Bethesda. After surviving this ordeal, he faced the physical and emotional reality of recovering from his injuries and answering the question, "what now?"
Mullen spent his early time in Bethesda looking at photographs he had taken while in Afghanistan. "Every picture told a story," he said. "They bring me back to that exact moment in time."
He realized his passion for photography and decided to pursue it professionally. They were his first mental steps, but his first physical steps still remained. He had to learn how to walk with two prosthetic legs. In October
2011, four months after being injured, he received his first prosthetics. But an infection in his leg required surgery and delayed his return to walking for a few more months.
The prosthetic process is complicated.
"It's like taking myself to the auto-body shop," he said.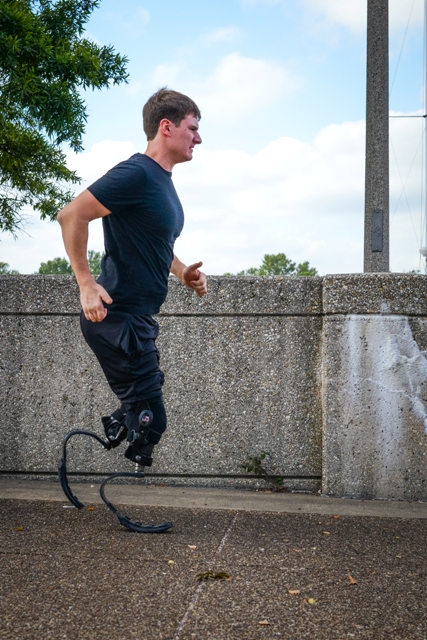 The casts of his legs were taken to create molds for his leg sockets. Adjustable plastic sockets were made from the molds and fitted over the leg so that small changes could be made to the socket to reduce hot spots, pain, rubbing, and discomfort. Once the plastic sockets were fitted, the carbon sockets are made to connect to the prosthetics. Finally, a prosthetist helped determine what type of legs and feet he should use based on how his body naturally moved as he walked with the prosthetics.
Changes in muscle size, bone growth, sore spots and chafing in the amputated limb required a "return to the shop" every few months.
"I felt limited in how much and how fast I could move," he said. "I wanted to do everything I used to do, including run."
In September 2013, he was fitted for running legs, a process just as time consuming as getting fit for walking legs. Learning to use running legs, however, was even more challenging than learning to walk. His stiff, predictable limbs and feet were replaced with two flexible blades with a narrow ground contact area. For amputees, going running is not a simple process. Switching leg braces to running legs takes 10 minutes. Once standing in running legs, there is no rest position; Mullen must keep moving to maintain balance. The first week with running legs Mullen could do a five-minute running interval followed by a five-minute rest interval for approximately 30
minutes. In little more than a month, Mullen increased his run interval time to 15-plus minutes, but struggled with increased soreness from the impact of running on the amputated limb and the new movements associated with the running legs.
"I haven't reached a point of enjoyment with running," he said.
But he has no intention of stopping. No matter how long it takes, he'll make it to the starting line, he said.
In addition to achieving his physical goals of walking and running, Mullen achieved a goal he set in his hospital bed in Bethesda. In August 2013, he earned a B.A. in Photography from the Boston University Center for Digital Imaging Arts. He now works as a professional photographer, and enjoys taking portraits of the elderly.
"I can see the life stories in the faces of my subjects," he said.
As he says this I can't help but look into his face to see his story. What I see are the clear determined eyes of a man who is undeterred by any challenge. A man who selflessly served his country, overcame the loss of both legs, and continues to pursue everything in life with a fervor and passion unmatched by most.
0
Comments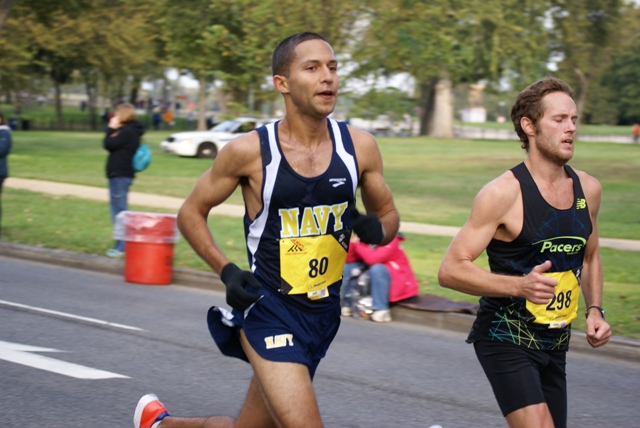 It's frustrating when people attribute competitive athletes' success to natural ability.
Anyone who dabbles in competitive endurance sports knows natural ability will only take you so far. The mind and the heart separate the good from the truly great. In every elite athlete there is a visible intensity with which they pursue nearly everything they do.
That describes Patrick Fernandez, an officer in the United States Coast Guard stationed in the National Capital region and one of the military's top distance runners. I understand why he is a truly great runner. He finds inspiration all around him — what would seem an obstacle is to him a welcome challenge and he sees every day as an opportunity for self improvement.
With this approach, I don't think anything will stop him from achieving his lofty goals in running, in the military and in life. One of which is the Marine Corps Marathon this fall. Later, a U.S. Olympic Trials qualifying time in the marathon (sub-2:18). Patrick finds inspiration and motivation to fuel his athletic pursuits through his day-to-day experiences and in the people that surround him. His grandfather was a competitive distance runner. In grade school a gym teacher noticed running distances came somewhat easily to Pat. With his grandfather's influence and encouragement from his gym teacher, he competed in his first official running race in third grade. From there the love and passion for running only grew. Patrick ran on his high school's first cross country team to make the California state meet, then on the track and cross country teams at the U.S. Coast Guard Academy.
Though he was a successful runner through high school and college, it wasn't until after college, when most athletes' interest in training wanes, that Patrick really found his stride.
As an active duty Coast Guardsman, Patrick faces a bombardment of obstacles to training. Facing an inconsistent sleep schedule, and piecewise training, he saw training while at sea as keeping him grounded. Port calls were opportunities to experience exotic locations in a way others could not. From hours in a metal box running on a treadmill, the ship rolling with the sea, to climbs up Mount Ballyhoo in Dutch Harbor overlooking the snowcapped peaks of the Aleutian islands.
He had one of his breakthrough performances during his first attempt at the Marine Corps Marathon. He set a challenging goal of finishing in the top 10 in under 2:30, but he was weighed down by thoughts that the goal was too ambitious. Instead of letting doubt and negativity take over, Pat found the motivation he needed during a training run in  Washington, D.C. Halfway through a 20-mile run, he stopped to read the granite monoliths surrounding the Theodore Roosevelt Island memorial. On the tablet titled Manhood was the quote "It is hard to fail, but it is worse never to have tried to succeed."
While he may have heard these words in the past, reading them at that moment was exactly the reminder Patrick needed that the only route to greatness involved facing his self doubt head on.
He stepped up to the starting line of his first marathon reciting Roosevelt's words in his mind. Patrick went on to wipe away any bit of reservation he had about his ability to race 26.2 miles. He ran his way into third place in 2:26, surpassing what he earlier thought was too ambitious a goal.
To concisely explain his feelings toward competitive running Pat directed me toward a quote from the book Again to Carthage, by
John L. Parker, Jr. He felt it perfectly described why he loves competitive running and why he eagerly takes on the  hardships of training.
"When you're a competitive runner in training you are constantly in a process of ascending…It's not something most human beings would give a moment of consideration to, that it is actually possible to be living for years in a state of constant betterment. To consider that you are better today than you were yesterday or a year ago, and that you will be better still tomorrow or next week… That if you're doing it right you are an organism constantly evolving toward some agreed-upon approximation of excellence."
The human body and mind have boundless capabilities. With hard work and self discipline anything is possible. The mindset drive's Patrick's intensive training and it is why he has continued to improve as a runner. His next goal is an Olympic Trials qualifier in the marathon, sub 2:18. He has since joined the Capital Area Runners and is coached by
George Buckheit, leading to a remarkable year, including victory at the Historic Half Marathon in Fredericksburg, Va. in 1:11 and the Navy-Air Force Half Marathon.
The Athlete, by Patrick Fernandez
The Athlete indeed is a breed that is rare,
His lungs need much more than a mere mortal's air;
He'll inhale his Dreams, and exhale the Impossible,
To suffocate Doubt, and surmount every obstacle.
He cannot subsist on just bland food and drink,
His body needs more to be pushed to the brink;
Victory his prey, which he stalks in life's jungle,
He feeds on great feats, to ensure Failure crumbles.
His muscles, though strong, cannot fully contract,
Unless he has in him a reason to act;
With Hope as his weight, he will strengthen his soul,
To lift all that's daunting, and reach for his goal.
It isn't just blood flowing deep in his veins,
His heart needs a means to erode what constrains;
Belief mixed with Grit are pumped into each limb,
To ignite both his Drive and Desire to win.
His habitat more than some comfort-filled cage,
His sheer Will alone needs a much larger stage;
The whole world his book, where he writes his own chapters,
To publish his Courage and show what he's mastered.
Though his body may slumber, his mind never rests,
Preparing itself for a new day of tests;
And when the sun rises, so too does his Pain,
Which he gladly endures, to lend History his name.
So should you encounter this rare, untamed breed,
You'll know why he suffers, you'll know why he bleeds;
It's more than just proving how strong or how swift,
It's to cast off life's limits, and unleash life's Gifts!
0
Comments