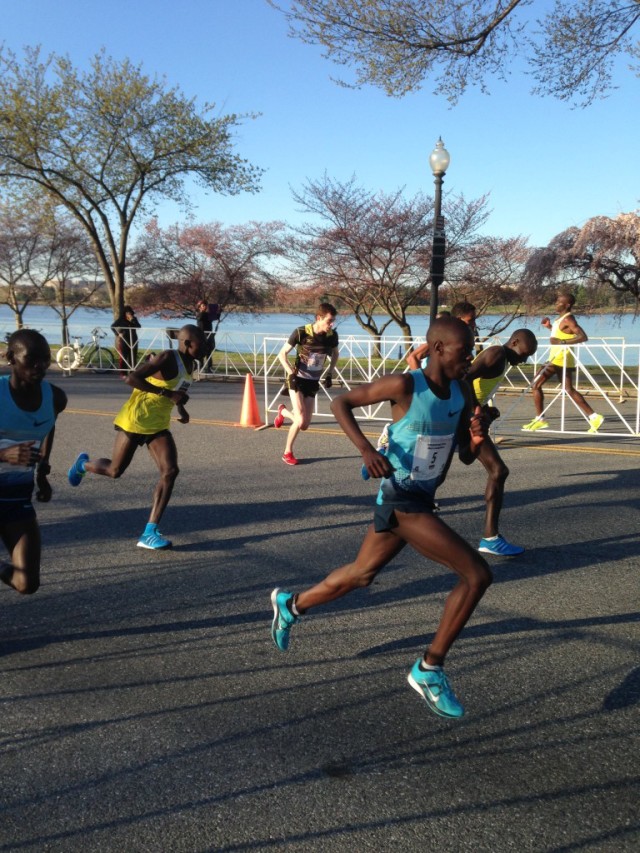 Editor's note: These are outtakes from our profile of Christo Landry that appeared in the Spring 2015 issue of RunWashington.
On choosing golf over cross country as a high school freshman: "It was my grandpa. I just played golf with him whenever I saw him growing up. I still have fun playing when it's warm outside. I'm not necessarily very good, but I'm also not a complete disaster on the course."
On Thomas Jefferson High School for Science and Technology's success in 'mental sports': In football "my first year we were playing Centerville for our homecoming and we had signs that said we will not lose … by more than 50. We lost 49-0. The score of all score of all three games – varsity, JV, freshman – was 106-0. Needless to say, that wasn't our strong spot, neither was basketball."
On injury troubles that weren't always because of running: Like the time at the College of William and Mary that he lost control of his bike while riding to class. "Rather than bail out into some bushes … I ended up smashing my knee into the building and bruising a nerve." Landry missed nine weeks.
On what it meant, in 2006, to have an A team finish 8th at NCAAs and a B team win the IC4A Championship in cross country. "Oh, man, there were some parties when we got back."
On not partying: "I was really boring in college. I didn't drink until I was 21. It was just kind of a personal thing – it's like, let see if you can do that. Then, after I turned 21, I was always injured, so it's like, I'm not going to drink because that's going to slow down my recovery. So I never really went out and partied. And as far as the team as a whole, we didn't really drink much during the season, because we wanted to be good. Now, granted, the two weeks we had off after the season, I'm not sure if some people were sober at all during that time. So that was always fun to watch."
On his "vice": "I'd say my biggest vice was just staying up too late – maybe staying up until 12, 1 a.m. in the morning. Granted, I didn't have class until noon, so I didn't have to get up until 11, so I'd get my 10 hours, just not at the right time for your body to recover optimally. It's still my biggest problem: just making sure I consistently get to bed early. So now I am trying to make sure I get to bed by 10, which I'll slip up on one or two days a week.
On his first year as a professional running: In March, 2011, Landry ran 14:20 in the 5,000 at the Raleigh Relays (he ran faster as a college freshman). At Mt. Sac he ran 14:10. "So I go to Payton Jordan at Stanford, I'm running the 10k, and going there I'm like, 'Well, shoot, I've done this for almost a year now post-collegiately. If I don't race something decent here, alright, I'm done. I no longer have it.' And I got in that race and ended up splitting 14:20 for my first 5k and 14:10 for my second 10K, running 28:30 in my first 10k. And I'm like, 'Alright, ok, we're good; we can keep going at that point.'"
On discovering the roads a month later: Landry entered the 8k national championships in Carmel, Ind., winning $2,000 for 4th place. "I didn't know any better. I just drove down there, booked my own hotel, just drove over to the start of the race at the beginning. I didn't know anything about them putting you up, race hotels, anything about that." At Peachtree the next month Landry's room was comped. "The race hotel is the Ritz. Compared to me booking a $40 a night hotel, it's like, 'I don't know what most road races are like, but I do know which end of the scale I want to be on.'"
On gradual success on the roads: "I started those [national championship] races and I was finishing in the four to eighth range – and you know, gradually every year I have worked my way up."
On long long runs: "When you get used to running 2:20 in training, when you move up to the marathon, if you want your body to adjust, naturally you have to run further." Prior to the Chicago Marathon last year, Landry did a three-hour run on a six-mile stretch of road, covering 32 miles. "I felt fantastic after that long run. I mean, I probably ate a whole bag of tortilla chips afterward – get some salt back in my body. … But I felt great."
On his Olympic dream: In 2008, Landry, still in college, and hurt at the time, watched the U.S. Olympic track trials in Eugene. "I made a promise to myself I would be participating in the next one, and sure enough I was. I managed to get myself tripped and fall flat on my face in the 10k; not the best way to run that. The television cut out beforehand, so everyone just saw the bad time and the bad place. There I made the promise to myself I will make the Olympic team next time it comes around."
On his plan to make the 2016 Olympic team: "Well, hopefully I'll have two shots at that, and need only one." This spring he'll focus on getting an A standard qualifying time for 10,000 meters. In August, Landry will transition to training for the marathon trials. This way, if he doesn't qualify in the marathon, "then I have a shot to come back and prepare for the 10k trials. And if I have the A standard out of the way, I don't have to peak at Payton Jordan to get the standard there and then compete at the trials as well, which is very difficult."