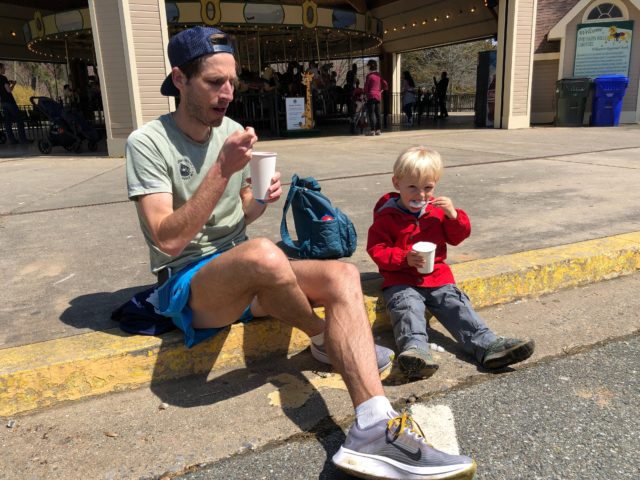 Name: Dickson Mercer
Self-described age group: Coach Jerry: "Dix, are you a master yet?" Me: "Summer 2021, Coach." 
Residence: The People's Republic of Takoma Park  
Occupation: Speechwriter
Volunteer roles in the running world: I serve as vice president on the board for the Nina Brekelmans Memorial Foundation. We're a DC-based nonprofit founded to carry forward my former Georgetown Running Club teammate's vision to create athletic opportunities for young women in the Middle East. We fund and orchestrate an annual running camp and race for girls ages 8 to 14 in Amman, Jordan held in Nina's honor.
Why you run: It's in my blood. I picked up running from my dad, and running just suits us. The famous running philosopher Dr. George Sheehan was part of the Jersey shore running scene I observed growing up, and as he wrote, "The race is where we keep the faith… ."  
When did you get started running: I ran my first road race when I was 9, but this year actually marks my 20th year in the sport since deciding to go out for cross country as a senior at Rumson Fair Haven Regional High School in Central New Jersey. This is also my 10th year training with the Georgetown Running Club, which I figure makes me something of a club elder. 
Have you taken a break from running: Never a hiatus, though I do take a week-long "Runspringa" approximately twice a year at the end of a racing season.  
Training shoe: New Balance 880 and big fan of the full NB Fuel Cell line. 
Coach or training group: Coach Jerry Alexander and the Georgetown Running Club. I'm also grateful for the coaching and support I've received throughout the years from Todd Lippin, coach and founder of the Furthur Training and Racing team in Philly.   
The hardest race you've ever run: Patrick Murphy, my son Henry's godfather, designed a 5k cross country cross through some rolling bramble on a hillside as a gift to his wedding guests. Maybe a dozen of us, including my wife Emily, raced it the morning of his wedding day. I remember Jake Klim and I were running side by side, focusing on not falling, just breathing so loudly. Jake goes, "Why are we doing this?!" and we just started laughing. Also, every marathon, and shoutout to the Montgomery County Road Runners-organized 2009 USA Cross Championships in Derwood. That 12k course was a rolling, muddy brute!
Most adventurous decision you've made with your running: In 2014-2015 I fell into a pretty rough slump with the marathon and decided it was time to take a break and do something completely different, joining my (typically much younger) teammates for a track season. Running collegiate invitationals, not being known for my speed, not having run a track race in over a decade, I definitely took some lumps, but I also came away from it with PRs for 3k and 5k. Plus rebuilding my leg speed really helped me in the longer stuff.
Running mentors: My Dad and his fellow running boomers of the 1980s and 1990s, and my club teammates and training partners. 
My favorite place to run in the D.C. area is: Anacostia River and Riverwalk trails. (Thanks, Obama).   
Favorite local trail: Metropolitan Branch Trail for run-commuting. (Thanks, Big Stinky).   
My best race was: 2018 California International Marathon. It was the culmination of a really focused year of marathon training with Jerry Greenlaw and Evan Jurkovich that helped me break a 12-year-old PB.
Favorite local race: DC Rock n Roll Half Marathon.
Ideal post-run meal: Pork Roll Egg and Cheese x 2 after New Jersey Marathon.
Favorite flavor of gel, gu, etc: Giving Maurten a try.
Pet peeve: Let's do folks a solid and not leave that electric scooter in the middle of the Met Branch trail? 
Goals: Going to my Dad's races, I grew up wanting to be Harry Nolan when I grow up. I'm still very much working on that. 
Your advice for a new runner: Draw inspiration from and learn from others, just don't compare yourself to others. 
Favorite running book: A Cold Clear Day
Song in your head during a run: Springsteen's The Rising, ideally.
Have you dealt with a major injury: Mostly just a lot of niggles, to quote our friends across the pond.
Why is the D.C. area a great place to be a runner: We really have it all- great trails and roads, a great community…and definitely the best zine.
Recent Stories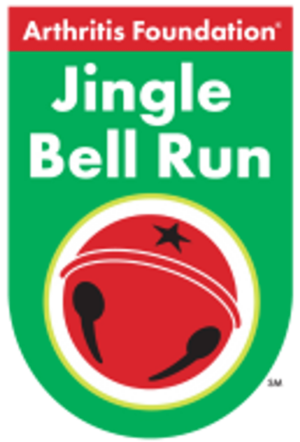 Be part of the original festive race for charity and signature Arthritis Foundation holiday event! Wear your favorite holiday attire and together, we'll jingle all the way to a cure! Register as an individual or bring a team of friends,