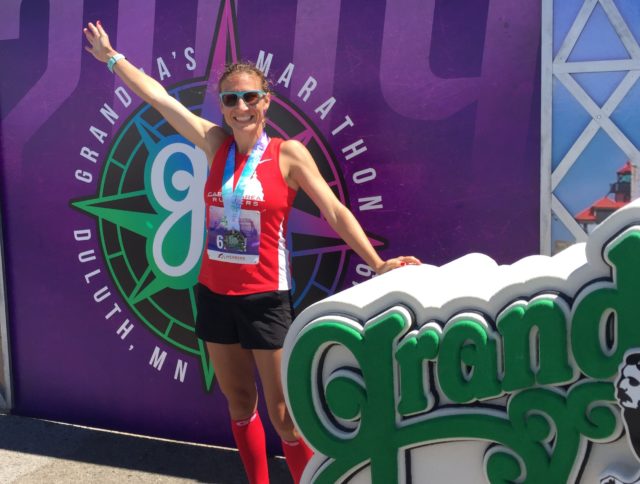 Mollie Zapata has been writing for RunWashington since it was the Washington Running Report. She's a lifelong runner from California who has lived in D.C. most of her adult life. See more of her writing here.
Name: Mollie Zapata
Self-described age group: 30-35
Residence: Woodley Park, D.C.
Occupation: Researcher (genocide and mass atrocity prediction and prevention)
Why you run: I always have. It's the simplest, most accessible, most rewarding form of exercise and I like that I can enjoy it solo, with a friend, or on a team.
When did you get started running: In my hometown, my elementary school participated West Side Relays starting in 4th grade, and then I went on to run track in Junior High, and XC and track in high school and college.
Have you taken a break from running: Only when I'm injured, never on purpose.
Training shoe: Currently the Hoka Clifton 4
Coach or training group: Capital Area Runners (Coach George Buckheit)
The hardest race you've ever run: I had a profoundly unpleasant experience in the Boston Marathon in 2015 — freezing rain, not enough training, a cold, and just general misery (I walked, I cried, fun times.)
Most adventurous decision you've made with your running: I run pretty much everywhere I travel, which includes some pretty adventurous places. When I studied abroad in Niger in 2007, every morning I would walk to the national stadium wearing a long skirt, then change into shorts in the guardroom to run laps around the complex. Through doing that I ended up going on some runs with the Nigerien national team. More recently I've run in Cote d'Ivoire, Ethiopia and Mali.
Running mentors: My parents. My dad founded the Greater San Francisco Track Club in the 80s, has run ~20 marathons under 2:30, and has been a coach his whole life. My mom ran in the 1980 marathon Olympic Trials. Both of them ran pretty much every day when I was growing up and came to every single track and XC meet.
My favorite place to run in the D.C. area is: Rock Creek Park
Favorite local trail:  I don't know the name, but the one in Rock Creek Park that starts just north of Peirce Mill and goes right along the west side of the creek.
My best race was: In college I ran the 3k indoors. Right after my PR race senior year, Bill Squires told me I ran a "great race" and handed me a peppermint as I walked off the track.
Favorite local race: Cherry Blossom
Ideal post-run meal: Veggie curry with rice and an egg on top — otherwise known as "bowl of dinner" in my house.
Favorite flavor of gel, gu, etc: Honeystingers (fruit smoothie) & Cliff Shot (mocha)
Pet peeve: When you pass someone, then have to slow down or stop for some reason, and they pass you, and then you have to pass them again. Also people who take up the whole trail/sidewalk. Also stop lights.
Goals: Run faster.
Your advice for a new runner:  You have to give it at least 6 weeks of consistent running before it starts to feel good!
Favorite running book: Paula: My Story So Far
Song in your head during a run: Juice (Lizzo)
Have you dealt with a major injury: So many! Usually hip/hamstring related.
Running quote: "The gun goes off and everything changes … the world changes … and nothing else really matters." – Patti Sue Plummer
Why is the D.C. area a great place to be a runner:  It has SO MANY great trail options and so many runners at all levels of competitiveness.