Washington, DC
March 4, 2011
Washington Running Report, a bi-monthly publication covering running, fitness, and multi-sport was recently revamped to a glossy magazine and is distributed throughout the Mid-Atlantic region, namely Washington, DC, Maryland, and Virginia. A new digital edition has been added as well as new columns to reflect the diverse running communities: Military Running Scene, A Woman's Perspective, and The Senior Runner.
"The running and fitness industry is recession resistant and with more people choosing to lead healthy lifestyles and road race participation growing, we're providing the best local resource to motivate and educate our readers," said Kathy Freedman, Publisher and owner of Capital Running Company, a race management company. "Our contributors are local runners and experts who share a passion for their sport and our advertisers know we are the source to reach this market."
Sue Himes, CDR, U.S. Navy, pens "Military Running Scene," and has represented the U.S. Armed Forces team in both the marathon and cross country. Coach Kirt West has been the online coach for the Credit Union Cherry Blossom 10 Mile and, as a senior runner in his early 60s, shares his journey to stay fit. In 2011, six women will contribute to "A Woman's Perspective" with topics ranging from finding motivation to balancing running with motherhood.
The digital edition has been launched with the March/April 2011 issue and can be found on the Washington Running ReportWeb site: www.runwashington.com.
About Washington Running Report
Founded in 1984, Washington Running Report is published bi-monthly and provides the most comprehensive coverage of running, fitness, and multisport for Washington, DC, Maryland, and Virginia, plus the bordering regions of Delaware, Pennsylvania, and West Virginia. For more information or to subscribe visit www.runwashington.com. WRR is represented nationally by the Endurance Sports Media Group.
About Capital Running Company
Capital Running Company is a professional race management and promotion company that has been producing road races in the Washington, DC metropolitan area and Northern Virginia for more than 30 years. It specializes in first-time and large events requiring sponsor exposure; the company uses the innovative ChronoTrack timing system.
Editorial Contact:
Brenda Barrera, Managing Editor
[email protected]
Kathy Freedman, Publisher
15739 Crabbs Branch Way in Rockville, MD 20855
[email protected] or 301-840-2042
www.runwashington.com
www.capitalrunning.com
Recent Stories
Fairfax County Detectives have arrested and charged a 42-year-old Herndon man with crimes related to indecent exposures near the Washington and Old Dominion Trail in August, the department reported.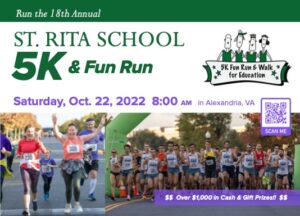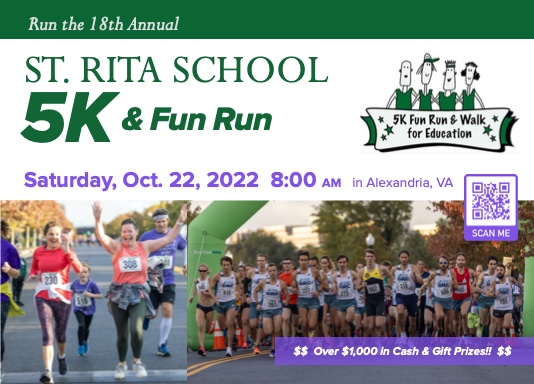 The 18th annual St. Rita 5K & Fun Run is a fall classic on treelined streets through beautiful Alexandria, Va.
Certified & chip-timed 5K follows a flat, fast, out-and-back course through Potomac Yard.
The morning festivities includes a live DJ,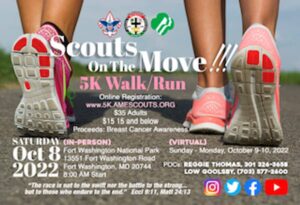 The Association of African Methodist Episcopal Scouts' (AAMES) 1st Annual 5K In-Person/Virtual Run-Walk Race
In-Person:
Saturday, October 8, 2022 at 8:00 A.M.
MARYLAND
Fort Washington National Park, 13551 Fort Washington Road, Fort Washington, Maryland 20744