Name: Dustin Whitlow
Self-described age group: We take this whole thing running thing relatively serious but are also not afraid to drink a beer the day before a race.
Residence: Alexandria
Occupation: Lead IT Systems Administrator
Volunteer roles in the running world: Occasional volunteer training programs coach.
Why you run: I run as a combo of stress relief, enjoyment of being outside in the elements, and to see what I am capable of.
When did you get started running: My parents got me started pretty early around age 10. I used to shadow my Dad on his runs while he was in the NAVY and needed to meet the 1.5 mile run test requirement.
Have you taken a break from running: A few years ago I fractured a toe which took me out of MCM and running for a while. The doctor allowed me to cross-train by cycling which evolved into a brief stint racing bikes.
Training shoe: Nike Pegasus 36
Coach or training group: I meet up with an awesome all-comers group from Teddy Roosevelt Island on Saturdays for long runs.
The hardest race you've ever run: Boston Marathon 2018
Most adventurous decision you've made with your running: Earlier this year I jumped in to help pace Mike Wardian with his 10th and final marathon of his world record attempt over at Hains Point. He told me I could drop out any time I wanted, but I was feeling strong so I kept on the gas and ended up running the entire thing with him in around 2:46.
Running mentors: Over the years I have gained a ton of advice from my high school and college coaches, along with reading up and trusting information from running popular names such as Jack Daniels and like how Mario Fraioli breaks things down in easy to digest segments.
My favorite place to run in the D.C. area is: Military Road in north Arlington. The stretch of road is a set of rollers that will keep you honest and get you ready for just about anything.
Favorite local trail:  Easily the C&O running west from Carderock past Great Falls. Go early to beat the crowds during peak seasons.
My best race was: Boston Marathon 2019
Favorite local race: Clarendon Day 5k/10k double
Ideal post-run meal: A burrito the size of your head washed down with an IPA.
Favorite flavor of gel, gu, etc: Maurten goes down smooth. The new caffeinated version is excellent as well.
Pet peeve: Cars who look left at red stoplights but not right.
Goals: Keep trying to improve and be a better version of myself every day while helping others.
Your advice for a new runner: Go to a local run specialty store and get fitted for a pair of shoes. The right shoes are one of the most important assets for success and injury prevention. Local running stores love to help out and are much more beneficial then just finding a pair of shoes that look cool on the internet.
Favorite running book: I am more of a magazine type person. Meter has excellent writing and photography to go along with it.
Song in your head during a run: The Black Keys – Baddest Man Alive
Have you dealt with a major injury: During college I had fluid build-up in my right knee which resulted in arthroscopic surgery to remove the build-up along with some floating pieces of cartilage.
Running quote: "It's okay to struggle, it's not okay to give up." – Gabe Grunewald
Why is the D.C. area a great place to be a runner: The amount of trails that interconnect in the D.C. area make for quite an endless setup of loops that can be accomplished with minimal stops and varying degrees of difficulty.
Recent Stories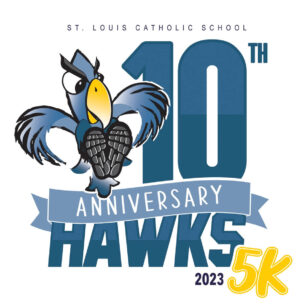 2023 will be the 10 year anniversary of the St. Louis Hawks 5K and Fun Run for Health & Wellness. The USATF certified course runs through the historic Hollin Hills neighborhood in Alexandria, VA.
The Hawks 5K goal, in conjunction