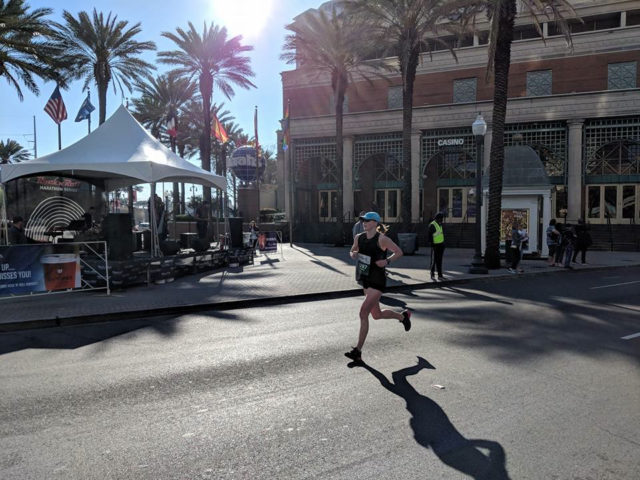 Name: Maggie Lloyd
Self-described age group: Millennial
Residence: Washington, D.C.
Occupation: Chemical Engineer
Volunteer roles in the running world: Cleaning up trails in D.C.
Why you run: The reason has changed over time but running has always been a part of my identity. I was a nerdy kid, so it helped me feel cool. I moved to another state for high school, so it helped me find new friends. I was stressed in college, so it helped me feel accomplished and manage my time. Today, I tend to have a lot on my mind, so it helps me chill out and untie some mental knots before they become too complicated.
When did you get started running: In middle school when I was copying anything my older sister did. I would bike next to her on her training runs and was really inspired by her consistent training and hard work. My family also did these weekly two-mile races in San Antonio's Brackenridge Park. Watching my times improve did a lot for my self confidence.
Have you taken a break from running: Once for an injury, a couple other times when I had reached the point of burnout.
Training shoe: It changes as favorite designs come and go. No loyalties to any brand in particular.
Coach or training group: I ran with great teams in high school and college. Currently I run with an incredible group of friends in DC but I tend to do the big workouts solo so that I know I can trust myself on race day. I'm afraid that if I do anything more formal than that it'll feel like a second job and I'll forget it's supposed to be fun.
The hardest race you've ever run: My second steeplechase. The first one was whatever because I didn't know what it was going to be like but the second one was dreadful. I fell a lot, the water was cold, and I almost quit, but there were literally only a few women in the race so all I had to do to score points was finish.
Most adventurous decision you've made with your running: My triathlete friends in my running group convinced me to enter the lottery for the 2017 Great Chesapeake Bay Swim, which crosses 4.4 miles underneath the Bay Bridge, and to my horror I got in. I had only started swimming laps in 2016, but the challenge and potential for bragging rights excited me. I know it's not a running example, but man was it fun and it encouraged me to be bolder when setting goals for future races.
Running mentors: Ouch… where do I begin. It's a mix of former teammates, coaches, and friends who have been extremely patient with my training questions and extremely encouraging when I'm in a rut.
My favorite place to run in the D.C. area is:  Depends on my mood and the time of day but I have a soft spot for the Tidal Basin/Hains Point area.
Favorite local trail:  Currently it's W&OD.
My best race was: This might be recency bias but I'm going to say the Rock 'n' Roll marathon in San Antonio. It took a lot of training and encouragement from friends and family to walk up to that starting line and think "I am going to run my fastest marathon today." And I did, in my hometown with my family!
Favorite local race: Army Ten-Miler if and only if I'm hydrated
Ideal post-run meal: Tacos and a milkshake.
Favorite flavor of gel, gu, etc: Chocolate Coconut. That's not even a contest.
Pet peeve: Poor track etiquette.
Goals: I have to run a marathon in D.C. to say that I have run one in every city that I've called home.
Your advice for a new runner:  There are going to be times you make progress and it's exciting, and there will be times you don't and that is fine, too. Write down how you feel when you reach a big milestone or goal so you can look back on it later. Learn from your setbacks. Don't let your goals take over your life. The decision to try running in the first place and the training and learning that go along with it are all accomplishments themselves.
Favorite running book: Once a Runner
Song in your head during a run: I tend to run without music.
Have you dealt with a major injury: I finished my senior year of college with a foot injury. I graduated in a boot. That was difficult.
Running quote: "There were all kinds of things I was afraid of at first…but by acting as if I was not afraid I gradually ceased to be afraid." – Teddy Roosevelt, who has quite a nice island in the Potomac if I might say.
Why is the D.C. area a great place to be a runner:  Workout clothes are acceptable errands attire here.
Recent Stories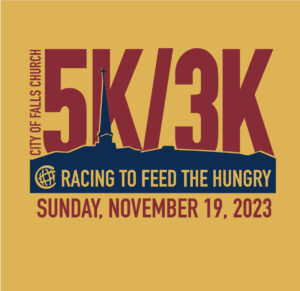 The out and back Falls Church City 5K/3K course is mostly flat on the W&OD Trail starting and finishing at 103 Columbia Street. Overall male and female winners earn free shoes and medals are awarded to all categories. Great family