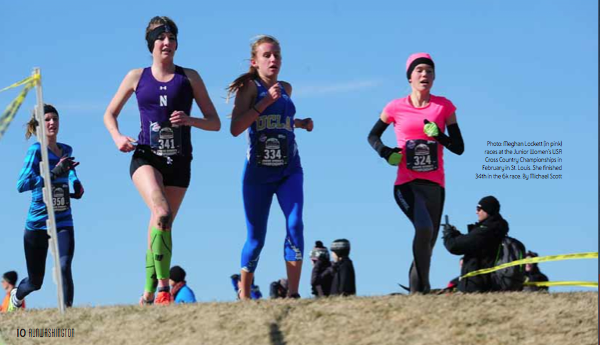 It was a perfect Saturday to skip a workout: temps in the teens, icy wind blasting across the track. To add to that, for Meghan Lockett – a 15-year-old runner who does not compete for a high school and is not allowed to join a club – the day's scheduled 1K and 2K reps were hardly compulsory.
Yet, there she was, on the track at Bethesda-Chevy Chase High School, happy to hop in a workout with a group of post- collegiate women who run for Georgetown Running Club – and in general, just happy to be running.
"I don't think I've ever really missed a run or a workout," said Meghan, who in November ran 18:15 in a 5K road race. "I always get out there. The thing about running is that, even when it is hard getting out there, you always know you are going to feel 10 times better when you've got your workout in."
Meghan is a sophomore from Dickerson, Md., on the rural outskirts of Frederick County, who has chosen to pursue education at home, where she takes Advanced Placement courses and classes offered by universities. She also, a few years from now, aspires to run for a Division I college or university. And for that reason, she and her father, Chris Lockett, have been careful not to disobey any NCAA rules that could prevent that from happening. Being a member of a club, or competing for a club in competition, is one of them. State laws, meantime, prevent her from regularly competing in high school competitions.
She is allowed, however, to compete in the post-states regional cross country meet, through which she could achieve her dream of competing in the prestigious Foot Locker Cross Country Championships. And incidentally, by the time Meghan enters her freshman year in college, she will have already spent four years competing against college-age competitors, as her tuneup meets consist of college invitationals that allow her to compete unattached.
People working the registration tables occasionally question her father: "Wait. How old is she?" Come race time, though, the results speak for themselves. She has run 18:20 in a 5K cross country race and a low five-minute mile on the track. In fact, a couple weeks after the 1Ks and 2Ks, she clocked 10:18 for 3,000 indoors, good for third at the Princeton Invitational.
Meghan first chose to pursue her education at home when she was in eighth grade.
"I was ready to change it up and try something different, to explore my own options," including travel, she said, crediting her mother for being "ahead of the curve" when it comes to education.
She thought initially that she would only pursue her education independently for one year. Later, she decided that following her own vision for education, much like distance running, simply suits her.
Prior to taking up distance running, though, Meghan was a serious lacrosse player. In 7th grade, she joined Frederick's Lightning Running Club, a growing youth running club. "It was a big change for me to go to cross country," she said, "but I just fell in love with it right away."
Meanwhile, she ran her first cross country race, she recalled, when she was just 7 or 8. Montgomery County Road Runners' annual race, the annual Comus Run Cross Country, is held annually in what is practically her backyard. She ran the race with her father "and loved it," she said, adding, "I was definitely hooked on the race, the adrenaline of it all."
That passion kicked in quickly after joining Lightning Running Club. As soon as she saw the club had an "elite group," she set her sights on being a part of it, after which she set her sights on youth nationals, where she debuted in eighth grade.
That race went poorly, Meghan admitted. But ultimately, the result only inspired her. Afterward, she gave up lacrosse so she could focus her athletic energies exclusively on running.
The next step was finding a coach. Searching online, Chris Lockett, himself a former high school harrier, discovered RunSmart, an online coaching service that matches runners with coaches who provide customized, one-on-one training plans. Meghan was paired with Alycia Shay, a Flagstaff, Ariz.-based pro runner and former NCAA champion, who now provides Meghan with weekly training schedules and communicates with her by e-mail and phone before and after races.
As it happens, it's after the tougher races, Meghan said, that Shay's insights have been especially valuable. For example, after finishing in the top 20 at the regional cross country meet her freshman year, Meghan experienced an off day this past fall that failed to meet her own expectations.
"[Shay] is all about patient progress, always looking forward," Meghan said. "She reminds me I have really low miles compared to a lot of people. I've been really conservative with my training, so I have a lot of room to grow. She really helps me keep that perspective."
Meghan's interests are hardly limited to running.
An interest in Kenya's legendary distance runners has blossomed into an interest and passion encompassing East Africa's culture and traditions. She's now learning Swahili, and plans are in the works to travel to the region next year, she said.
She also likes cooking and baking. Most evenings, in fact, you will find her in the family's kitchen producing healthy dinners. These not only fuel 2o- to 30-mile-a-week training regimens that typically intersperse easy five- or six-mile runs with cross training, a couple speed workouts, and a fast-finish eight- or nine-miler – they feed the whole family. (Naturally, Bernard Lagat, an American record holder born in Kenya, and Lauren Fleshman, a pro runner and founder of Picky Bars, are two among the many runners she looks up to.)
There is, as well, an interest in media and acting. Last summer, she participated in Track-Town USA's Youth Leadership Camp, held during the U.S. Olympic Track and Field Trials. More recently, though, she applied her passion to the 2013 Brooks PR Reporter Contest, for which entrants were asked to submit a short, creative video. Meghan found out about the contest at the last minute, but promptly produced a video starring her younger brother (the newest Lockett family member rising up through the Lightning Running Club) taking an ice bath.
Meghan won. And by the time this magazine hits the stand, her resume will have a new entry: Working side- by-side with Milesplit and Flotrack during the Brooks PR Invitational at the UW Dempsey Indoor Track Meet in Seattle.
Recent Stories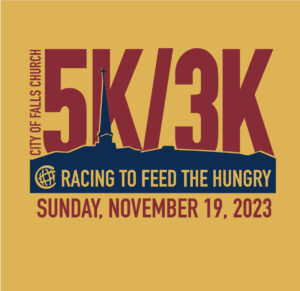 The out and back Falls Church City 5K/3K course is mostly flat on the W&OD Trail starting and finishing at 103 Columbia Street. Overall male and female winners earn free shoes and medals are awarded to all categories. Great family