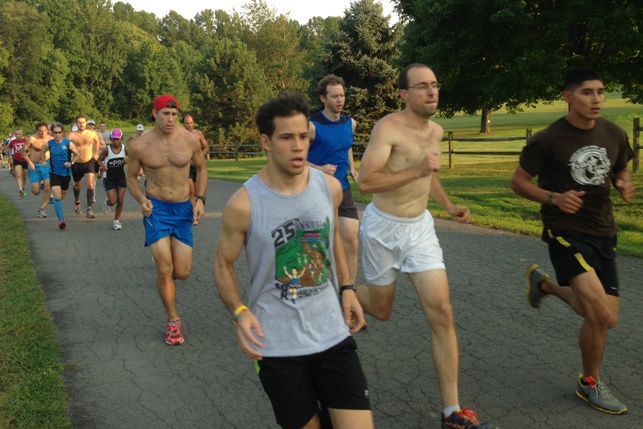 Runners hoping to make it to the Paul Thurston 4.5 Miler Tuesday night found themselves stuck between the clock and a hot race.
The race served as the final leg of the DC Road Runners Bunion Derby series for the summer, but holding it at Burke Lake Park in Fairfax Station was balancing act. If the club held it on a weekend, runners would have to pay $8 to enter the park. If it was on a weekday, evenings would be limited by the park's closing time at sundown, roughly 8:00 p.m. With a 6:45 starting time, it was up to the runners as to how they would manage the end of their workday and fight rush hour traffic to get to the race.
There were some drive-time casualties, like Claire Hallissey, who had built an impressive resume over the course of the series, wasn't able to reach the park in time. Others were lucky the weather was toasty, because warmup time was at a premium.
Ready or not, the gun went off and Karsten Brown, who made the trip from Front Royal, ran to a healthy margin in 26:47 over Antonio Eppolito's 27:16 after a loop around Burke Lake's trails and a few paved hills at the end. Burke's Cathy Ross won the women's race in 30:29 over Elizabeth May's 32:02. Ross just found out she would be hopping on the Potomac River Running team for the Marine Corps Marathon, so her fall schedule just got a lot more solid.
Mike Fox-Boyd of Arlington surged in to finish right at 30 minutes, and although he said years ago he might be disappointed with that time, right now he was happy.
"I'm a shell of my former self, but I love this race," he said. "I hope some 25-year-old reads this and realizes it's ok to keep running when you hit your 30s."
Rob Rodriguez, also of Arlington, embraced his age. He was running to maintain his position in the series' 55-59 age group.
"I just had to finish in front of the other guys," he said. "This was a defensive move!"
He's transitioning into long distance training for the Woodrow Wilson Bridge Half Marathon and the Philadelphia Marathon this fall, so this was his last "fast" race.
"Age catches up with you, and cross country is a lot of up, down, left, right — movement you don't get a lot of, training on the roads," he said.