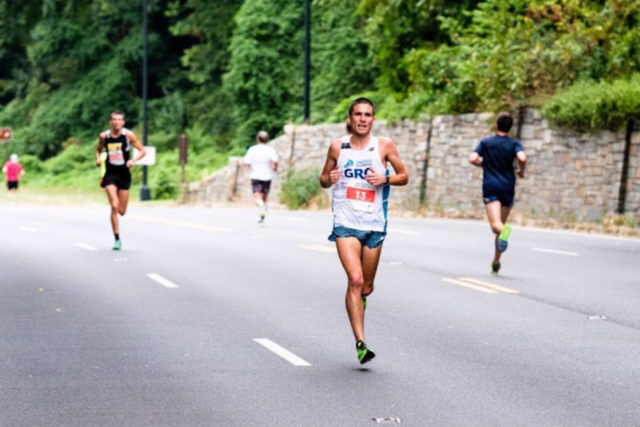 At the humid and overcast Navy – Air Force Half Marathon, many a runner had to temper their expectations. After a pleasant, mild Saturday, the return of sticky summer air on Sunday felt almost punitive. Yet the conditions did not stop Susanna Sullivan (Capital Area Runners) from crushing the women's course record or Daniel Samet (Georgetown Running Club) from a speedy victory in his half-marathon debut. The Bethesda native ran for the Georgetown Day School and later, Davidson College. 
Navy-Air Force Half Marathon
Sept. 18, 2016
"The weather conditions made it more challenging than I had originally anticipated when I signed up," Sullivan said afterwards. "But I feel like I ran a smart race and I was happy with how it turned out." For much of the race, Andie Cozzarelli of Raleigh, N.C. ran alone a few hundred feet ahead of Sullivan. Cozzarelli is a two-time All-American and alumna of NC State who now runs for Oiselle.
In an exciting late play, Sullivan made a move on Cozzarelli in the last half-mile, "which was a little later than I would have liked," Sullivan said. "But coming out of Rock Creek on the downhill, I really feel like I picked up some momentum and rode that to the finish. I was relieved to pass her and I'm excited for the win." She finished in 1:17:32, obliterating the 1:19:52 record set by Martha Nelson last year. In another universe, Cozzarelli's (1:17:53) finish would also have broken the course record. In fact, the times of third-place Amy Laskowske (1:18:07) and age-group winners Perry Shoemaker (1:18:33) and Julia Roman-Duval (1:19:05) also topped Nelson's 2015 record, an impressive showing considering the temperatures.
In the women's masters race, Shoemaker bested Sullivan's teammate Cristina Burbach, who has finished second in the category for several years. Burbach brushed off that history to give the race a go yet again. "This was a race that really rewarded patience," she said. "You had to go out very conservatively and stay conservative far longer than you wanted to." For her, this meant waiting until the turnaround in Rock Creek Park, nine miles into the race, to push.
She was surprised when she reached that point, that "really all I could do was hang on. But even as I was just hanging on, I found that other people were struggling, so the act of hanging on enabled me to pass quite a few people." This humid half was Burbach's last training race before the Chicago Marathon, which is also known for its unpredictable weather. She hopes that race will be more pleasant.
In the men's race, Samet, Jordan Tropf (Navy), Blake Taneff (GRC), and Matt Deters (CAR) formed an early lead pack that strung out its chase pack by the time they left Hains Point, just 5 miles in. For his first half-marathon, Samet came out planning to run conservatively and executed that plan as intended. Like Sullivan would a few minutes behind him, Samet made his play in the ninth mile. After that push, he says, "I was lucky that I was able to hang on" to win in 1:10:37. Tropf followed him in 1:10:50 and Taneff took third in 1:11:17.
Runners at all levels powered through the soupy conditions anyway. Erik LeMoyne (1:33:05), a Marine, was recently stationed in Quantico and relocated to Virginia. He is training for his first marathon at Marine Corps and ran through calf  cramps and a wall at mile nine today. "I set a lofty goal for three hours [at Marine Corps]," he says, "but I'll probably have to adjust. Maybe like 3:10, but it'll be my first one, so it's a stepping stone to others."
Despite struggling, LeMoyne enjoyed the race and its atmosphere. "I love the fact that, with everything that's going on in the news and all of this negativity, that we can get some positivity around. Everybody's coming out just to have a little bit of fun with each other."
Some runners, like Reza Mohaddes (1:57:59) of D.C., still gutted out performances that made them proud. With his wife and sister watching, Mohaddes exceeded his own expectations for his first half. "My goal was like, just finish alive," he says, "but I didn't expect myself to finish alive, but I did." Indeed, the bartender broke two hours and pushed through some tough final miles to earn his time. He's excited at the finish festival, eyes lit up and talking fast. Asked if he'll race another, he says, "Absolutely! I'll race all the half-marathons and I'll try to do the marathon as well."
Traci Scott (2:01:18) and Artis Jones (2:03:38), members of the District Running Collective, didn't feel phased by the morning's weather, especially compared to the thunderstorms originally forecast. Artis laughs, saying that he'd been terrified of the storms but unhappy about the overcast morning. "I was like, I don't want all clouds," he said. "But then the sun came out. I was like, I need another cloud." Although it only made a brief appearance, the sun was brutally hot in the moments it shone through.
Coming into the race, Artis had hoped to beat his time from last year, but "It was exactly the same!" he groans. (Online race results show that he finished 16 seconds faster this year, a technical victory to be sure.) Traci was aiming for two hours and fell just short. Both runners chalked up the successes they did have to the District Running Collective cheering squad, strategically placed at the Kennedy Center to greet runners in miles seven and 11.
"Our cheer squad is so lit. They'll keep you going and motivated," Traci says.
"They're the only way I made it through," agrees Artis.
Melissa Dentch (2:21:04) noticed the quieter atmosphere and the flashes of spectator support as well. "The runners were more supportive of each other than on a lot of other races I've done, which was really cool," she said. "There wasn't music or entertainment on the course so maybe everyone felt like they had to pull together a little more."
Dentch trains with Team RWB. Military races like this one mean more to her now that she has friends who currently or previously served. "A lot of them are running for people that they've lost and people that they know and people who couldn't be here today for whatever reason," she says. "So it's really powerful and meaningful to run with them, run alongside them, and support them." Her teammate, Jennifer Janowski, joined a few other Team RWB members and the November Project to cheer runners through the finish line.
"It's not like some of the bigger races," Janowski says. "You actually get to see people cross the finish line." She's one of several people who praises the size of this race; with about 9,500 finishers in the half-marathon, it's a third of the size of the Army 10-Miler or Marine Corps Marathon. Because she is tapering for Ironman Louisville, for this race, Janowski was happy to bring flags, energy, and Eagle fire to the end of the course.
Ultimately, regardless of the conditions, half-marathons can be a tough race. Nearly everyone interviewed felt some pain in the final miles of the race. Samet's advice? "It's a grind, so you just gotta be gritty and go after it."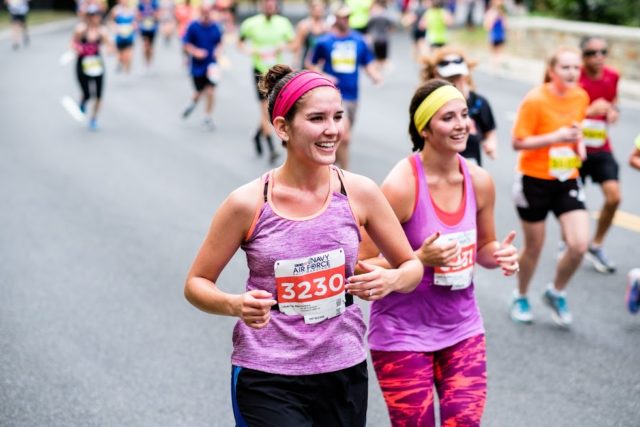 0
Comments