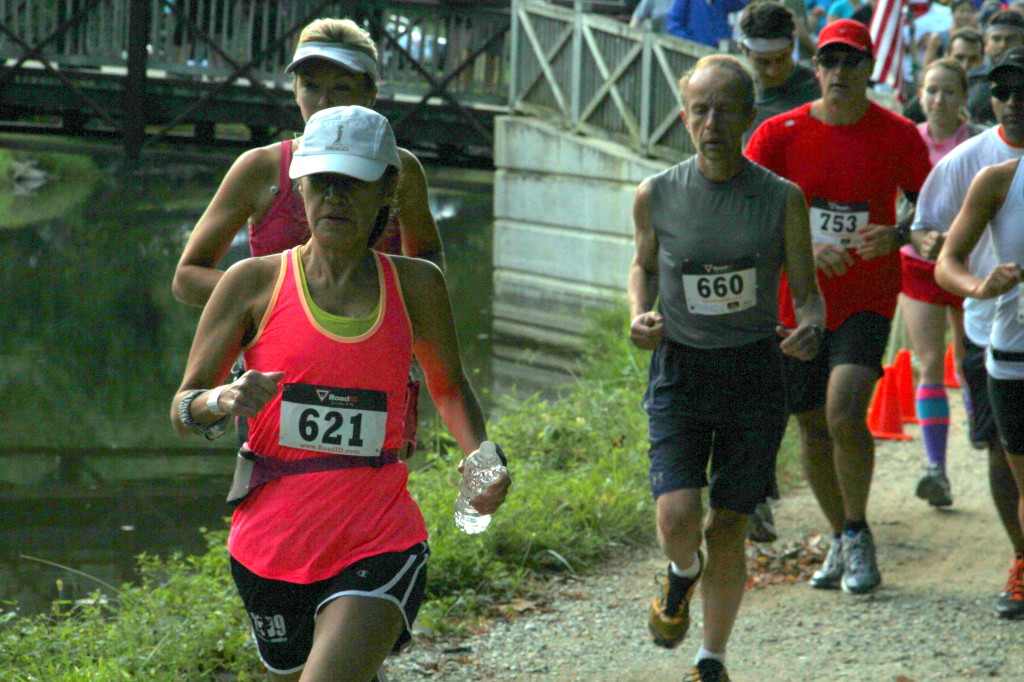 The inaugural Abebe Bikila marathon kicked off at 8 a.m. and 9 a.m. Saturday on a day which could be described as a runner's dream.
The temperature was in the low 60s at the start and did not crest above 75.  This race has run for many years as solely a half-marathon, but this year a 26.2 mile event was added, mainly out of demand for a Saturday race which could be used as last chance Boston qualifier.
The race was held in memory of Abebe Bikila, the Ethiopian runner noted for winning two Olympic marathons while racing barefoot in the 60's, and then very shortly after being confined to a wheelchair due to a tragic car accident.  The race was also held in commemoration of 9/11 with 188 bell tolls being rung at both starts to commemorate the 188 lives lost when a plane crashed into the Pentagon.   The daughter of one of Abebe Bikila's close friends, Selamawit Seifu (daughter of Seifu Makonnen) sang the national anthem before both waves and just by chance a plane flew over each time. The race was small, only about 300 participants, and started at Fletchers boathouse with the course running out and back along the C & O canal (the marathon going out and back twice).
Both champions were relatively new to the sport of distance running, Aaron Misera completing the race 2:44 in only his second marathon attempt , while Tricity Andrew made her marathon debut winning  in a time of 3:15 . When talking about his strategy for the race, Aaron who hails from the Pittsburgh suburb of Lower Burrell and is now an AU grad student says he kind of "just goes".  Since he is markedly busy with school, and work, he said of has to fit running in whenever he can and runs mostly by himself  leading to a lot of miles spent on the C & O.   "I don't  mind this solitariness, though as D.C. is by far my favorite running city," he said. "Especially on days like Saturday when the canal was delightfully un-smelly!"
Andrew, who hails from Blacksburg, seemed excited about running her next marathon, whenever that may be (a hefty statement , because many marathoners know immediately after finishing the first one).
"I'm naturally better at longer distances, and I get better the longer the race," she said. She might hold off on increasing the distance any more, for the time being.
Many runners chose this race as a Boston qualifier attempt.  Both Michael Selmer and Robert Marino say they picked this race specifically for that reason, motivated by the finish line-area bombings at the race last April. Selmer was so motivated that he ran another marathon two weeks prior, missing his time by a mere five minutes. This caused him to really kick it in the last few miles Saturday to prevent that from happening again, which was evident in both his jubilation and exhaustion as he crossed the finish.  Marino was motivated enough by this past April's events to do his first marathon in two years after an ankle injury, even with the ankle not yet being a hundred percent healed.
Amy Tillman and Pamela Walsh, who run with the D.C. Capital Striders, ran the race together and did also qualified for Boston.   Amy thinks that this race will make the rankings for the Top 10 Boston Qualifying marathons next year, a sentiment many other runners in attendance echoed.
Michelle Landry is probably the happiest runner I saw cross the finish line, in colorful apparel from her company smashfestqueen.com for completion of her 11th marathon.  She was ecstatic to finish is only 5 minutes off her PR even though she was untrained.
All in all, it seemed from the runners in attendance that they couldn't have asked more from a race than what was given Saturday, splendid weather, perfect course, and cheerful competitors.
When asked  to sum up his thoughts on the race, director Jay Wind left us with the quote, "Everybody needs a mountain to climb, & I'd prefer one that is flat and off road."