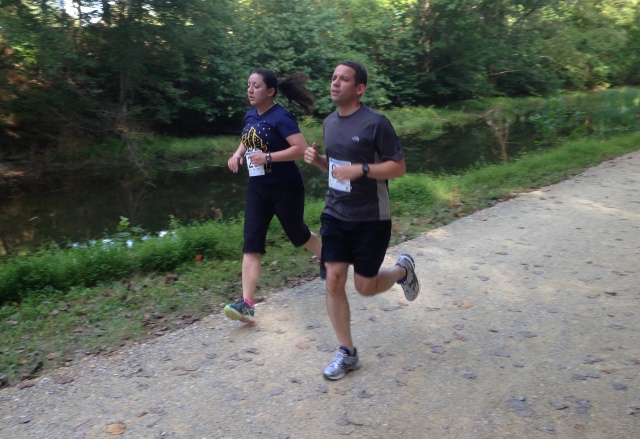 In the grand scheme of things, runners feeling misunderstood by friends and family members – -because they run for fun, go out in blizzards and rainstorms, etc. — isn't the end of the world. They came together Sunday afternoon to help raise money to help another, more tragically misunderstood population — veterans with post-traumatic stress disorder.
The Run for Recovering Heros races Sunday afternoon in Carderock raised money for the Patton Veterans Project, an organization managed by the grandson of Gen. George S. Patton that helps veterans produce short films to better communication their mental and emotional struggles after returning from combat.
The races on the C&O Canal Towpath started an hour apart, allowing 5k runners to double in the 10k.
Serial racer Ted Poulos, of McLean, did just that, and won both. After out sprinting teenager Noah Fields in 20:04, he took a more patient approach in the 10k. He moved into the lead four miles in, after laying back and letting early leaders Joseph Toth and Christopher Bachran duke it out, and won in 40:43.
"I bided my time, and that was a huge help in the 10k," he said. "I got in a good rhythm and just went with it."
Bachran chased in when he lost his position in the front.
"I heard him coming and once he passed me, I figured the best way to run fast was to try to chase him down," he said.
He got that, coming in second at 41:14.
Dawn Gillis of Falls Church won the women's 10k in 42:56, a test on her way to, she hopes, breaking 3:10 at October's Hartford Marathon. Her 3:14 in May at the Run for the Red Marathon in Pennsylvania gives her some optimism that it will work out.
Second place finisher Sophia Santillan of Annapolis went out with a pack in the 10k, but found herself alone when it fell apart. Despite her solitary run to a 48:18 finish, she felt like the race was a good tuneup for the Perfect 10 miler later in the month.
Wil White, of Hyattsville, was so determined to run this race and the 9/11 Heroes Run 5k on Saturday that he tore out stitches in his knee. He finished the 10k in 52:25.
"Nothing was going to stop me," he said.
Manuel Rivera ran his first road race at the age of 58, nearly four decades after his college days of running quarter mile races.
He started jogging around his Washington neighborhood a few years ago when he weighed in at 213 pounds and couldn't walk a block without feeling winded. Sunday, wearing bib 123 (he hadn't lost that much weight running), he dipped under 24 minutes (23:57) to finish second in his age group.
"My wife brought home an advertisement for the race and I figured that meant it was time to sign up," he said. "I'm hooked now, I want to run every race."
Recent Stories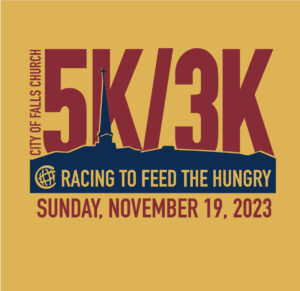 The out and back Falls Church City 5K/3K course is mostly flat on the W&OD Trail starting and finishing at 103 Columbia Street. Overall male and female winners earn free shoes and medals are awarded to all categories. Great family