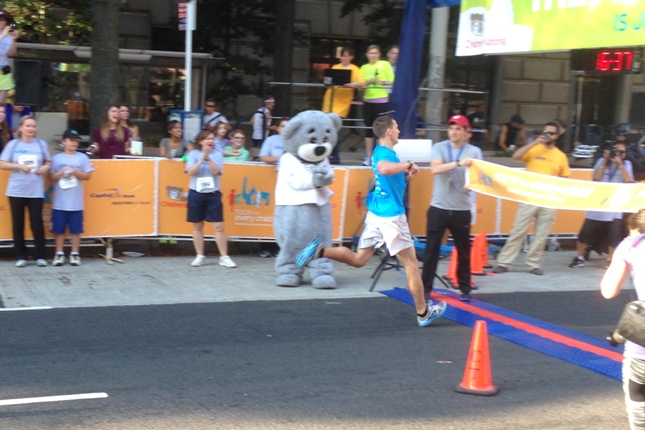 Running in first-year races can be a roll of the dice sometimes.
Planned water stops can disappear. The course distance can be off, or markers point you in the wrong direction.
But Saturday's Race for Every Child 5k in Freedom Plaza had none of those distractions. Top finishers at the event that benefits Children's National Health System reported a well-run race.
"Markers were all in the right place spot. Plenty of cops, plenty of workers out there. It was just amazing," men's winner Travis Boltjes, 34, said. "How well it was run. The entertainment they had. I think it speaks that they know what they're doing. It's just a fantastic race."
Boltjes, who is stationed in Washington with the Air Force, made the men's race less than exciting, finishing in 16:48 – more than a minute in front of the runner up.
"I've won a few (races)," he said. "My time, I'm happy with it, but there are probably 50 runners in D.C. that can beat me by a solid two minutes."
Erin Corcoran, associate director at Children's National, said the hospital had workers who had helped throw other races and walks even though this was the hospital's first. That made Saturday morning smooth.
The race offered multiple water stops along the 3.1-mile course and live music at the finish line festival.
In addition to the 5k, the event offered a kid's fun run, which drew 400 youngsters.
More than 3.900 people signed up for the race, and as of Saturday morning, the events had collected nearly $660,000. Its goal was to raise $850,000, and the money going toward medical research and wellness and preventive services.
The hospital has other higher-priced fundraising events, but entry fees started at $25 and topped off at $45. "We wanted to do something where the whole community could get involved," Corcoran said. 
Matt Rodjom, 33, was one runner drawn to the race because of its philanthropic mission.
The Fairfax resident had a daughter who stayed at Children's National for two weeks about two-and-a-half years ago to have a third of her right lung removed because of a cyst.
"I was expecting a few little issues with turns and stuff like that," Rodjom said. "Other than starting a few minutes later than normally, it went pretty good."
Rodjom finished fifth overall with a time of 19:00.
Boltjes kept checking the event's website in days before to see if the race was canceled.
The shutdown of the federal government forced other Washington-area races – like the Wilson Bridge Half Marathon and the Run! Geek! Run! 8K — to postpone their events because it relied on federal services.
Rodjom, a legally blind runner, typically runs the Wilson Bridge race, which doubles as the half marathon national championships for blind athletes.
Twenty runners ran it last year, but will have to wait to November this year when the race will be rescheduled.
"I was worried it wouldn't go," Boltjes said. "I kept the website all the way up to this morning, and they said it was on. I 'm happy they went with it."
The race started and stopped by Freedom Plaza, running down Pennsylvania Avenue to Third Street. It then ran down to D Street, and after a short out-and-back on Independence Avenue, came back up 3rd Street and Pennsylvania Avenue.
The thought of postponing or canceling the event was never an issue. The hospital already permits for the streets of D.C., which remains open despite the federal government shutdown. They just can't use Freedom Plaza.
"It didn't impact us at all," Corcoran said. "We decided to move the activities onto the street which we already had the permits for."
The biggest hiccup the race had was starting at 8:40 rather than the scheduled 8:30 because of delays in handing on race-day bib pickups.
With hundreds of runners already in the starting corral, the race emcee had to keep the crowd's attention by such things as starting the wave like you would normally catch at a baseball game.
"More people picked up their packet this morning than we anticipated," Corcoran said. "We just wanted to make sure every single person was able to participate. That's why we delayed it."
The delay did little to help runners standing in the unseasonably warm October sun, Mason Brayman, 43, of Washington, said.
"The heat and humidity kind of slowed everyone down a bit," he said after the race. The thermostat registered in the mid 70s as the race started.
Brayman, of Capital Area Runners, finished second in a time of 17:58.  
Chappy Rago, 28, of Bethel, Conn., came in third with a time of 18:13.
The warm weather didn't appear to slow woman's winner Caroline Rothemel, who crossed the finish line in 19:21.
The 16-year-old junior at Bethesda-Chevy Chase High School doesn't even run cross country in the fall. She plays field hockey in the fall.
"I was hoping to get an accurate time of what my PR could be because I've never really raced a 5k before," she said.
Rothemel does run track with her school in the fall, competing in events from the 800m to 2-mile, where her best time is 12:11. 
Robin Glaser, 25, of Baltimore finished second in 19:32. Priti Bhansali, 37, of Millersville, Md., came third with a time of 20:11.
Recent Stories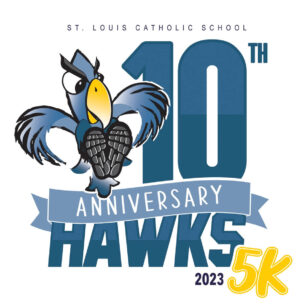 2023 will be the 10 year anniversary of the St. Louis Hawks 5K and Fun Run for Health & Wellness. The USATF certified course runs through the historic Hollin Hills neighborhood in Alexandria, VA.
The Hawks 5K goal, in conjunction