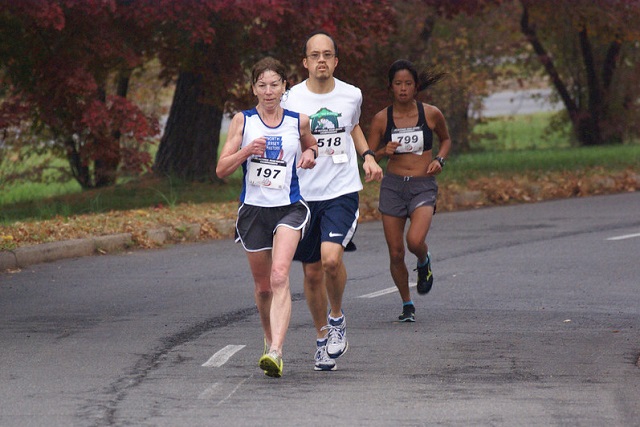 From global to local, the .US National Road Racing Championships in Alexandria, Va. catered to runners of all skill-levels. The race not only featured 30 Olympian and world-class athletes, but also included a community 12k. While many competitors did not have their sights on a new world record like Molly Huddle did when she broke through the tape with a time of 37:50, runners looked forward to competing in a new distance that guaranteed 12k newbies a personal record.
Among the several hundred runners who clenched a 12k personal record was Alexandria City Council Member Justin Wilson and Del. Rob Krupicka, who represents Virginia's 45th District. Usually rolling out of bed on Sunday mornings to run together, they competed with hundreds of their constituents and a number of world champions all in one race—and in the same town they both represent in public office.
"It's wonderful putting [Alexandria] on the map for races," Wilson said.
Krupicka agreed with Wilson and said that the race brought good attention to the city.
"The best part of running on your own streets is you see so many friends along the way that are cheering you on."
Wilson sped through the finish line two seconds before Krupicka finished. Krupicka said he will have a rematch with Wilson in the upcoming Turkey Trot they compete in every year together in Del Ray, Va.
"I thought [Krupicka] was going to catch me," Wilson said. "He was right on my tail."
In addition to hoping to achieve a goal time and a personal record, some runners were hoping to spread a message. Benjamin Villagracia of Fort Belvior, Va. and Teddy Gonzales of Silver Spring, Md. passed spectators on the streets of Alexandria while holding the Philippines flag in an effort promote relief efforts for the recent typhoon that struck the Philippines and killed thousands.
"I have relatives that were affected by the typhoon and I wanted to fight for their spirit and suffering," Villagracia said.
Villagracia and Gonzales switched off holding the flag every two miles. Villagracia said it wasn't easy running with the flag, but was the least he could do for his relatives.
"Compared to the suffering people have back home, the flag is very light," Villagracia said.
As they passed spectators, Villagracia said they received a tremendous amount of support from the cheering audience.
"Holding the flag and hearing the crowd support was very inspiring and kept me going," Villagracia, who started running three years ago to improve his health, said.
Participants competed on the same course that world-class athletes raced on, which made for a flat and fast route through the streets of Alexandria. Though the course lacked hills, it was complete with more than 20 turns—and some runners embraced them.
"I actually found that I was able to pass people on the turns," said Barb Fallon Wallace of Alexandria, who is a member of the Pacers-New Balance racing team and placed second in the female open division. "I lost people on the flat straight-aways, they just get too monotonous."
Because the race was local for her and her family, Fallon Wallace's husband and nearly three-year-old twin daughters were able to cheer her on during the race. Though she had never competed in a 12k race before and was used to shorter races, Fallon Wallace said the distance had benefits.
"I need to start bumping up my mileage so the more I do, the better," Fallon Wallace said. "I just tried to race people and it worked out. The distance didn't feel much different than a 10k race."
Fallon Wallace also added how much she enjoyed competing in the same race as the elite world champions.
"It is fun to mingle with the professionals," Fallon Wallace said. "They're the big cheeses."
Currently serving in the Air Force, Jessica Vega of Alexandria also liked competing in the same race as the elite runners.
"It was cool to see some of the Olympians and world-class champions," Vega said. "It was an honor running on the same course as them."
The race started and finished near Oronoco Bay Park near the water front in Alexandria, Va. After the 588 athletes who competed in the .US National Road Racing Championships community 12k race weaved in and out of the neighborhood streets of Alexandria, they received medals from volunteers as they crossed the finish line—the same medals that the 30 elite men and women received once they crossed the finish line.
Paul Thistle of Washington, D.C. took first in the overall community race with a time of 36:33. Mindy Sullivan of Woodbridge had over a one-minute lead over second place in the women's division and claimed the first-place title with a time of 43:49.
Recent Stories

Both 5K and 1 mile courses are USATF certified. The 5K course has some moderate hills. The 1 mile course is flat making this a perfect PR course. We are really looking to get a broader participation base.
Funds go