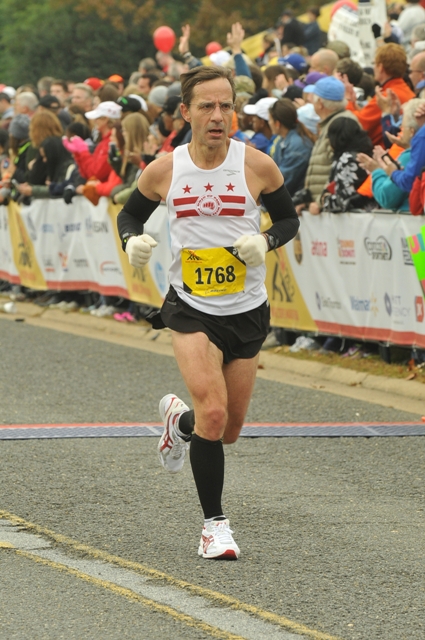 In college, Jack McMahon ran a personal best of 4:34 in the mile.
It was the 1950s. And after graduating with his engineering degree from the University of Pittsburgh, McMahon – like most college runners of the era – promptly quit the sport. McMahon started a career. He and his wife had 10 children. McMahon's second running life started in his 40s when he began coaching and training with a
high school team. He then connected with a DC Road Runners program called Run For Your Life, he said, and has been racing ever since.
On Dec. 1, McMahon was ranked second in the men's 80-and-up division of RunWashington's runner rankings, having run eight local races between 5k and 10k. He's 83 and lives with his wife in a retirement home in Montgomery County.
"I'm running more towards the back now," he said, "but I'm racing."
In the world at large, birthdays after a certain age are both celebrated and feared. But in the running world, 40 – the year one can start competing as a master – is worth getting excited about. A new decade – or a new five-year age division – can mark a fresh start. It can just as easily motivate a new runner to train seriously and find out what they're capable of as it can re-focus someone who has already been running for decades.
In his late 20s and early 30s, Philippe Rolly, of McLean, Va., broke 2:20 in the marathon and 66 minutes in the half marathon. His goal was to break 2:15. This happened shortly after Rolly moved to the United States from his native France. He had recently married Joanne Moak, and worked part time while earning a license in
physical therapy. "Back then," Rolly said, "I had plenty of time to train."
He had less time, though, after starting a full-time job at Medstar Georgetown University Hospital – and even less after he and Moak had their first of three children, who are now 10, eight and six.
"I certainly lost motivation to train hard for several years," Rolly, now 41 years old, said of his break from competitive racing and a few years during which he squeezed in roughly five runs per week.
At the end of his 30s, Rolly – intent on reinventing himself as a master – re-focused his training.
In August, he finished second in the one-mile national masters championships, clocking 4:30. This fall, he was top master at the Rock 'n' Roll Philadelphia Half Marathon in 1:08:59 and second master at the Bank of America Chicago Marathon in 2:27:59.
"Now my goal is to be one of the best masters (runners) in the U.S.," he said.
There are times, and then are performances.
Mick Slonaker, for example, ran his best 10k time in his late 40s. Now 64, the Columbia, Md., runner recently won his age group at the Veterans Day 10k in Washington, D.C., in 39:18, a time nearly three minutes
slower than his personal best.
But his recent performance ranks higher on an age-graded calculator.
"Age is relative, and don't think that just because you are 45 or 62 you can't do something," he said. "Because once you say it, you can't do it."
While Slonaker recently retired from the U.S. Department of State, don't expect to see him sneaking in extra workouts anytime soon.
"I always advise people not to overtrain," he said.
Slonaker, who has had success at everything from 5k to the marathon, advises instead to train consistently.
The longtime Howard County Striders member does track work on Tuesday, tempos on Thursday, and long runs on Saturday. For a marathon, rather than increase his base mileage, he changes his bread-and-butter workouts.
He runs a little less than he used to in his 40s and 50s; these days he logs about 40 to 45 miles per week. He's more careful not to overdo his workouts, takes Fridays off, and is not afraid to take extra rest days when he is
tired or something feels off.
Slonaker ran in high school and for one year of college before picking it back up at 42. After training alone for a year, he went to a Striders "bagel run," he said, and started benefiting from group training. A few years later, Slonaker broke three hours in the marathon. A decade later, he did it again. In his 60s, while stationed overseas, Slonaker ran 3:07:20 on a hot day at the Berlin Marathon.
Like Slonaker, Alan Pemberton, a lawyer and founder of a training group called the Dojo of Pain, is proof that consistent training can lead to consistently solid results. In 2013, at age 60, Pemberton ran 3:03:29 at the Marine Corps Marathon, winning his age group by about 12 minutes. Earlier in the year, he won his age group at the Boston Marathon, running 2:57:52.
Pemberton, of Silver Spring, first tried running in the late 1970s, while in law school. He tried to take on too much too soon, he said, and got injured. After turning 30, he started running in his neighborhood after his children went to sleep, putting in slow, easy miles that "toughened up my legs," he said.
The Dojo, he said, started as an early morning running group but has evolved into a marathon training group. Putting together training plans based on the methods espoused by the Hansons-Brooks elite running project, members of the Dojo take in a steady diet of marathon-specific workouts – from fast intervals at increasing distances around Hains Point to the Hansons' 26.2k marathon simulator a month before a goal race.
"It's a supportive group and we've got a sense for what each person's goals and potential are," Pemberton said.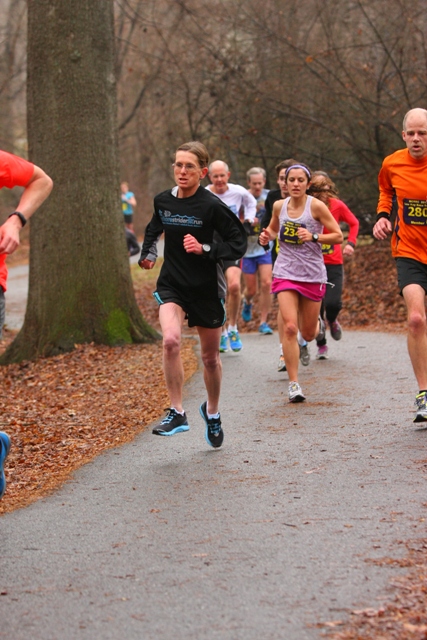 And while performances might ultimately be relative, the age runners start to slow down is hardly set in stone.
Cindy Conant, 52, started running for fitness during college. In the mid-1990s, though, she and her husband moved to Kensington, Md., along the course for the town's namesake 8k, which piqued her interest in the local racing scene.
Conant does speed work on Tuesdays, tempos on Thursdays, and races most weekends, saying she prefers low-key events organized by Montgomery County Road Runners. She runs at least two marathons a year.
In 2013, Conant ran PRs for 5k (18:57) and 8k (31:08). Six days after running 3:23 in the Boston Marathon, Conant – feeling both angry and sad after the bombing – ran a 10k personal best of 38:40 at Pikes Peek, describing it as a "redeeming race."
Her goal in 2014 is to run faster from 5k to the marathon. "I am all about the time," Conant said. "I don't really care about my place."
Leslie Minnix-Wolfe shares Conant's competitive spirit, but started running at an earlier age. The 52-year-old Reston resident ran cross country on the boys team at the former Lexington High School in Virginia and later at The College of William and Mary. Minnix-Wolfe, however, was usually injured, thus unable to reach her potential.
After college, her coach, Mark Hunter, reduced her mileage, Minnix-Wolfe said, and slowly built her back up, putting her on a path to running 2:47 in the marathon and qualifying for the 1996 U.S. Olympic Marathon Trials.
On her 40th birthday, Minnix-Wolfe was not only poised to be an exceptional masters runner; she was still  running personal bests. Yet her low resting heart rate and blood pressure – related to her dedicated training
– also caused her problems. At her desk, working in the computer software industry – and in other situations, too – Minnix-Wolfe would sometimes pass out.
In her early 40s, she was fitted with a pacemaker to treat an arrhythmia. Her doctor encouraged her to continue running, but Minnix-Wolfe, who is fiercely competitive, knew she had a choice to make: run for the love of running, or continue to push herself and risk injury.
She chose the latter.
"I basically have gotten to a point where now it is more important for me to be able to run and stay healthy," she said.
Minnix-Wolfe still runs upwards of 60 miles per week, she said. But she no longer does intense workouts or  races, knowing that putting a 10k or marathon on the calendar would lead her to over-train. She and her husband, Jeff Wolfe, enjoy watching their youngest daughter run cross country and track for Herndon High School and volunteering for Reston Runners' Youth in Motion summer running program.
"It's another way to deal with the aging process," Minnix-Wolfe said. "I really enjoy sharing my experience, and seeing the improvement of the kids that are running now."
It comes back, it seems, to really knowing yourself.
Even when McMahon was 40 years younger, he didn't like running high mileage ("30-35 miles a week tops," he said) or long races (20k was his longest).
The one time McMahon thought he wanted to run a marathon and started increasing his mileage, right away he noticed two things: he "started to dread it, and things began to hurt."
McMahon runs about 15 miles per week, running every other day. He has kept a record of his age-graded performances since his 70s; it presents solid proof that he's performing best at 10k. But McMahon's heart remains with the distance he first contested during the Truman administration. In March, at the US Track and Field Master's Indoor Championships, McMahon made his move in the mile on the back stretch of the last lap, winning a national title in 8 minutes flat.
"Often towards the end of a race, I really start running hard," he said. "The reason I can do it is because of the work I put into it – and that's a mighty good feeling."