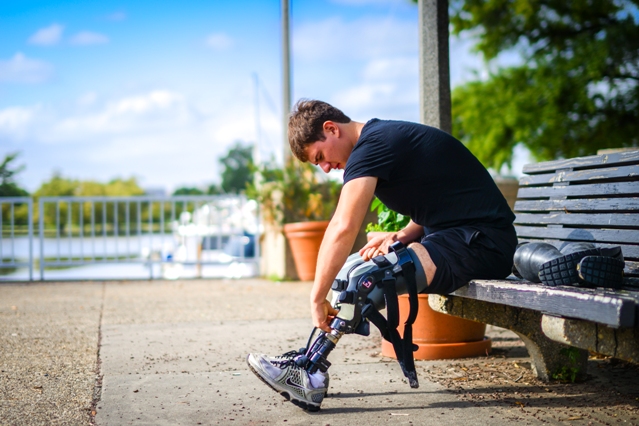 They're often the first ones out of the gate at races, cranking wheelchairs along courses and chasing the thrill. No matter what was taken from them, they won't relent in their pursuit of happiness.
John Mullen tried that – hand-cranking the Army Ten-Miler – but he wanted more. He was wounded in Afghanistan while serving in the United States Army. It was there he began his journey from the perils of the
combat zone, to learning how to walk again, and then learning to run as a double amputee. Prevailing over adversity, picking the harder road.
Mullen grew up playing football, basketball, running track and field and competing in Olympic weightlifting. When he enlisted in the Army in July 2009, he displayed such strength and endurance during his first day of physical training that he was tabbed to be a 240 Machine Gunner, a routine that would involve carrying more than 100 pounds in gear. After completing the required training, he joined the 10th Mountain Division, which deployed to Kandahar, Afghanistan in May 2011.
"My division monitored a village that had seen increased Taliban activity," he said. They worked in 72-hour cycles, with a one-mile trek between the posting and command outpost. For three months, Mullen worked this
routine without incident. But the Taliban had been monitoring the duty patterns.
The Taliban opened fire while Mullen's shift was en route. Once the relieving platoon got the situation under control, Mullen's platoon headed back to the command outpost. Suddenly he fell to the ground.
"I was engulfed in a world of white," he said. "I was unable to comprehend what had happened."
Mullen had stepped on an improvised explosive device (IED). The explosion tore off his legs a few inches below the knee, removed part of his thumb, and damaged nerves in both of his arms. Sensory overload prevented him from being able to pinpoint what was injured. Through two shots of morphine, he heard the words "double amputation" over the radio transmission.
The medic and radioman applied tourniquets to both of his legs and tended to his wounded arms, saving his life from blood loss. One month later that same medic who was instrumental in saving John's life was killed in action.
Mullen was transported to Kandahar AFB and then on to Bagram AFB, Landstuhl Regional Medical Center in Germany, then to Walter Reed National Military Medical Center in Bethesda. After surviving this ordeal, he faced the physical and emotional reality of recovering from his injuries and answering the question, "what now?"
Mullen spent his early time in Bethesda looking at photographs he had taken while in Afghanistan. "Every picture told a story," he said. "They bring me back to that exact moment in time."
He realized his passion for photography and decided to pursue it professionally. They were his first mental steps, but his first physical steps still remained. He had to learn how to walk with two prosthetic legs. In October
2011, four months after being injured, he received his first prosthetics. But an infection in his leg required surgery and delayed his return to walking for a few more months.
The prosthetic process is complicated.
"It's like taking myself to the auto-body shop," he said.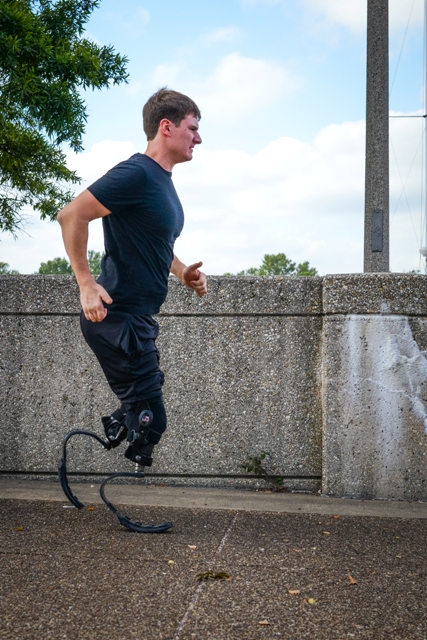 The casts of his legs were taken to create molds for his leg sockets. Adjustable plastic sockets were made from the molds and fitted over the leg so that small changes could be made to the socket to reduce hot spots, pain, rubbing, and discomfort. Once the plastic sockets were fitted, the carbon sockets are made to connect to the prosthetics. Finally, a prosthetist helped determine what type of legs and feet he should use based on how his body naturally moved as he walked with the prosthetics.
Changes in muscle size, bone growth, sore spots and chafing in the amputated limb required a "return to the shop" every few months.
"I felt limited in how much and how fast I could move," he said. "I wanted to do everything I used to do, including run."
In September 2013, he was fitted for running legs, a process just as time consuming as getting fit for walking legs. Learning to use running legs, however, was even more challenging than learning to walk. His stiff, predictable limbs and feet were replaced with two flexible blades with a narrow ground contact area. For amputees, going running is not a simple process. Switching leg braces to running legs takes 10 minutes. Once standing in running legs, there is no rest position; Mullen must keep moving to maintain balance. The first week with running legs Mullen could do a five-minute running interval followed by a five-minute rest interval for approximately 30
minutes. In little more than a month, Mullen increased his run interval time to 15-plus minutes, but struggled with increased soreness from the impact of running on the amputated limb and the new movements associated with the running legs.
"I haven't reached a point of enjoyment with running," he said.
But he has no intention of stopping. No matter how long it takes, he'll make it to the starting line, he said.
In addition to achieving his physical goals of walking and running, Mullen achieved a goal he set in his hospital bed in Bethesda. In August 2013, he earned a B.A. in Photography from the Boston University Center for Digital Imaging Arts. He now works as a professional photographer, and enjoys taking portraits of the elderly.
"I can see the life stories in the faces of my subjects," he said.
As he says this I can't help but look into his face to see his story. What I see are the clear determined eyes of a man who is undeterred by any challenge. A man who selflessly served his country, overcame the loss of both legs, and continues to pursue everything in life with a fervor and passion unmatched by most.
Recent Stories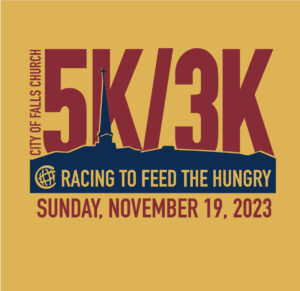 The out and back Falls Church City 5K/3K course is mostly flat on the W&OD Trail starting and finishing at 103 Columbia Street. Overall male and female winners earn free shoes and medals are awarded to all categories. Great family