Finding out the best aspects of the Washington running scene is harder than one would expect. Generally, the top few vote-getters in each category separated themselves from the rest of the field, but there were a few blowouts. Most voters agreed that the C&O Canal Towpath was the best natural surface trail, the Jingle All the Way 8k was the top race in the winter (though it's technically before the solstice). Cherry Blossom wins top spring race and, like it was ever a question, the Marine Corps Marathon dominated the fall races.
Thank you to everyone who nominated their favorites and then voted for them. I hope that when out-of-towners voted, and I know several did, that they got a good look at what we have to offer in Washington and suburban Maryland and Virginia. I don't think I speak out of turn when I say it's all pretty great.
-Charlie Ban
BEST NATURAL RUNNING TRAIL: C&O Canal Towpath
Runners up: Burke Lake, Seneca Creek Greenway Trail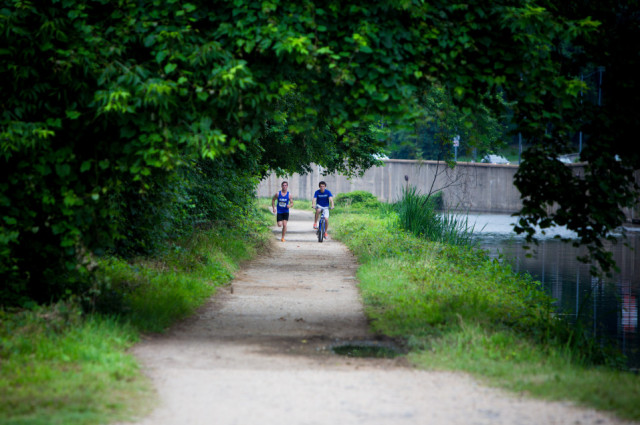 It's 184 miles of pure dreamy running.
Jump on "the towpath" and never have to dodge a car. Call it "the C&O" and most local runners will assume you're new here.
The terrain varies from a pebble-strewn sand around Georgetown to solid packed dirt past the Beltway that seems the quintessential example of "solid earth." It's convenient to the District, but expect a crowd there. Drive out to Riley's Lock, Swain's Lock, Edward's Ferry for a little more shade and solitude, and perhaps a breeze off of the Potomac River.
However you take it, it's a staple of practically every local runner's repertoire. You'll see the Capital Area Runners flocking to Fletcher's Boathouse on Saturdays, various D.C. Road Runners and Safety and Health Foundation races held from there to Carderock. Three marathons are held along the towpath, and they're bargains.
Running is predicated on the simple premise of development adaptation through repetition, that there's no secret to success besides consistency. The towpath strips it right now to the basics. Leave the GPS watch at home and rely on the mile markers that are "right enough." It suits beginners, collegiate champion cross country teams and Olympians.
And it's right for you.
-Charlie Ban
C&O Canal Towpath – 664 / Burke Lake – 197 / Seneca Creek Greenway Trail – 126 / Western Ridge Trail – 95 / Potomac Heritage Trail – 61 / Glover-Archbold Trail 58
BEST PLACE TO MEET UP FOR A RUN: Smithsonian Metro Station
Runners Up: Downtown Bethesda, Fletcher's Boathouse, Candy Cane City, Belle Haven Marina, Rosslyn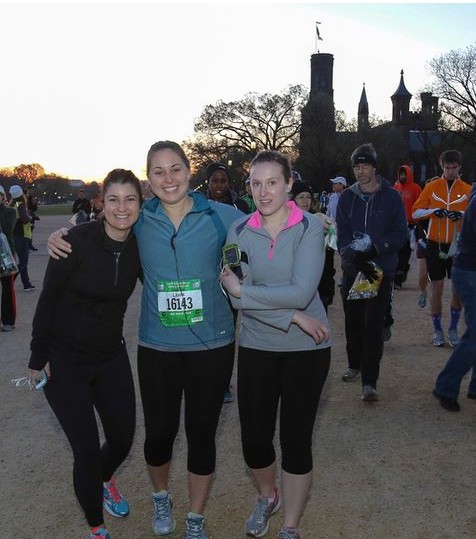 You won't be the only one meeting someone at the Smithsonian Metro station. Expect chaperones waving flags at their school groups in neon tees. Expect families in sturdy walking shoes with knapsacks and light sunburns. Expect grown men playing kickball. Expect bicycle commuters and Hill staffers hurrying to or from their offices.
When you gather here, you probably won't be the only runner meeting someone. In the high running days, expect charity teams, local clubs, and running tours sponsored by the National Park Service. Fortunately, there are a dozen landmarks nearby to find one another among the crowd.
Embrace the crowd.
The Smithsonian metro on the National Mall is a place everyone has been and is willing to come back to. It's accessible by car, bus, bike, foot, and Metro. And this little corner of the Mall is more than just familiar and centrally located. It's a hub.
The station is your starting point on a run that could take you miles in any direction. Head west to loop the Tidal Basin and Hains Point, cross a bridge into Virginia, find the Capital Crescent Trail or C&O Canal Towpath, or continue north into Rock Creek Park and, eventually, Maryland. Turn south and east for the Anacostia Riverwalk Trail, the hills of Southeast, and even more of Maryland. Strengthen those legs on Capitol Hill before the flat expanses of the east side of the city, or just loop any portion of the Mall's gravel boulevards to pass monuments and museums galore.
Ultimately, you and the tourists and the commuters are all there for the same reasons: history, humanity, and ease of access. We're lucky to live in the shadows of monuments and halls of government, places millions come to visit every year. The trip of their lifetimes is our back yard!
So beyond the crowds, you can expect beautiful sunsets and sunrises, with light bouncing off gleaming stone surfaces; cherry blossoms bursting pink petals; lush green grass; imposing historic architecture. Many of us ignore the beauty of a place that may be crawling with visitors and to do so is to miss out on so much that's unique about this region. Let the tourists have the Mall in June; we have the holiday lights in December. The best place to meet for a run is the Metro station smack-dab in the middle of America's backyard.
-Katie Bolton
Smithsonian Metro Station – 281 / Downtown Bethesda – 272 / Fletcher's Boathouse – 267 / Candy Cane City – 188 / Belle Haven Marina – 135 / Rosslyn – 117
BEST LOW-KEY RACE: Kentlands/Lakelands 5k
Runners Up: Country Roads Run, Cascades Firechase 10k/Kensington 8k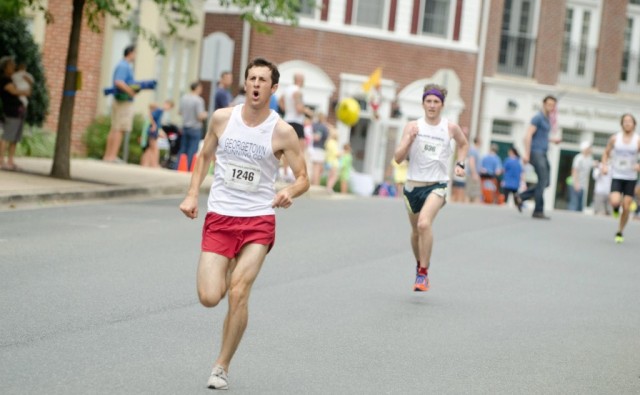 Each year, since 1993, the dual neighborhoods of the Kentlands and the Lakelands, located in Gaithersburg, host the largest 5k in Montgomery County and one of the fastest 5k races in greater-Washington, D.C.
The Kentlands/Lakelands 5k attracts a wide range of contestants, including some of the region's top flight East Africans, post-collegians from local race teams as well as first-time runners and walkers who inhabit one of the two communities the race course traverses.
If you've never been to the Kentlands/Lakelands, you're in for a treat; the neighborhoods are the epitome of New Urbanism. Residents first began coming here in droves during the early 1990s and now the two communities boast nearly 8,000 residents. Since 1997, race directors have put on the race for the Kentlands Community Foundation, which shares a substantial amount of the proceeds with various local charities.
Although the race is officially held in the summer, during Labor Day weekend, the weather, thankfully, can be cool and this super-fast 5k is a perfect opportunity to launch your fall race season. The USATF certified 3.1-mile course meanders through both communities, which share the race's name.  Shortly after you start, you will run through, as the race website suggests, the "unique design of these award-winning neighborhoods." Residents line the rolling roads in front of their respective homes encouraging the participants forward. One would think that the slight inclines and various turns would prohibit fast times, but the course records – 14:17 for men and 16:35 for women – suggest otherwise. As you near the finish, you will leave the residential neighborhoods behind and will pass a series of shops – restaurants, hair salons and fitness studios. Hundreds of fans, many of which are residents who have come out for the big day, will be there to greet you.
As an added bonus, the race is held on a Saturday so anal-retentive runners, who don't like to compromise their Sunday long run for a race, need not worry!
-Jake Klim
Kentlands/Lakelands 5k – 235 / Country Roads Run – 183 / Cascades Firechase 10k – 155 / Kensington 8k – 155 / Ellen's Run – 94 / Somerset 8k – 59
BEST PAVED PATH/TRAIL: Capital Crescent Trail – D.C., Maryland
Runners up: Mount Vernon Trail – Virginia, W&OD Trail – Virginia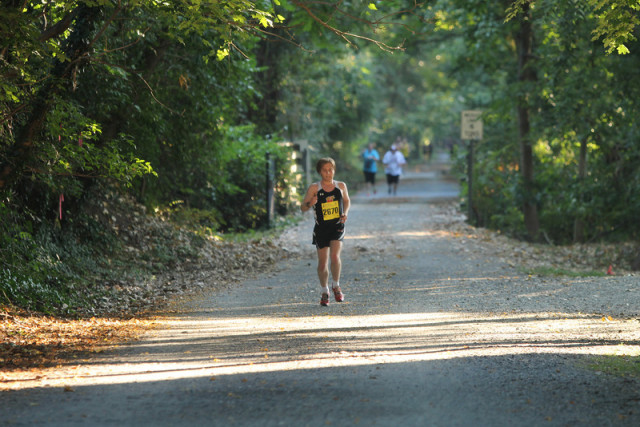 Not too far from the Silver Spring metro, the Capital Crescent trail begins on Talbot Avenue with a wooden sign. "Mile 0.0" mark the beginning of 11 miles of crushed stone and asphalt trail.
This is the best paved trail in the DMV area, according to RunWashington readers.
It's a commuter's dream, connecting Silver Spring, Chevy Chase, Bethesda, and Georgetown and linking up with the Rock Creek Trail and the C&O Canal towpath. Morning riders treat it like the beltway for bikers, enjoying a barely noticeable gradient drop of about 300 feet from Bethesda to Georgetown. Close to 10 bike shops operate right off the trail.
Runners have long used the trail to connect with Rock Creek Park down to Georgetown, making a 22-mile loop that is, for the most part, free of cars and traffic lights.
Just after the one-mile marker, the Rock Creek trestle rises 80 feet above the creek valley. Two miles later, the Wisconsin Avenue tunnel connects the crushed stone of the Interim Capital Crescent Trail, also known as the Georgetown Branch Trail, with the asphalt of the Capital Crescent Trail. The D.C. portion beyond the historic brick Dalecarlia Tunnel provides glimpses of the Potomac.
As early as 1910, the trail was the site of the Georgetown Branch rail line of the Baltimore and Ohio Railroad (yes, the B&O railroad from Monopoly), carrying coal and building materials along the arc that gives the Capital Crescent its name. Trains stopped running in 1985, but one year later the Coalition for the Capital Crescent Trail (CCCT) was created to turn the abandoned rail line into the commuter-friendly path we see today. The National Park Service manages the D.C. section; the Montgomery County Parks Department takes care of the trail in Maryland.
Overgrown with lush greenery in the spring and summer, the path fell victim to this winter's unending dreariness with sections left unplowed after storms by Maryland authorities.
"Each year, I hear from residents who report the difficulty of traversing the trail after a snow fall or icy conditions due to the lack of maintenance and snow removal," five Montgomery County councilmembers wrote to the Directors of the Montgomery Parks and Department of Transportation in February. "As a result, commuters are forced onto busy and dangerous roads that often do not have the appropriate bicycling infrastructure, a situation made worse by the accumulation of snow in the curb lanes from the plows."
On March 27, Bethesda Now reported that Montgomery Parks said it could plow its part of the Capital Crescent Trail in Bethesda for less than $60,000 with a pilot program starting next winter if approved by the County Council. The proposed program would plow the trail 48-72 hours after a storm, after clearing snow in parking lots and other Parks facilities.
Luckily, snow will (finally) be a distant memory as the Capital Crescent Trail will be back in business for training and commuting this spring and summer. The CCT Coalition (www.cctrail.org, @CCTreports) keeps track of trail conditions and incidents.
-Maggie Lloyd
Capital Crescent Trail – 331 / Mount Vernon Trail – 281 / W&OD Trail – 280 / Rock Creek Trail (D.C) – 202 / Rock Creek Trail (Md.) – 186 / Millennium Trail 41
BEST SPRING RACE: Cherry Blossom Ten Mile
Runners Up: George Washington Parkway Classic, Pike's Peek 10k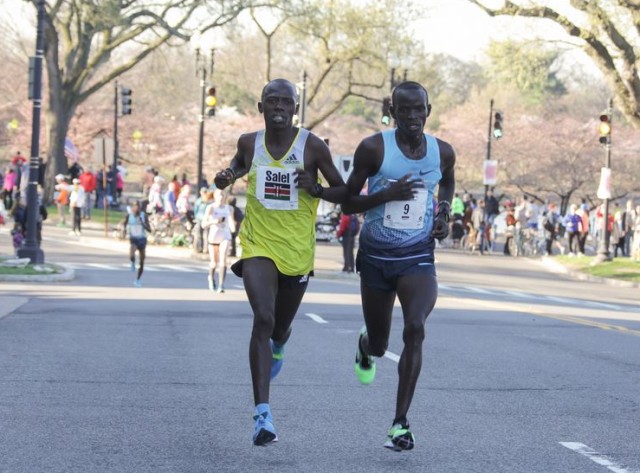 It's the D.C. running community's annual reunion.
Once the snow melts and the bibs are swapped, thousands converge in front of the Washington Monument for the Credit Union Cherry Blossom Ten Mile. Everyone sees everyone — on the other side of the Arlington Memorial Bridge in mile two, along Rock Creek Parkway and Ohio Drive later in the first half of the race.
"I haven't seen you since Marine Corps!"
"How's your Boston training going?"
Though runners take it seriously, most talk of "peaking" does not involve training periodization or a taper; it's all about the cherry trees. It's been a few years since the race and the trees have been on the same page, but that doesn't stop anyone from marking the lottery entry dates on their calendar months in advance.
It's a speedy course, too, with both men's and women's American records for 10 miles coming on the course, with two women's records in the last two years. Year in and year out, a strong international field comes out to play, and the Kenyan ambassador is usually nearby to watch with pride. The race was home to both men's and women's U.S. 10 mile championships.
It's been at least six years since any rain has ruined the day, which usually progresses to brunch and a nap later on.
Dreams are dashed or realized in East Potomac Park, sometimes harmed by a headwind.
And as many times as they run it, seemingly nobody can remember where they went downhill when they have to head back up in the last half mile.
-Charlie Ban
Cherry Blossom Ten Mile – 523 / George Washington Parkway Classic – 231 / Pike's Peek 10k – 209 / Rock 'n' Roll USA Marathon and Half – 158 / Crystal Run 5k – 79 / St. Patrick's Day 8k – 78
BEST SUMMER RACE: Crystal City Twilighter 
Runners Up: Rockville Twilight, Riley's Rumble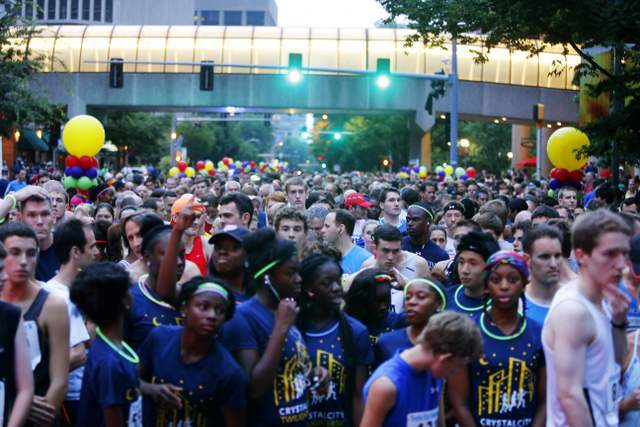 The sun is setting on a hot summer night in July. A small crowd has gathered in Crystal City. As the sky darkens – the hue changing from pink, to purple, to midnight blue – the number of spandex-clad participants on the streets grows. On the surface, the atmosphere is calm – carefree, almost – but with a rumble of excitement and nerves underneath. Small groups mingle about, some individuals focused on pinning paper bibs to their shirts, others to stretch, the more dedicated to jog a warm-up loop around the block.
As the clock approaches 8:30 p.m., the Crystal City Twilighter 5k is almost set to begin. The runners line up at the starting tape. The elites are leading the pack, followed by (intermingled in various orders) the collegiate and post-collegiate runners, the high school competitors, the local club teams, the fun runners, the families, and the first timers. Everyone is welcome, and everyone has found a place in the starting corral. The size of the group has reached the thousands, but you might never know it. The darkness is closing in, leaving the edges of the crowd lost in shadow.
Finally, they're off. The fast, flat course is a dream. The leaders are running all out, not a single one holding back. The rest of the field follows quickly behind, stretching their legs through each stride, each participant quickly breaking a sweat (admittedly, not hard to do on a Virginia summer night). For those runners in the middle of the pack, little can be heard but the footfalls of their neighbors and their own breath.
One straightaway done, and the first group has broken away through the first turn. The cheering sounds of the spectators can be heard, faintly at first, then growing louder as the first runners reach the halfway mark of the race. The leaders can feel the end getting closer. But for those runners in the middle of the pack, surrounded by darkness, time seems to have simultaneously slowed down and sped up, so hard can it be to get oriented amidst the excitement of the race.
Another straightaway finished. Only one last quick turn and a final kick remains. The crowd is going wild – the streetlights illuminating their excited faces and waving arms. As the lead group races down towards the finishing tape, the only question remaining is which runner will claim the top prize. Fortunately, multiple awards are to be given tonight, and many of the top finishers will be recognized individually for their accomplishments in their respective divisions.
The excitement, fun, and nearly ideal conditions for the Crystal City Twilighter 5k race are only made more special by the post-race festivities. Hosted by Pacers Events and the Crystal City Business Improvement District, all runners (over age 21) can enjoy a complimentary beer after the race. Other perks include free parking, Metro access, a Pacers signature tech t-shirt, and – of course – a prime opportunity to PR in a 5k running through the heart of beautiful downtown Crystal City. Does any doubt remain? Held this year on July 26, the Pacers Crystal City Twilighter 5k is the best summer race in town.
-Erin Masterson
Crystal City Twilighter – 354 / Rockville Twilight – 317 / Riley's Rumble – 121 / Leesburg 20k – 119 / PRR Twilight Festival – 95/ D.C. Road Runners Track Championships – 95
 BEST RACE TO RUN A PR: Pike's Peek 10k
Runners Up: Cherry Blossom Ten Mile, George Washington Parkway Classic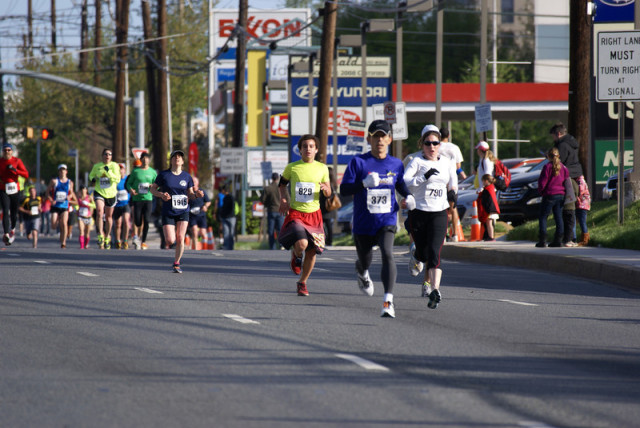 Anyone who has run the Pike's Peek 10k in Rockville knows the course is fast because it's downhill. But that's only the beginning of the story.
The first six miles are essentially flat — not Kansas wheatfields flat, but as level a stretch of road as you're likely to find around here. So while the net elevation drop is 190 feet, most of that decline comes in the final two-tenths of a mile, a point in the race too late to make a middling time fast.
Some surmise that fast times are born of the point-to-point configuration: one left turn 200 meters into the race and then it's pell-mell down Rockville Pike until the finish. And certainly the straight shot helps.
But there's a more subtle, even invisible reason thousands count Pike's Peek as their PR course — the wind. Catch Pike's Peek on a good day — that means a breeze from the north blowing due south — and set sail.
In the 1999 race, U.S. Olympian Dan Browne rode a tailwind to blister the old course record by 40 seconds and claim a $20,000 bonus. Browne's scintillating mark of 28:35 stood for 10 years.
Increased prize money (although no more five-figure bonuses) also served to keep the elite fields fast. In 2011, Julius Kogo, with a strong push from the wind, led eight runners nearly stride for stride over the final hill and toward the tape. Kogo won in the still-standing record time of 28:06. Seven of the event's 13 fastest times came that year; the top six women that same year are among the 13 fastest ever.
So get set for the 19th iteration of Pike's Peek April 27. With White Flint Mall at the finish line all but shuttered, this will likely be your last chance to catch a flyer down the Pike.
– Jim Hage
Pike's Peek 10k – 403 / Cherry Blossom Ten Mile – 319 / George Washington Parkway Classic – 227 / Army Ten-Miler – 155 / Clarendon Day 5k – 96 / Run! Geek! Run! 8k – 46
BEST FALL RACE: Marine Corps Marathon
Runners Up: Parks Half Marathon, Army Ten-Miler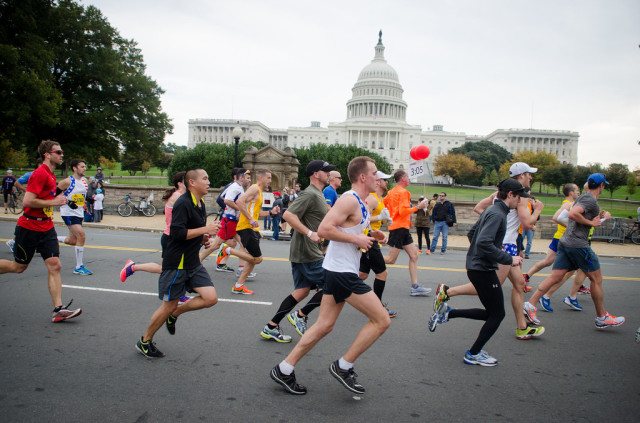 It's like fishing with dynamite.
Last year, it was the third largest marathon in the United States. Around the DC area, it was immensely popular, with 6,565 local runners crossing the finish line.
Though it lacks prize money, it routinely draws competitive runners, many of whom want to run for the glory of winning the Marine Corps Marathon.
One of your neighbors has run it. You know someone who's traveled from out of town for it. Chances are, you've done it. Vice President Al Gore ran it in 1997 and D.C. Mayor Adrian Fenty in 2008. U.S. Supreme Court Justice Clarence Thomas finished in 3:11 in 1980. The list goes on: Members of Congress, Drew Carey, Oprah.
It's been called the People's Marathon. The best marathon for beginners. An economic force in the D.C. area that, in 2010, led almost 70,000 visitors to spend $38 million for their racing or spectating trips.
In 2013, the first-come, first-served system sold out in less than two-and-a-half hours, and it would have been faster without the registration site crashing. It forced the race to go to a lottery to give everyone a chance to "get in."
Even if you don't get in, the whole day is a big party. Crowds line the streets, seemingly everywhere but Hains Point, and anyone who tries to wear headphones quickly hears his tunes drowned out by cheers. Even the prelude to Hurricane Sandy didn't clear the course in 2012.
There were a few uneasy weeks last year while the budget stalemate but the race in jeopardy, but runners like to think that their brethren in congressional districts across the country made their voices heard in their members' offices — we want to race.
And if the government shutdown hadn't ended in time? Many of the more than 24,000 marathoners who raced would have probably mobbed the roads and run the course anyway.
-Charlie Ban
Marine Corps Marathon – 551 / Parks Half Marathon – 303 / Army Ten-Miler – 234 / Woodrow Wilson Bridge Half – 87 / Backyard Burn series – 53 / Run for the Parks 10k – 46
BEST RUNNING-RELATED NONPROFIT: Girls on the Run
Runners Up: Back on my Feet, Teens Run DC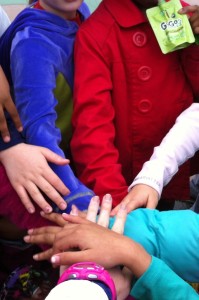 As a nonprofit that encourages confidence and success through running, Girls on the Run attracts a lot of local runners as volunteers.
Hundreds of volunteers in the D.C. area help girls be healthier and more confident with Girls on the Run. The local chapter of the national group, founded in 2006, holds two 5k community races annually paired with about 10 weeks of training. More than 800 girls in all eight wards of the city participate in the program each session, said Kelly Makimaa, development associate for GOTR.
While volunteers aren't all runners, the nonprofit attracts many who already know the physical and emotional benefit of the sport, Makimaa said.
"We all know through sports, especially running, achieving little incremental goals, it truly resonates with believing 'I can,'" she said.
The program is always looking for volunteers, including many different opportunities at their Spring 5k on May 17, she said. To learn more about volunteering or donating, visit gotrdc.org.
"If you can attend an event, you do not walk away from there without a smile," Makimaa said. "I think for anybody who loves sports, the ability to see someone set and achieve a goal is really inspiring."
-Jacqueline Klimas
Girls on the Run – 585 / Back on my Feet – 290 / Teens Run D.C. – 130 / Fairfax Police Youth Club – 80 / Cupid's Undie Run – 71 / Team JDRF – 19
BEST TRAINING GROUP: D.C. Road Runners
Runners Up: Run Farther and Faster, Pacers Logan Circle Fun Runs
With six different basic programs for popular racing distances, a handful of regular group runs and a mass of participation, the D.C.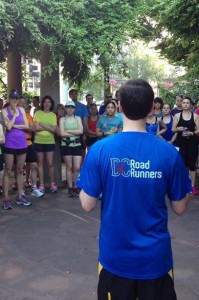 Road Runners maintained a lofty profile after winning Best Running Club last year.
Forty coaches trained 365 runners in 2013, with 150 participating in the fall marathon training program, the club's marquee session. Hundreds of other runners used the group's track workouts and long runs to maximize their training potential.
The club offers a variety of distance-training programs — a 22-week marathon training program culminating with the Marine Corps Marathon in the fall, the Rock 'n' Roll USA Marathon in the spring. Half marathon programs target the Rock 'n' Roll USA and Woodrow Wilson Bridge half marathons. The 10k training programs schedule workouts in preparation for the Capitol Hill Classic and Marine Corps 10k races and a fall-only 10-mile training session prepares runners for the Army Ten-Miler. Training schedules are oriented toward these local races for easy of organization, though they can be tailored to fit other race events.
Though the training programs carry a participation fee, an eight-week fall marathon training "jump start" program gets beginners up to the 10-12 mile range that is a prerequisite for the fall marathon training program.
Outside of the structured training programs, the D.C. Road Runners hold several regular weekly runs. Check www.dcroadrunners.org for updates on meeting times:
Every other Monday: Evening runs leaving from the Potomac Plaza Apartments (2475 Virginia Ave NW) in Foggy Bottom for 6.5 or three-mile runs, followed by trips to The 51stState or Chadwick's.
Wednesday: Track workouts at Washington-Lee or Yorktown high schools in Arlington.
Thursday: Early morning track workouts at Yorktown High School in Arlington.
Saturday: The Saturday Long Run (SLR) from the U.S. Marine Corps War Memorial (Iwo Jima), complete with route maps ahead of time.
Sunday: Sunday Mid-Runs from Fuse Pilates in Dupont Circle area (2008 Hillyer Rd NW) of four or 9.5 miles.
The club also holds a four-part trail running workshop that makes use of the Glover Archbold Trail, C&O Canal Towpath and Potomac Heritage Trail and serves ultrarunners.
-Charlie Ban
D.C. Road Runners – 304 / Run Farther and Faster – 234 / Pacers Logan Circle Fun Runs – 232 / Capital Area Runners – 129 / Georgetown Running Club 88 / Dojo of Pain – 39
BEST RACE T-SHIRT AND BEST POST-RACE PARTY: Parks Half Marathon
T-shirt runners up: Nike Women's Half Marathon, Cherry Blossom Ten Mile
Party runners up: Rockville Twilighter, Four Courts Four Mile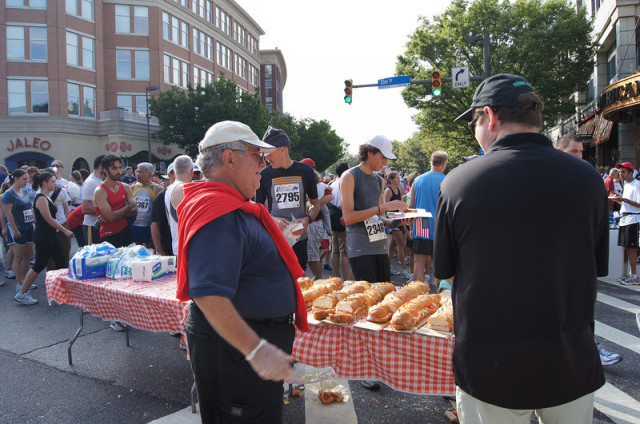 Every race has one. It's what all good organizers must get right — or runners will rebel.
We're talking about the "complimentary" race shirt. You know, the clothing that lines the closet belonging to every dedicated runner.
Some runners eagerly await packet pickup day—when the race shirt is finally revealed—as though it were Christmas morning. And forget the damage to the credit card bill from a steep race registration fee. The shirt alone can be worth the toll.
Runners want to show off their race shirts. And race organizers want the runners to advertise their races.
The Parks Half Marathon's 2013 race participant shirt — an orange, Brooks Podium long-sleeve shirt displaying a bunny trudging through finish-line tape — is something runners will proudly wear around the District. That's why the shirt earned the title "best race shirt."
Influenced partly by a movie poster from Pulp Fiction and the location of the race (Rock Creek Park), Parks Half Marathon Co-Director Mike Acuña says the retro shirt design captured the essence of the race.
And it's not the only "best of" category the race won in 2013. According to RunWashington voters, the race had the best after-party, too.
After runners complete 13.1 miles, they end up in Elm Street Park in Bethesda, Md. with nearly a dozen different food smells to make any runner salivate.
"Our sponsors work closely with us to deliver hot grilled sausage subs, New Orleans egg soufflé, hash browns, pizza, pasta, Italian subs, and a host of other fresh fruits and sweets," Acuña says.
Between the abundance of food, a shirt that is popular on the trails, a scenic park setting, and last year's nearly perfect temperatures, Washington-area runners love the perks of this race.
"We listen to runner input to make tweaks each year," Acuña says. "[We] offer something a little different that sets us apart from other events and deliver value to our runners."
-Jamie Corey
T-shirt runners up: Parks Half Marathon – 259 / Nike Women's Half Marathon – 210 / Cherry Blossom Ten Mile – 201 / Marine Corps Marathon – 195 / Jingle all the Way 8k – 179 / Army Ten-Miler 102
Party runners up: Parks Half Marathon – 234 / Rockville Twilighter – 217 / Four Courts Four Mile – 199 / Crystal City Twilighter – 185 / Woodrow Wilson Bridge Half – 81 / Kelly's Shamrock 5k – 70
BEST RUNNING STORE AND BEST GROUP RUN: Pacers and Pacers Logan Circle Fun Run
Running store runners up: Potomac River Running, RnJ Sports
Fun run runners up: D.C. Road Runners Saturday Long Run, Potomac Runners long run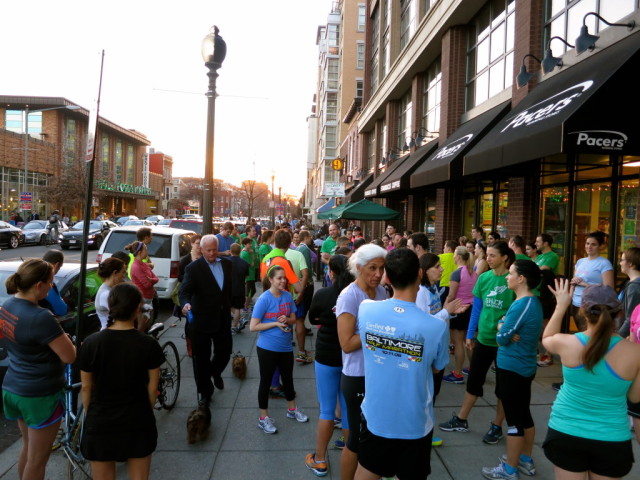 The best running company in the DMV area is Pacers, according to RunWashington readers voting in the annual Best of Washington Running poll.
Pacers organizes over a dozen races throughout the DC metro area, including the Jingle All the Way 8K in December, the Love the Run You're With 5K in February, and the Crystal City 5K Fridays race series in April.
Their marquee event, the George Washington Parkway Classic 10 Mile and 5k, celebrated its 30th anniversary this year. Pacers Events acquired the "prettiest run this side of the Potomac" in 2006, which began in 1984 as a 15k.
The family-owned business currently has five locations: Old Town Alexandria, Clarendon (Arlington), Logan Circle (Washington, DC), Pentagon Row (Arlington), Downtown Silver Spring, and Old Town Fairfax. Pacers Alexandria, the flagship store, has been in business since 1991.
Pacers stores lead over 30 fun runs a week, some starting at 5 a.m. But the series of runs that got the most attention from RunWashington readers: P Street's Logan Circle store.
The group is large enough to support a range of speeds and abilities, from the first-time runner to the regular racer. It's not all about the running, though. "Run Loves," as group leader Elyse Braner likes to refer to them, meet local elite runners, try new gear before its released and take advantage of the density of eateries surrounding the block.
On the second Tuesday of each month, the Pacers Running Store on P Street is crowded with runners eager to hit the road. They want to run, yes, but they're more likely looking forward to the reward at the end: Shake Shack. "Shack Track and Field" received buzz from the Washington Post, Washington City Paper, and DCist when it first started providing post-run milkshakes and burgers last fall. Buy a Shack Track and Field shirt for $10, and you get a free drink to undo your run at the monthly meetup from then on.
They celebrate birthdays and personal bests. They dress up for holidays. They race together (Run Loves was the 5th place team at Pacers' St. Patrick's Day 8k this year). On the day after New Year's, when D.C. was just adding the word "polar vortex" to its vocabulary, runners still showed up at Pacers for the weekly Thursday track workout. Every workout is capped with a team cheer. And now they have more to celebrate.
-Maggie Lloyd
Running store runners up:Pacers – 476 /  Potomac River Running – 283 / RnJ Sports – 238 / Fleet Feet – 155 / Georgetown Running Company – 93 / Road Runner Sports – 89
Group Run: Pacers Logan Circle Fun Run – 273 / D.C. Road Runners Saturday Long Run – 223 / Potomac Runners long run – 177 / D.C. Capital Striders on the National Mall – 85 / Shirlington Running Club runs – 82 / Capital Area Runners track workouts – 69
BEST TWITTER FEED:@Mileposts
Runners up: @DCRunster, @RunningWxman
Finding a running club seems like a reasonable plan for someone new to the sport or for a runner moving to a new city. Dorothy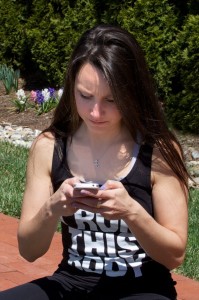 Beal would tell you to join Twitter first.
"Twitter has opened up a whole new world for me," Beal says. "Before, when I first started running marathons, I ran Chicago a couple years. I walked to the start by myself. I ran the marathon by myself. I picked up my bag by myself. Now, when I go to a race, I pretty much know someone who's going to be at that race."
Just as important, she says Twitter represents a way for her to have a conversation online, not just respond to comments on her blog. The Leesburg resident sent her first tweet from @Mileposts on October 18, 2009 at 8:21 a.m. She was headed for a run.
@Mileposts now has almost 11,000 followers.
The Twitter handle references both the W&OD Trail and posting thoughts about running. The trail holds a central point in her offline life. She picked her house because of its proximity to the W&OD, and she says the stream of runners and bikers serves as daily motivation to go run.
Tweeting requires a little less provocation, though Beal says she values quality over quantity, and she only schedules the tweets with running quotes.
Her most frequent postings arrive in the spring and fall during marathon seasons. When she live tweets a race, her excitement sometimes lands her in "Twitter jail," a digital detention where the service bars a user after too many posts in a short time.
Although Beal admits that Twitter has an addictive component — when a 10-minute break turns into an hour — she says runners benefit overall from using Twitter.
"When I come home to my family, they don't care what my marathon time was. The running community is a social thing. You want to talk to people about your experiences."
As for joining a run club versus joining Twitter, Beal says the social media platform empowers runners to meet each other.
"You can kind of be bold and start talking to someone you don't know. When I go to races, I'm not overly friendly. I'm not just going to walk up to some girl and be like, 'Hey where do you live? Do you want to run together?'"
However, if she were to see that same person tweet about training for a local race, she says she could respond in context with a request to meet for a run.
"It's definitely a tool that brings the running community closer together. In Leesburg, 10 years ago, I wouldn't necessarily be considered part of the D.C. running community. Now, I know what's going on. It makes the DC metro area just a little bit smaller."
Beal's top three tips for runners who want to use Twitter:
1. Don't be an egg. Add a profile picture. "You want to be a real person," she says.
2. Put "#runner" in your profile bio.
3. Even if it's a general region, post your location in your profile bio. You can also search location hashtags to find other people in your area.
-Dustin Renwick
@Mileposts – 284 / @DCRunster – 175 / @RunningWxman – 125 / @minutespermile – 84 / @CUCB – 62 / @BMoreRunning – 54
BEST THANKSGIVING RACE: Alexandria Turkey Trot
Runners up: Bethesda Turkey Chase 10k, SOME Trot for Hunger 5k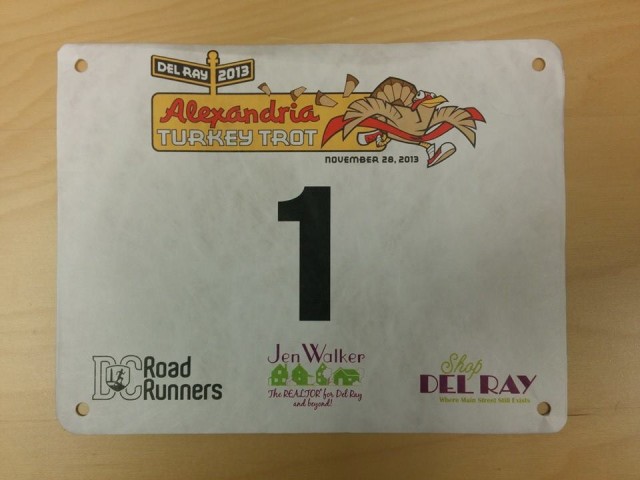 Gather your running buddies, family, friends, neighbors, and maybe even Fido  next year to chase down that pilgrim-costumed runner on Thanksgiving day and the pumpkin pie will taste that much sweeter, just by running the Alexandria Turkey Trot!
The quaint feel of this race, despite the entrants which approach five thousand annually may be just  one of the reasons why the Alexandria Turkey Trot was voted the best race to make you roll out of bed and temporarily abandon your kitchens for on Thanksgiving morning.  Five miles of  running or brisk walking on the race course tours you through the charming Alexandria neighborhood  of Del Ray which is a side of the metro area many never see.    Also, adding to the  high race appeal is the convenient access by a short walk from the Braddock metro to the start at George Washington middle school.  In addition, the fantastic organization and volunteer support attracts participants of all shapes and sizes, from walkers, to speed gobblers,  with the winners posting well under five minute/mile splits.
Amidst the excitement of race day, cranberry sauce and stuffing,  it is also important to remember those  who may be down on luck , especially on such a  holiday of thanksgiving.  The Alexandria Turkey Trot also allows and opportunity for just this with entrants being asked to bring a can or two of food for collection by the ALIVE foundation(Alexandrians InVolved Ecunenically).
Despite your reason for waking up Thanksgiving morning, remember; Every thanksgiving morning in the DC metro area a turkey wakes up knowing it must outrun the fastest human or become dinner.  Don't be a turkey and miss this race!
-Rebecca Fritchman
Alexandria Turkey Trot – 276 / Bethesda Turkey Chase 10k – 273 / SOME Trot for Hunger 5k – 237 / Arlington Turkey Trot – 145 / Turkey Burnoff – 140 / Virginia Run Turkey Trot – 78
BEST POST-RUN BRUNCH: Whitlow's on Wilson
Runners up: Farmers Fishers Bakers, Open City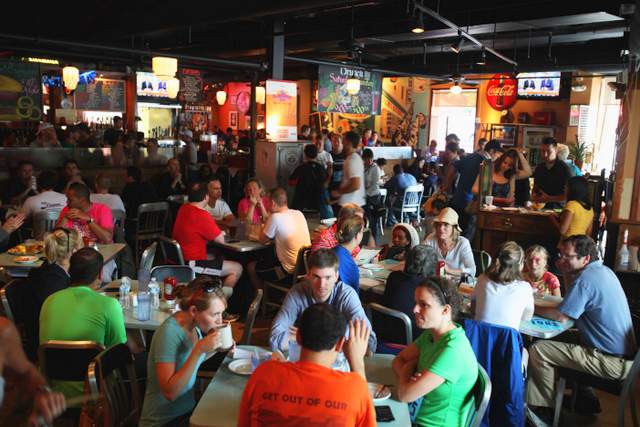 For many runners, refueling with a hearty breakfast is their first thought after crossing the finish line.
Jon Williams, a manager at Whitlow's on Wilson, said he definitely sees an increase in business during races as runners flock for post-race food. The restaurant is located just steps from the finish line of many local races and close to the Clarendon Metro.
"We're pretty maxed out on staff to begin with, but for the Army Ten-Miler, Marine Corps Marathon, Four Courts Four Miler and Clarendon Day races, those are the ones we beef up on our staff for, for sure," he said.
The deals may also be a big draw. While the restaurant usually doesn't offer race day specials, Williams said Whitlow's offers good brunch deals every day, including a full bottle of champagne to "make your own mimosas" for just $14.
One of their most popular items is a buffet that has "everything you can imagine," Williams said, but the restaurant also offers a variety of breakfasts like pancakes, eggs benedict and omelettes. Whitlow's also has good options for runners watching their waistline.
"Some of the runners like to be healthier, so we have egg-white omelettes and stuff like that that's a bit on the lighter side," Williams said.
Whitlow's serves brunch every Saturday and Sunday from 10-3 and is located at 2854 Wilson Blvd.
-Jacqueline Klimas
Whitlow's on Wilson – 294 / Farmers Fishers Bakers – 177/ Open City – 113 / Commissary – 90 / Afterwords – 87 / Masa 14 – 65
BEST WINTER RACE: Jingle all the Way 8k
Runners Up: Love the Run You're With 5k, New Year's Day 5k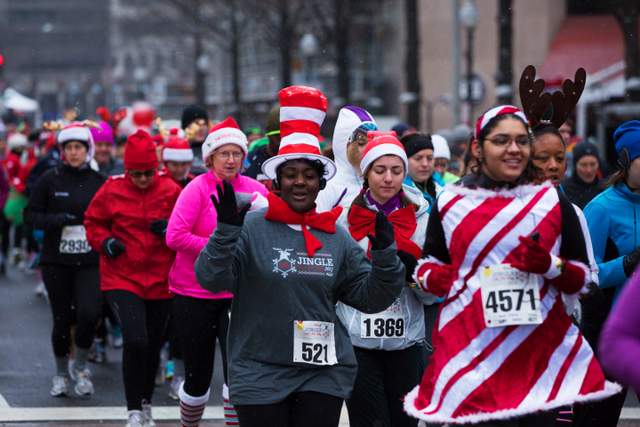 The race was staged on Washington, D.C.'s well-known, out-and-back course that starts on Ohio Drive and rounds Hains Point. The last year the race was held there, in 2010, runners, as it typical, were greeted with cold, rainy, miserable weather. On the starting line that day, I remember thinking, 'Never again.'
But as the race got going, I started to see and hear what it was all about. It was early December; the times were festive; we still liked winter. The road was packed, and the sound the masses made was that of Santa and his sleigh: bells in laces. This race offers something for everyone. For the runners up front, it beats a hard tempo run alone. For more people, it's a chance to blend a passion for running with a passion for the holidays by donning a warm costume. (When I asked Mike McNiff in 2011 what it was like to run in a Santa suit, he said, "It was a little hot.")
It only took this race six years to outgrow the confines of West Potomac Park and move over to an 8k course starting on Pennsylvania Avenue by Freedom Plaza, which some months later hosts thousands of runners decked out in green in honor of Saint Patrick. Look out for the top seed: a jolly-looking man with a white beard who appears to be a dozen-plus pounds above his racing weight. Look out for the winner on the women's side: who in years past has been sporting knee-high candy cane socks and antlers.
Last year, conditions were perfect: 30 degrees and snow. More than 4,400 people participated, covering a course that passes the U.S. Capitol and National Mall. One family wore pajamas. Another family dressed up as elves. Costume awards, meanwhile, were broken down into three categories: individual, couple, and group.
As Abigail Op, who ran as a toy soldier in 2011, told me: "This is just more fun: being a goofball."
-Dickson Mercer
Jingle all the Way 8k – 501 / New Year's Day 5k – 160 / Love the Run You're With 5k – 150 / George Washington Birthday Marathon and Relay – 119 / Celtic Solstice – 88
BEST PHYSICAL THERAPIST: Rachel Miller
Runners up: Ken Fleit, Ed Beck
 Chances are that every runner will need a physical therapist at some point during his or her running career.  But finding a good PT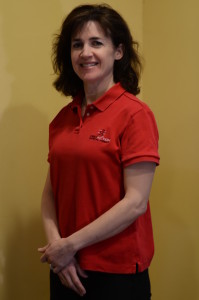 is like finding a good physician. The ideal physical therapist needs to be part detective, part doctor, part counselor….and part handyman.  For Rachel Miller, she's been wearing these hats for the better part of 20 years.  A Board Certified Specialist in Orthopaedic Physical Therapy and owner of ProAction Physical Therapy in Rockville, Miller specializes in the treatment of running injuries and prevention techniques.
What sets Miller apart from the rest is her ability to think like a runner.  A veteran athlete in her own right, she has competed at every distance from 5k to the marathon.  She knows runners are highly disciplined and driven and most will push themselves, sometimes to the breaking point.
"Most runners come to me without seeing a doctor first," explained Miller.  "Many runners have aches and pains and feel comfortable visiting a PT for peace of mind. My job is to connect with the patient, ask a lot of questions, find out about previous injuries and then dig a little deeper.  I look at flexibility, range of motion, strength, muscle imbalances, posture, footwear, training and form."
Once she has a good idea about what ails them, she works with the runner to formulate a plan.  "I'm all about modification.  Rarely do I have to tell a runner to completely stop running.  It's usually as simple as reducing mileage or intensity or working on strengthening a problem area."
For Miller, every case is a like a puzzle and everyone is different.  Her main goal is getting runners pain-free and confident so they don't need to come back.  Empowering patients with knowledge is key.  That includes clearly explaining and demonstrating stretching or strengthening exercises. "If you don't have the 'why' behind it, people don't buy into it," says Miller. "Spending the extra time to make sure the technique is sound is a critical part of my job."
Miller particularly loves working with new runners because of their youthful enthusiasm.  "As a physical therapist, I love being a part of that journey for each runner as they strive to meet their goals.  I try to understand where they are now and where they want to be, and then together we make that happen.  It's all about longevity."
– Dan DiFonzo
Rachel Miller – 388 /Ken Fleit – 83 / Ed Beck – 83 / Robert Gillanders – 79 / Makenzie Mazin – 67 / Britta Gilbert – 51
Recent Stories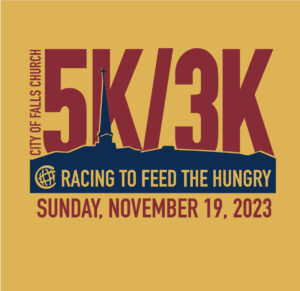 The out and back Falls Church City 5K/3K course is mostly flat on the W&OD Trail starting and finishing at 103 Columbia Street. Overall male and female winners earn free shoes and medals are awarded to all categories. Great family