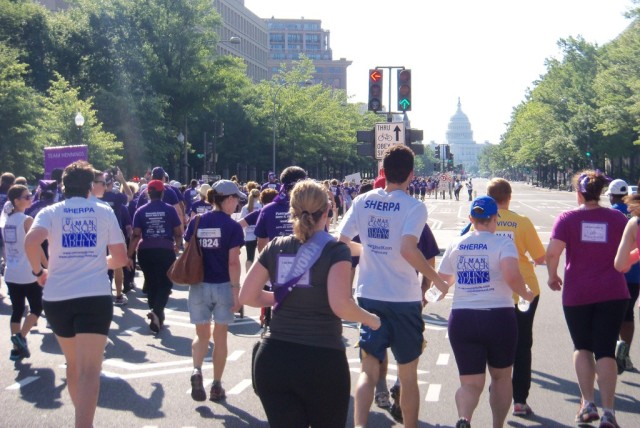 Freedom Plaza was a sea of purple June 14 for the Pancreatic Cancer Action Network's Purple Strides 5k. With little humidity and a light breeze, the weather was perfect for thousands of runners and walkers to make their way down Pennsylvania Avenue.
[button-red url="http://www.zippyraceresults.com/search.php?ID=4043″ target="_self" position="left"] 5k Results [/button-red]Griffin Mackey, 16, of Pittsburgh easily won the race, crossing the finish line in under 17 minutes. Just coming off his track season at Sewickley Academy, Mackey broke away from the field after the first mile and ran unchallenged for the rest of the race. Brian Mahoney of Washington, D.C. finished second.
The women's race also featured a landslide victory, as Cindy Conant of Kensington pulled away from her competitors after a first mile of 6:04. Michaela Peterson of Bethesda-Chevy Chase didn't meet her goal of beating her time from last year (19:25), but still placed second.
As runners filtered through the finish area, the crowd was full of support and celebration. Purple tutus, purple wigs, even purple viking horns decorated participants' outfits. One finisher was ambushed by friends with purple silly string.
Everywhere you looked, signs declared the event's call to "Know It. Fight It. Beat It." Saturday's race raised over $680,000 for pancreatic cancer research and patient support.
Susana Berger was the top fundraiser, raising nearly $30,000 as one of about 60 members of teamBERGER, which raised over $60,000 as the top fundraising group. Camille McIntosh, a survivor and the second top individual fundraiser, raised over $10,000 as a member of JIMBO's BIMBOS.
According to the Pancreatic Cancer Action Network, a severe lack of funding for pancreatic cancer research has limited advancement in detection and treatment of this disease, which is the fourth leading cause of cancer death in the US with a five-year relative survival rate of six percent. The Pancreatic Cancer Action Network estimates there's a new diagnosis of pancreatic cancer in the U.S. every 12 minutes.
With Father's Day the following day, the weekend was particularly emotional for families celebrating survivors or honoring those who have passed away. Bernard Beidel of Centreville beat cancer a few years ago, and walked today's course holding a large sign with his team, Bern's Whipple Walkers.
"You don't get this far without your family," he said.
Nick (Washington, D.C.) and Rick (New York, N.Y.) Desloge signed up with family and friends in honor of their father, who passed away from pancreatic cancer in 2012 a year after his diagnosis. Their team raised over $2500 simply through corporate and individual donations.
Tori Selimis of Woodbine, Md.,  a breast cancer survivor, recalled undergoing treatment with her father, who had a recurrence of breast cancer last year. She called it a "very bizarre daddy-daughter date."
Selimis says she had wanted to be healthier to reduce the chance of a recurrence of her breast cancer, so she signed up for the Ulman Cancer Fund for Young Adult's Cancer to 5k program with the encouragement of her friends.
"Since I was 37 when I was diagnosed with a 2-year-old and a 6-month-old I had no choice but to try anything that can help increase my survival rate."
Saturday's date marked the one-year anniversary of the funeral for Craig Irving's sister, Viola, who passed away within five months of her diagnosis of pancreatic cancer at age 53. Viola had wanted to participate in the Purple Stride 5k last year, so this year her family traveled from Mississippi and Tennessee to honor her as Team Vi's Victory. Irving, who lives in Alexandria, has learned a lot about pancreatic cancer since last year.
"Getting information is important," he said. "The first few weeks is when a family needs the most support. Those are precious days, hours, and minutes."
Irving and Margie Nides, who walked the race in honor of her sister Anne, agreed that meeting other families was one of the most inspirational parts of the day.
"When you look around, you see different stories," Nides said. Anne Nides showed no symptoms and had no family history of the disease before her diagnosis. Her other sister, Jane, said it was great to walk down Pennsylvania Avenue, "targeting the bodies in there who can get the funding" for pancreatic cancer, she said, pointing to the Capitol.
The Desloge brothers said their dad wished for better testing for early detection of pancreatic cancer while he was undergoing treatment. It's a critical solution that would improve the chances for patients with the deadly disease and their families to know it, fight it, and beat it.
Recent Stories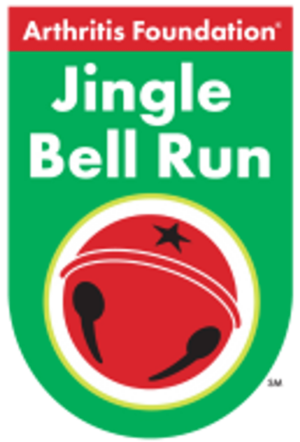 Be part of the original festive race for charity and signature Arthritis Foundation holiday event! Wear your favorite holiday attire and together, we'll jingle all the way to a cure! Register as an individual or bring a team of friends,