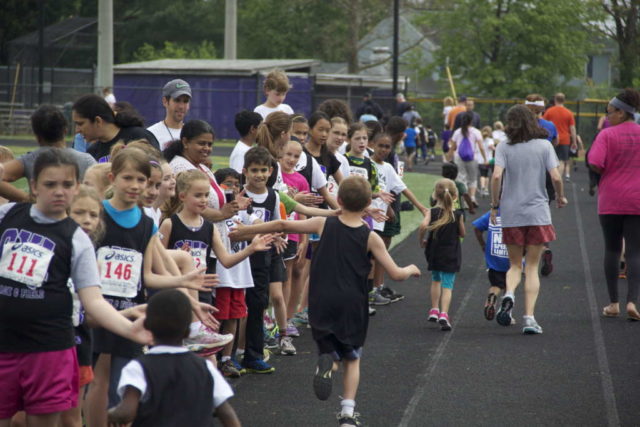 Lugging relay batons larger than their arms, three-year-olds careened around a set of cones in the high jump area at Chantilly High School's track, their balance akimbo. Some hopped over baby hurdles, with one tiny girl dragging one along as she ran away, like a car that caught a branch underneath.
After "playing track" for a while at the Chantilly Youth Association track club, the expectation is that kids will learn the variety of events and develop some skills. But that's as far as the expectations go.
Some will likely grow into track stars, like Jack Stoney, who won the 2013 6A cross country state title while a senior at Oakton. But more important to the program, director Ed Lull says, is that kids gain a lifelong love of the sport. And, even more helpful to him, they — like Stoney — come back to help out.
"I look at my photos (of Northern Virginia cross country and track meets) and I'll see a face I recognize from years ago," he said. "That's really rewarding, to know they got their start and are sticking with it. That's why it's important that we stress learning and enjoying the sport rather than competing."
That doesn't mean achievement is dismissed. The program regularly brings in track and field celebrities, such as American one mile record holder and Reston native Alan Webb, to meet the kids and hand out trophies for the trophy mile– the program's culminating event.
"We tell kids they don't get a trophy for just showing up, they have to run the mile and earn it," Lull said. "We usually can't do much else after the race because they won't let go of their trophies."
Lull, who contributes high school track and cross country photos to RunWashington, has been at the helm since 2001. He built the ship, too. Having run track at Lake Braddock and William and Mary, he was thrilled to see a track option when he was signing his oldest daughter up for the recreational sports league. He checked that box.
The next day he got a call from the association.
"They said they didn't actually have a track team, but if I wanted to start one up, they could offer $1,000 for gear and a trailer to store equipment," he said. "I figured, 'why not.'"
He got roughly 115 kids out that year and found some help in the community. The first family to sign up included Kevin and Vicky McGorty, both collegiate track standouts, but that was news to Lull.
"A family from church offered to come coach some jumpers," he said. "I was happy to have the help, but when I realized how well Kevin had things down, I found out he was an Olympic Trials qualifier in the decathlon. It all made sense to me then."
For 13 years, Sunday afternoons in the spring have meant laps of the infield as Lull rounds up hundreds of children of all ages. More than 400 come out for the team, with younger kids signing up once their parents see how much their older siblings enjoy it. They're ministered to by a collection of local high school coaches and their team members, who do most of the heavy lifting mentoring kids.  
Nathan Revor, a junior at Paul VI, helps coach the 10- and 11-year-old "distance" runners. At that age, they top out at 800 meters. He was joined one day in April by students from Chantilly, including the McGortys' son Ryan, Oakton, West Springfield and Lake Braddock.
"It's fun to help grow the sport and teach younger kids what we know and what we love about it," he said. "The main goal is to have fun. You can't worry too much about teaching technique or get too serious about performing, so we try to make it as enjoyable as it can be so everyone finds something to love about it."
During three practice weeks, before the meets begin, coaches shuffle their charges among different events — a half hour doing the jumps, a half hour with the shot put, sprinting and short distance races.
"The kids are pretty high energy, so that's about as much time as we can expect them to focus on one thing before it's time to move on," Revor said.
His Paul VI classmate Matt Kocis tried to impart race strategies
"Some of them want to jog 700 meters and then sprint at the finish, so I try to let them know there are other ways to run," he said. "All the kids have a good attitude, they don't get focused on winning, but we want to make sure they learn something and improve."
Their coach Jeff Fanale, pitched the CYA program as a way to meet their community service requirements.
"It's a way for them to contribute what they know and enjoy about track and running and hopefully interest these kids in it," he said. "There are lots of ways to get those service hours, but it would be a waste for the high schoolers to not use what they have to offer."
The CYA program, like others in the region, fills a cultural gap in kids' lives. As successful as Northern Virginia high cross country and track teams are, they have to compete for athletes with other sports as students enter high school. Track's identity persists as less established in popular culture than little league baseball, travel soccer teams and AAU basketball. The sport has a massive audience every four years during the summer Olympics, but is less visible, and emulatable, the other three years.
"I didn't know about youth leagues like this, so I got ready for cross country by playing a lot of video games," Fanale joked. "I think getting track on kids' radar early will make a big difference in getting them to come out for the team."
As such, youth track leagues, when successful developing potential high school athletes, could be a gold mine for eager coaches, but at least at CYA, they volunteer their time in a collaborative way, rather than competitive. The association associates the closest with Chantilly, Westfield and Oakton high schools, but is open to anyone.
"It doesn't surprise me that it centers on the Chantilly area and the Chantilly boys have won the last two state titles in cross country," Lull said. "But (Chantilly coach) Matt Gilchrest doesn't even come to these practices, he's coordinating the Manassas-Culpeper program."
Contributing to an effort that could oppose his own team's fortunes, Lake Braddock coach Mike Mangan adds a seventh day to his weekly track schedule after attending to his high school team's needs. On a mid-April Sunday with temperatures hitting the mid-80s, he followed up a two-day stretch at his own high school invitational making sure kids he will likely never see in his own program know how to race in a sportsmanlike manner.
The difference is, these afternoons he gets to see his children, Abby and Joey, participate. Mangan, whose physique lends itself to pole vault attempts for comic relief, ran the 400 meter with five-year-old Joey.
Robinson coach Kim Coffield brings her children to CYA, and she is watching her seven-year-old, Catherine, harness her boundless energy into a more forward direction.
"She can run around all day, we just have to keep her on task," she said.
Catherine's strategy for the 400 meter is to "go from the gun" and run until she's had enough.
Kim and Rick Westrich of Herndon are both avid runners, and their five-year-old son Freddy is a budding harrier. He finished his second year in the program this spring. When CYA is over for the year, he participates in Youth in Motion, with the Reston Runners, and the Potomac River Running track program.
"Two of Freddy's friends had signed up (for CYA) and I saw their parents' posts on Facebook and got interested," she said. "We had him signed by week two."
Once there, he bonded immediately with Lull's daughter Sammy, then a senior at Chantilly.
"She took Freddy under her wing and taught him about running," she said. "He looked forward to seeing her every week."
This year's program took some adjustment for Freddy, with Sammy off at William and Mary, but she came back after school let out.
"He's young enough that he loves just running, and the fact that he's one of the slower runners doesn't bother him," she said. "He has a lot of fun, and we hope that's still important to him when he gets more aware of the competitive aspect of the sport."
Before then, Lull hopes to hand over the reins to someone else. As his youngest daughter nears college, he's eyeing the bleachers, rather than the infield.
Recent Stories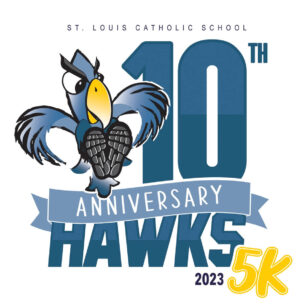 2023 will be the 10 year anniversary of the St. Louis Hawks 5K and Fun Run for Health & Wellness. The USATF certified course runs through the historic Hollin Hills neighborhood in Alexandria, VA.
The Hawks 5K goal, in conjunction