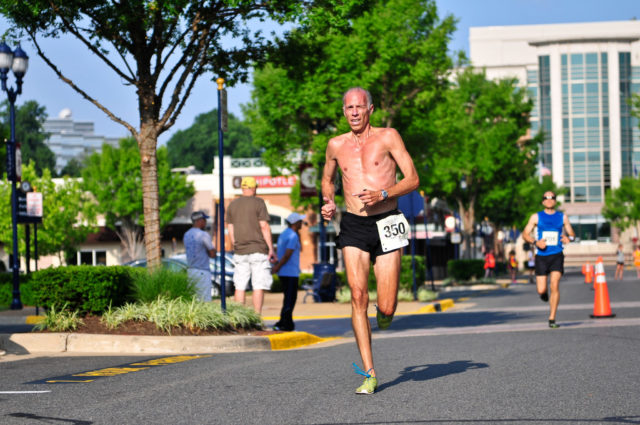 Ted Poulos was living the lifestyle of a typical post-college student. Employed for the first time since graduation, the 22-year-old indulged himself in happy hours during the week, followed by parties on the weekends. There was no better way to unwind after working long hours as an electrical engineer for IBM.
But the constant flow of beer and ample supply of fried food left little room for physical activity, and after about a month of the happy hour scene, Poulos decided it was time for a change – even if it meant giving up the simple, comfortable routine he had fallen into.
"It was, 'Hey, this is fun, but it's not going to be long term how I want to treat myself, how I want to treat my body,'" said Poulos, now 55. "So I just started running to keep in shape."
Few, if any, could have imagined the running career that would follow.
Poulos is one of the most prolific racers in the country and finished last year having run 5,340 career races over the span of nearly 33 years – an average of about 161 races per year for the McLean resident.
In 2003, he set an unofficial record of most races run in a year with 337, which is now held by 66-year-old Bill Stahr, who ran 369 races in 2014. Last year, Poulos competed in 239 races despite being hampered by a hamstring injury he suffered in April.
"Once I started running and started improving, I really did want to see how far I could take this, and see how much I could test myself and find out where my limits were," he said.
'A fantastic athlete'
Decades before he became an obsessive runner with enviable personal records, Poulos left his high school track tryouts with a bad taste in his mouth. His performances were underwhelming and he failed to make the varsity team, an experience that soured Poulos on running.
But the Midwestern kid from Sioux Falls, S.D. and oldest of four children managed to stay active in other ways. Up through college, Poulos played a variety of intramural sports – volleyball, basketball and racquetball. It was all for fun, he said, not serious competition.
Those who have competed against Poulos, however, understand that his lack of youth sports pedigree means very little. This is especially apparent when Poulos – all 5-foot-9 and 135 lbs of him – speeds past runners half his age, while frustrating and eliciting awe in those battling for the podium in his age group.
"He's clearly a fantastic athlete," D.C. Road Runners President Rich Mendelowitz said. "The key is he knows that it takes hard work and he's willing to put in the work and that's what separates the boys from the men in running."
Poulos's very first race began one warm summer morning in 1984, when a local ice cream shop near his IBM office in Rochester, Minn. organized a two-mile and 10k fun run.
Poulos opted for the two-mile race, thinking 6.2 miles would be beyond his abilities. Running his first race ever, Poulos finished seventh overall with a time of 13:43. He was immediately hooked.
"I ended up getting a ribbon. I said, 'Wow, this is pretty good,'" Poulos said. "It was the summer time, so they had ice cream and all kinds of fun activities afterwards. After that I said, 'Hey, this is enjoyable. I had a good time, met some really nice people. I want to continue this.'"
Since then, Poulos has competed from the 1,500-meters to 3,000-meters, his favorite event, and all the way up to the marathon, where he set a personal record of 2:37:20 at the 1996 Boston Marathon.
After moving to the D.C. area in the mid-1980s, Poulos joined half a dozen running clubs, including DCRRC and the Potomac Valley Track Club, where he has served as the scorekeeper for the clubs' race series.
Through club events and charity races, Poulos has no shortage of opportunities to compete. There are occasions where Poulos will race three to four times a week on the track, bouncing back and forth between meets.
And Poulos not only participates in these races, he puts himself in contention to win. According to Poulos's meticulously-kept spreadsheet record of his results, which run 62 pages long, he has won a third of the races he's entered.
No one is cutting Poulos from their teams now.
"I don't know anyone his age who runs that competitively over that many races," Mendelowitz said. "I don't think a person exists when he's in shape at that age."
Passion for racing
Poulos rarely strays from his daily routine. He drops off his two young children, 10-year-old Evan and 8-year-old Paige, at school before going on his runs.
Having retired from his job as a regional business manager for Hewlett-Packard four years ago, Poulos is able to put in the time to train for races, averaging 35 to 45 miles a week.
And while some runners prefer running in a group to stay motivated, Poulos does most of his training on his own.
"He likes to challenge himself and kind of thrive off the competition," said Poulos's wife, Meg, whom he met at a DCRRC event in 2003. "He likes to meet goals. He's very disciplined."
In addition to a weekly long run, Poulos will do a track workout twice a week at a nearby high school, plus a six to eight-mile run once a week to "make up the strength." He also lifts weights three times a week focusing on his abs, arms and shoulders and a little bit of legs at the gym in his basement.
Gone are the daily happy hour trips, but there are no specific foods or drinks that Poulos will avoid. He credits his "healthy metabolism" to "a lifetime of fitness" for his ability to keep his weight consistent throughout the years. He will even drink the occasional beer with dinner.
"His diet is completely ordinary, nothing extraordinary," Meg said.
Simply put, there is no secret formula to Poulos's success. His training strategy often revolves around racing, and lots of it.
"I found that the racing I was doing on the weekends was helping me for my peak racing goals for the year," he said. "Some people like to do tempo runs, for example. I was using some of my races as tempo runs for my peak performances. It's a strategy that worked for me."
The strategy has led to multiple U.S. National Masters Championship titles, including a first place finish two years ago in the men's 50 to 59 age division 4×800 meter relay, and a body of work that Poulos hopes can inspire his children and other people who are looking to become more active.
"Once you start something that you enjoy – for me, it happens to be running or racing, but for other people, whatever event you take, whether it's swimming, walking, skiing, golfing, if you love it, you will do it," Poulos said. "And if you keep doing it, you'll get in shape. And that's the best thing you can do for yourself. To find that love and find whatever your passion is and do it and do it consistently. You'll have a better lifestyle if you do that."
This article was originally published in RunWashington's Spring 2017 issue
2
Comments