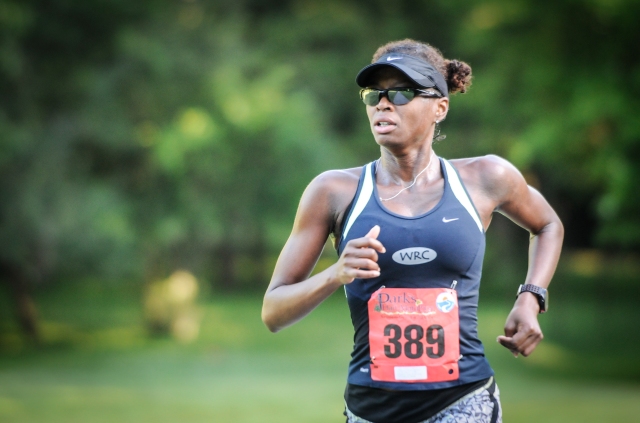 Siraw Kebede might have run a little faster on more than two hours of sleep, but not much.
[button-red url="http://www.mcrrc.org/parks-half-marathon-men-1″ target="_self" position="left"] Men's Results [/button-red]The Parks Half Marathon winner got in from New York at about 3 a.m., the morning after he ran 4:05.3 to win the New York Road Runners Road Mile division at the Fifth Avenue Mile.
[button-red url="http://www.mcrrc.org/parks-half-marathon-women-1″ target="_self" position="left"] Women's Results [/button-red]With a 1:03 PR, Kebede has run faster, but it wasn't the sleep that did him in, even as he struck out on his own five miles in to put a gap on Tilahun Manesho, who finished second in 1:08:33.
"The course," he said. "The hills, up and down, you can't run as fast."
That didn't stop Bill McNary, who ran 10 minutes faster than his previous best on the course. He lives in Bethesda, runs parts of the point-to-point course between Rockville and Bethesda, and saw his wife and two children on the course.
"When I turned 40 I lost 35 pounds and suddenly got as fast as I was in high school," he said. "The last year's been very good."
The key, for him, was restraint early on.
"The first two miles are downhill, so you can't trust those splits for the rest  of the race," he said. "Those last two miles, you just can't speed up."
Julia Taylor of Arlington was on board with that strategy.
"I went too fast last year, so I was sure to not do that this year," she said. "When you pay the price like I did last year, it reins you in."
White Marsh, Md. resident Megan Digregorio didn't PR overall, but she also had a big improvement over her first two times racing the course. She ran stronger throughout the entire race than she had before, and that showed in her 32-second win over Megan Haberle of Takoma Park. Digregorio will take her momentum to the Wineglass Marathon, a race she deferred in 2013.
"I found a good pack of guys to run with," she said. "I prefer to run with people, it keeps my mind off the pain. It helps break up the race."
When she approached the finish line in Bethesda's Elm Street Park, she was surprised to have finished first.
"I usually finish in the top five, but I never thought I'd win it," she said. "I kept expecting another woman to pass me, but it never happened."
The East African runners who have swept the women's top three over the last three years were absent, due perhaps to their refusal to pay the entry fee the day before the race.
"We try to accommodate elite runners with complimentary entries, but we do that in the weeks before the race, not the day before," said race director Mike Acuña. "They balked at that."
After nine years at the helm of the race that RunWashington readers voted as offering the best post-race party and best t-shirt, Acuña is retiring and leaving the event in Don Shulman's hands, following a short apprenticeship and a shared role as race directors this year.
* * *
Baltimore's Naomi Blaushild ran a five-minute PR, over her time from the similarly hilly Baltimore Half Marathon.
"Being from Western Pennsylvania, this isn't too bad," she said. She's moving up to the Baltimore full in a few weeks. "It's a good training run for me.
"It was one of my first races with a garmin. I tried not to look at it too much, but the 1:50 pace group was behind me and every time I heard them coming, I'd speed up."
A fan of wooded courses, "I did a good job of not getting mentally lost out there," she said.
Even after they crossed the finish line, the day wasn't over for Marty Janis and Rick Horn, both of Potomac. They unwittingly both dressed for the race in identical Philadelphia Marathon shirts, the target of their fall training, and soon after finishing the race were headed out for a few more miles on the Capital Crescent Trail.
"We ran relaxed with some friends until mile 11, then kicked it in and added some misery," Janis said.
Recent Stories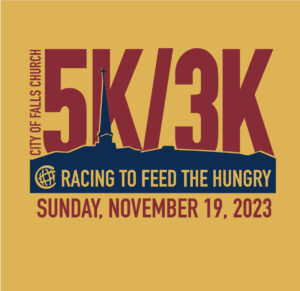 The out and back Falls Church City 5K/3K course is mostly flat on the W&OD Trail starting and finishing at 103 Columbia Street. Overall male and female winners earn free shoes and medals are awarded to all categories. Great family