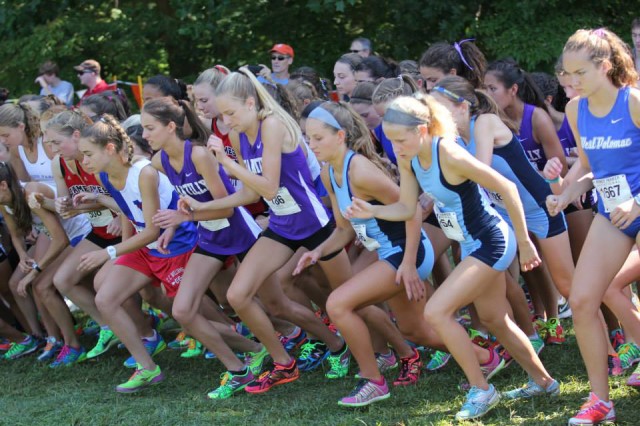 Every week during the cross country season, we'll hear from our RunWashington coaches panel to learn what they liked about the most recent races, including some normative judgments that I, as a journalist, feel unqualified to make.
Local teams ran at the Monroe Parker, Great Meadows, Lake Forest, Seahawk and Brunswick invitationals, among others. The heat and humidity played a big part in slowing times down.
Lots of Virginia teams raced, with Oakton's girls starting their title defense at Great Meadows with three finishers in the top seven and a JV win by freshman Kira Buttrey in 20:49, a time that would have placed her 24th in the varsity race and fifth on her own team.
"Oakton girls are as good as advertised plus one," said Lake Braddock coach Mike Mangan.
Lake Braddock boys and James Madison girls posted solid wins at the Monroe Parker Invitational. Mangan said the Madoson girls "are very, very good. Literally ran away from the field at Monroe Parker." 
West Springfield coach Chris Pellegrini agreed. "They have looked really sharp early in the season the last few years, but waned towards the end of the season. This year could be different. Amanda Swaak from James Madison has to be considered the 6A State favorite, as she beat likely the next two best runners in Virginia, in Xaveria Hawvermale of Chantilly and Lauren Berman of Robinson."
Mangan said Chantilly's Ryan McGorty's 15:02 for the 2.98 mile course at Burke Lake, at Monroe Parker, was worth at least a 14:50 in better temperatures.
Pellegrini added, about the Lake Braddock team that bested his Spartans by more than 100 points at Monroe Parker, "their top four are clearly the best in the area," he said. "As long as their number five runs tolerably they will be fine. After Lake Braddock, there is a jumble of teams fighting for second best."
Winston Churchill coach Scott Silverstein pointed out a huge PR by Albert Einstein's Cicely Davy, whose 19:10 at the Seahawk Invitational was about a three-minute PR to his knowledge, and had her ahead of All-Maryland preseason pick Lucie Noall of Clarksburg.
John Ausema's Gonzaga team won the Lake Forest Invitational in Delaware, but noted the significance of Walt Whitman's race at the Great Meadows Invitational in Virginia, on a course a good bit hillier than the Virginia state meet course. "Whitman is staking a claim to be one of the best teams in the area," he said. "Hopefully they will get a chance to face off against Lake Braddock and Chantilly (at Glory Days?).  Good Counsel looks strong, and their #1 Jack Wavering had an outstanding race at Great Meadows – looks to be roughly a 40-second PR on a hot day, at a course with little shade."
In Bethesda, Walter Johnson's girls topped Winston Churchill at the Woodward Relays, lead by Kiernan Keller and Lucy Srour in 1-2, respectively.
 Here's how the preseason All-RunWashington team members ran this weekend. If runners listed as "did not race" ran after all, please comment and I'll address it quickly!
All-RunWashington
---
Tristan Colaizzi- Georgetown Day School- Did not race
Alex Corbett, Lake Braddock- 3rd, Monroe Parker, 15:25 (2.98)
Andrew Hunter, Loudoun Valley- 1st, Great Meadows, 15:27
Amir Khghani, Walt Whitman- 21st, Great Meadows, 17:02
Alex Maguire, Fairfax- 12th, Monroe Parker, 16:06 (2.98)
Ryan McGorty, Chantilly- 1st, Monroe Parker, 15:02 (2.98)
Kevin Monogue, Lake Braddock- 2nd, Monroe Parker, 15:24 (2.98)
Tim Ward, West Springfield- 8th, Monroe Parker, 15:51 (2.98)
Evan Woods, Walt Whitman-  4th, Great Meadows 16:14
Diego Zarate, Northwest- 1st, Brunswick Invitational 16:43
Lauren Berman, Robinson- 3rd, Monroe Parker 18:29 (2.98)
Xaveria Hawvermale, Chantilly- 2nd, Monroe Parker 18:10 (2.98)
Kiernan Keller, Walter Johnson- 1st, Woodward Relays 37:42 (6 miles)
Casey Kendall, Oakton- 5th, Great Meadows, 19:23
Allie Klimkiewicz, Oakton- 4th, Great Meadows, 18:58
Ellie Leape, Sidwell- 3rd, Lake Forest 20:12
Georgie Mackenzie- 1st, Great Meadows, 18:30
Nora McUmber, Bethesda-Chevy Chase
Emily Murphy, Walter Johnson- Did not race
Amanda Swaak, James Madison- 1st, Monroe Parker 18:06 (2.98)
All-D.C.
---
Liam Albrittain, Georgetown Day School- Did not race
Christy Andjalepou, Cardozo- did not race
Jacob Floam, Gonzaga- 4th Lake Forest, 17:10
Joey Gaines, St. Albans- scheduled for Patrick Henry
Aidan Pillard, Georgetown Day School- Did not race
Peter Sikorsky, Gonzaga- 6th Lake Forest, 17:28
Will Wimbish, Gonzaga- 28th Lake Forest, 19:03
Erin Bell, National Cathedral- scheduled for Patrick Henry
Lauren Cormier, Georgetown Visitation- scheduled for Episcopal Relays
Emily Kaplan, , Georgetown Visitation- scheduled for Episcopal Relays
Sami King, Field- did not race
Mayim Lehrich, Wilson- did not race
Margaret Lindsay, Georgetown Visitation- scheduled for Episcopal Relays
Katherine Treanor, Georgetown Day School- Did not race
All-Maryland
---
Rohann Asfaw, Richard Montgomery- Did not race
Itai Bezerahno, Walter Johnson- 3rd, Woodward Relays 33:39 (6 miles)
William Kirk, Rockville- Did not race
Alex Roederer, Walt Whitman- 6th, Great Meadows 16:22
Colin Sybing, T.S. Wootton- Did not race
Liam Walsh, Quince Orchard- Did not race
Jack Wavering, Good Council- 2nd, Great Meadows 16:08
Claire Beautz, Poolesville-4th, Brunswick 20:40
Sophie El-Masry, Richard Montgomery- Did not race
Katriane Kirsch, Walter Johnson- 3rd, Woodward Relays 39:33 (6 miles)
Theresa Nardone, Poolesville- Did not race
Lucie Noall,Clarksburg- 3rd, Seahawk 19:23
Julia Reicin, Winston Churchill- Did not race
Lucy Srour, Winston Churchill- 2nd, Woodward Relays 38:43 (6 miles)
All-Virginia
---
Johnny Pace, Westfield- 4th, Monroe Parker, 15:41 (2.98)
Bobby Dunn, Centreville- 40th, Monroe Parker, 16:41 (2.98)
Anteneh Girma, T.C. Williams- 19th, Monroe Parker, 16:19 (2.98)
Robert Lockwood, W.T. Woodson- 61st, Monroe Parker, 17:02 (2.98)
Matt Frame, West Potomac- 23rd, Monroe Parker, 16:20 (2.98)
David Falcone, W.T. Woodson- did not race
Aviad Gebrehiwot, Annadale- 5th, Monroe Parker, 15:48 (2.98)
Kathryn Eng, Washington-Lee- 23rd, Monroe Parker, 19:39 (2.98)
Kelly Hart, Yorktown- did not race
Sara Friex, Westfield- 5th, Monroe Parker, 18:44 (2.98)
Leya Salis, Oakton- 7th, Great Meadows 19:43
Jillian Everly, Osbourn Park- 4th, Monroe Parker, 18:43 (2.98)
Kate Murphy, Lake Braddock- 26th, Monroe Parker, 19:44 (2.98)
Morgan Whittock, James Madison- 8th, Monroe Parker, 19:04 (2.98)
Recent Stories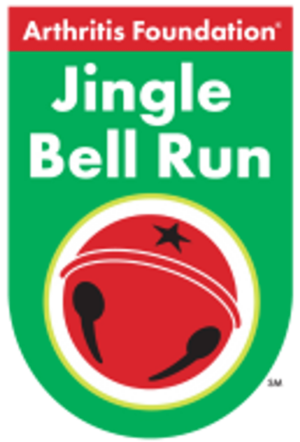 Be part of the original festive race for charity and signature Arthritis Foundation holiday event! Wear your favorite holiday attire and together, we'll jingle all the way to a cure! Register as an individual or bring a team of friends,