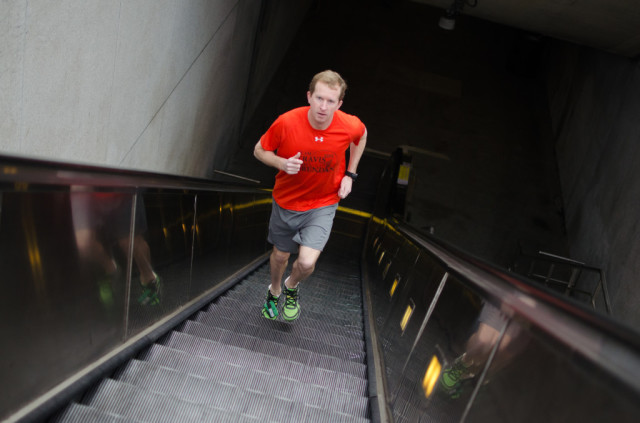 It's a Sunday morning in December, a few minutes past 9. The weather is gray and cool and still, perfect for running.
RunWashington Editor in Chief Charlie Ban and Patrick Benko, who is 32 and a relatively recent running convert, meet at the chosen starting line: the gates to the Van Ness Metro station in Northwest Washington, D.C.
A train bound for Glenmont takes them both by surprise when it pulls into the station, Charlie yells out, "GO!, GO!" And like that, they split – Charlie, with his notebook, down the escalator towards the platform; Patrick, dressed to run, up the escalator towards the street.
The finish line is the entrance to the Foggy Bottom station, where escalators meet sidewalk.
To be clear, this race is not in any way intended to be some sort of commentary on D.C.'s Metro. This was just a little experiment – a bar bet, if you will. We wanted to make the race as fair as possible, to set a good example for runner safety, to obey all Metro rules (at least the ones we are aware of), and, lastly, gain a heightened sense of how – on the weekend, anyway – steel wheels on rail compare to sneakers on pavement.
Patrick faces about three and a half miles of sidewalks, and has agreed to obey all stop signs and traffic signals.
Charlie, in turn, faces roughly 20 to 30 minutes of public transiting. That includes five stops on the red line to Metro Center; a transfer; three stops on the Orange-and-Blue line to Foggy Bottom; and a controlled hustle (no running in the Metro!) from the platform to the street.
Patrick has a 5k personal best of 20:02. Charlie, well, Charlie has a rapid transit system that much of the time really is.
So, before we go further with this, place your bets. Who will win?
Man or runner?
Patrick on foot or Charlie via Metro?
Actually, before you get serious about your bet, let us tell you more about our competitors.
Patrick Benko, you should know, has already beaten the Metro at least once on foot. One of those times occurred on a Wednesday morning in September, when power failures caused major delays on Metro's red line, which Patrick uses to commute from Shady Grove (near his home in Gaithersburg) to Chinatown (the closest stop to his job at the American Public Health Association, where he specializes in online marketing).
While some Metro riders were forced to evacuate the red line that day in September, Patrick's decision to evacuate in Friendship Heights was entirely his own. Why not? He planned to run during his lunchtime, anyway. So rather than make like a sardine in a crowded train, he exited the station and took off running. An hour later, Patrick was at his desk and the train was still stuck in the tunnel. And, Patrick had already gotten his run in.
As it happens, Patrick runs about 30 miles per week, and has made exiting the red line to go running a regular habit.
In fact, according to Patrick math, one minute on the train equals two minutes of running.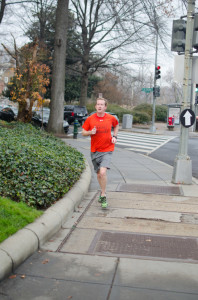 And seriously, who reading this magazine wouldn't want to trade 30 minutes of commuting with an hour of running?
Sometimes he gets off the Metro in Bethesda and runs down the Capital Crescent Trail. Other times, he gets off at Van Ness and runs south on Connecticut Avenue. He carries his work clothes in a Camelbak backpack; on his off days, he carries an extra set of work clothes to lighten his load on the days he runs. He showers when gets to work. And, with good planning, Patrick attests, side trips to Macy's to buy a belt before the big meeting are easily avoided.
Patrick emerges onto the streets outside Van Ness, starts his watch, and takes off running South on Connecticut.
This is the runners' hour, when the streets are practically empty, when it's quiet enough to hear birds. There are enough hours between now and brunch, you figure, that many hangovers have yet to be realized. The car horns have yet to return. The sidewalks have yet to fill up. And the city, at least for now, feels like it's all yours.
Patrick is running comfortably hard and steady, a couple minutes off his 5k PR pace.
Occasionally, he passes by a runner heading north. He passes a contemplative soul taking a picture of a tree with his phone. He passes people milling about with their coffees. "On your left," he shouts, as he passes a young man dragging a rolling suitcase.
You can hear the whine of the escalators as he passes the Cleveland Park station. Pretty soon he's cruising past the Woodley stop.
Crossing the Connecticut Avenue Bridge, his eyes stay focused on the road ahead, his memorized route – not the trees and water and running paths of Rock Creek Park far below.
He had done a test run of his route on Friday morning – at a time no doubt, when the Metro would have been harder to beat.
But he's having one of those city runs today where everything seems to be conspiring in his favor. In other words, he's catching all the walk signs. It's not until Calvert, in fact, that he has to come to a complete stop, and even then it's only for a second or two that only seems to refresh him a bit before he surges on.
This race is neck and neck.
And below ground, previously-unthought-of-efficiencies of weekend Metro riding reveal themselves: like the absence of people ignoring warnings to, as it goes, stand clear of the closing doors.
Charlie is loving it. He has two seats to himself. He has a newspaper to read. Dude's content.
But he's also alert. He knows his transfer in Metro Center is critical. He won't have much time, you see, to hit a quick transfer to the Orange- and-Blue that could more or less guarantee himself a perch on I Street, where he could stand there reading his Kindle and pretend not to even notice Patrick entering his kick as he turns off Washington Circle.
Entering the Metro Center platform, he heads to the nearest escalator. It seems, at first glance, that everyone is standing on the right side. But it only takes one, and one there is. On his way down the escalator Charlie sees the train pulled up to the platform, doors open. Charlie clears his throat; it doesn't work. Finally, he says out loud, "walk, please," which doesn't work, either.
He reaches the bottom of the escalator just as the doors close. Making matters worse, as the train pulls away, he looks up at the
board and sees "14 minutes," like some grossly positive split that has no doubt doomed his race.
He takes a seat on a granite bench and sulks, thinking about all the ground Patrick is covering above.
But wait! Charlie almost got on the wrong train! The right train is only a minute away!
This race is back on!
Charlie clocks an 8:47 transfer. Now he's back on the train, moving again, confident.
Patrick, meantime, hangs a smooth right on Florida, gliding between a small group at the corner. He spots a walk sign and, after looking both ways, darts through a crosswalk.
He crosses Mass Ave. He's on 22nd bound for K Street and Washington Circle, the end in sight.
All of this would have seemed so improbable just a few years ago.
Patrick had played sports in high school and college. But for a decade after that, he was largely inactive, and a smoker.
He quit smoking in 2010. That year, he also started training for the Marine Corps Marathon so he could run it for Team Travis and Brendan, which raises money for the Travis Manion Foundation.
Marine 1st Lt. Travis Manion and Lt. (SEAL) Brendan Looney were best friends and U.S. Naval Academy roommates who both made the ultimate sacrifice. Patrick attended high school with Looney.
Even so, Patrick says, were it not for his wife, Jackie Benko, he could have been a one-and-done marathoner. When
he joined Montgomery County Road Runners' first-time marathoners group in 2010, Jackie joined, too – figured she'd keep her husband company. Now they've run MCM three years in a row, and Patrick has his sights set on the upcoming Rock-n-Roll USA Half Marathon.
As he double-steps the Foggy Bottom escalators, Charlie is sure victory is his. But as he gets closer to the street, he recognizes Patrick's bright-orange Team Travis and Brendan shirt, and, at the top, graciously accepts his defeat.
Patrick, according to his watch, has covered 3.34 miles in 22:24, with less than 15 seconds of that spent not running. He hit an average pace of 6:43 per mile, just as he said he would.
Charlie, and the Metro, they had a good "run," too, coming in only about a minute behind.
But for Patrick, with three marathons under his belt now and a new year approaching, the win is sweet – confidence boosting, even. He has a good story, maybe one that will inspire future generations.
On a Sunday morning in December, Patrick Benko laced up his shoes, took off running, and beat the machine.
He also got in a solid tempo run.
Two years later, D.C.'s Alison Meek attempted a shorter but less complex challenge- sprinting between the Federal Triangle and Smithsonian stations to see if she could catch the same train, after .4 miles of running. Her 3:36 time wasn't enough, but she caught the train immediately following the one she disembarked.
You can see the video she and friends made here.
This story originally appeared in the February/March 2013 issue of RunWashington.