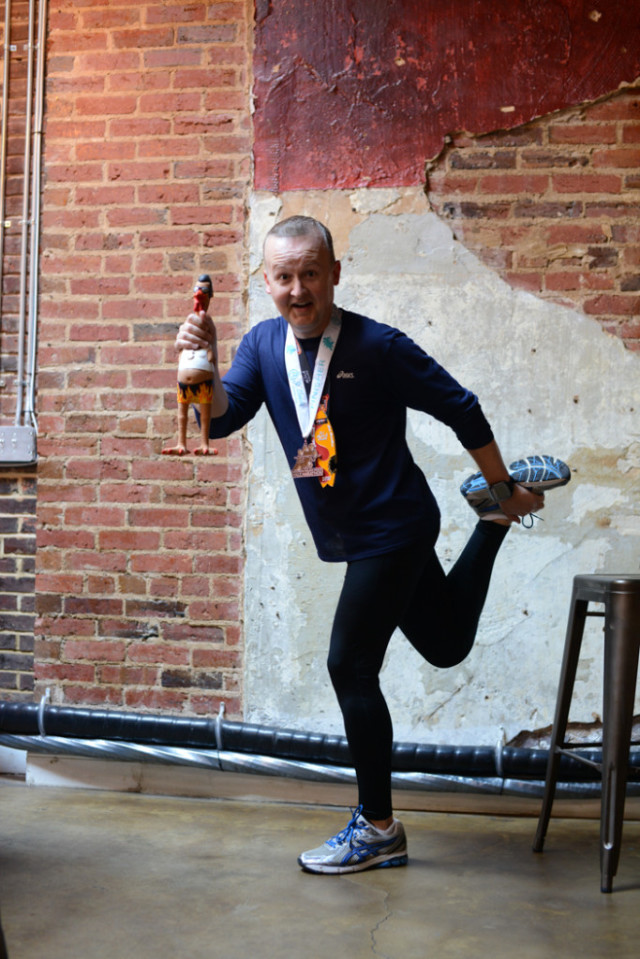 Nine miles in, it came to him.
"Peanuts are just the skeletons of dead M&Ms," Doug Hecox said.
He had a point, and he had a process.
As a comedian, he searches for the step between the logical and the quirky. It just so happens that running helps him get there.
"My secret is fatigue," he said. "I don't come up with jokes until I'm tired, and the best are when I'm really, really tired."
Too much alertness leads to self editing: dismissal of ideas that come too early. And that kind of self consciousness is a killer.
"When I'm fatigued, late at night or when I'm running, that's when the weird connections come out. That's when the better jokes come out," he said. "Now, they're not all winners, but they're jokes I wouldn't have come up with in a more rational state of mind."
He started running in 1995 in a pair of Asics 2020s, running around Capitol Hill. These days, he sets out early in the morning several times a week from his home in Northwest.
"I can't remember why [I started running], but there was probably a girl involved," he said.
He grew up in Wyoming, where the weather is bad enough that everyone there grows a sense of humor to cope.
"They all tell jokes, and I'm the only one who ended up getting paid for it," he said.
Drafted onto his high school speech team, Hecox loved making people laugh but hated that they weren't laughing at his words. He started writing his own jokes and once in college competed as one of 1,000 college comedians for a MTV Spring Break competition.  When he lost out to Margaret Cho, he knew he'd have to pursue more traditional employment for a while, but he was smitten with comedy, and 25 years later he is still at it.
By day, Hecox, 45, works in public affairs at the Department of Transportation, following stints at the justice and treasury departments and working for Congress. He's also an adjunct journalism professor at American University. But on the right evenings, in the right cities, he does something that's more frightening to the average American than showing up in public in spandex. He performs in front of people.
"When you've performed long enough, it gets easy," he said. "And I write [professionally] so even when I'm not working on jokes, I'm keeping myself creatively active."
Twitter (@dougfun) has been a boon for him, allowing him to test new material and forcing him to keep his jokes tight, which in turn helps him with his pacing when he tells the jokes.
Where he's running
"Everyone talks about the physical benefits of running, the cardio, but the mental [byproducts] are what help me," he said. "I don't know if I'd come up with some of the jokes that I have if I wasn't running the big miles that I am."
He runs the big miles to support his half marathon habit. His long-term goal is to run one in each state, and that can include races that cross state lines. He'll go back to take another shot at a state if he feels like his earlier performance wasn't up to snuff.
"Choosing the races is the hard part, but also the fun part," he said, noting the logistical challenges of traveling. He's not a running tourist — one of his most successful races, by his estimation, had him in and out of Myrtle Beach within 24 hours.
"I've got stuff to do," he said. "I have jokes to write!"
He almost didn't get out on time, though, because airport security thought his surfboard-shaped race medal was a knife.
"I told them to be ready for that one, because I saw a whole load of people in the airport coming from the race," he said.
His fall schedule includes a handful of D.C. races but culminates in the D.C. Half and Half Marathon — 6.55 miles to a basket of half smoke and chili at Ben's and 6.55 miles back.
"It'll be bad ass," he said with an eager grin.
Hecox regularly sees a trainer to work on overall strength, which saved him from an IT band injury oblivion a few years ago. Having a yoga instructor girlfriend helps him avoid injury, too.
He passes on most 5k races because, "They're a waste of my time," he said. "The only reason I do 'Beat the Deadline' is because they have a great shirt."
Shirts matter to this runner. And he's had it about up to here with the proliferation of technical shirts at races.
"I need a cotton t-shirt I can wear to the store so I can brag about how cool I am," he said. "You can't do that in a tech shirt, you look like a dork!"
 The grind
Hecox wishes more people would run. Not for their health, for the health of his act.
"I have some really great 'fat' jokes," he said. "They're just good, but the audience is changing and the jokes are less relatable. Now I have to switch to jokes about how people who work out are awful, and they're just not as funny."
Though he lives in D.C., he doesn't perform here much.
"There aren't too many paying gigs in D.C., and I don't want to be known as a D.C. comic," he said.
That said, his location was helpful in getting to perform for fellow Wyoming native, then-Vice President Dick Cheney.
He shoots for corporate conference jobs, but likes performing in Denver, Los Angeles and Phoenix and wants to work more in New York.
"America is hungry for humor, but we're being overfed," he said. "They're harder to impress, so you really have to be good."
That means refining his act and coming up with newer, better jokes.
Which means more running.
Recent Stories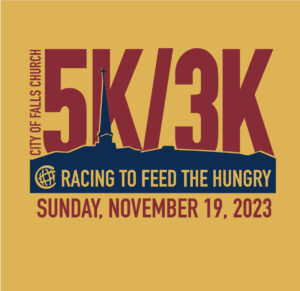 The out and back Falls Church City 5K/3K course is mostly flat on the W&OD Trail starting and finishing at 103 Columbia Street. Overall male and female winners earn free shoes and medals are awarded to all categories. Great family