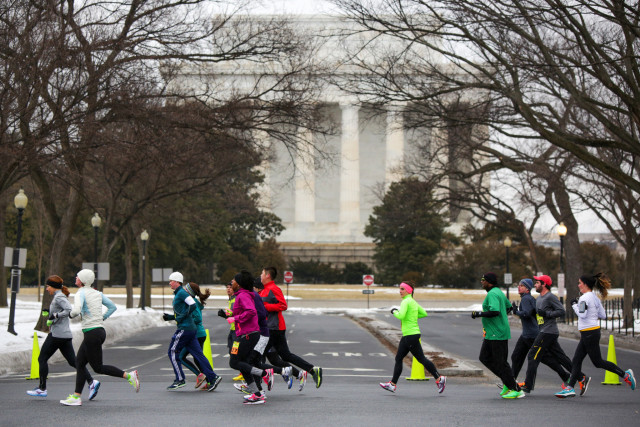 On a morning so unpleasant the air horn refused to work when it was time to start the race, runners still filled the icy streets around the National Mall for the St. Pat's Day 10k.
Under constant snow and freezing rain that almost cancelled the 10k, thousands of runners sported green tights, shamrock t-shirts and some even bared their legs to the cold in traditional kilts.
While many said they didn't come into the race with a time goal because of the less-than-ideal weather conditions, Chris Kwiatowski dominated the 10k race for the Pacers team with a time of 30:26.
[button-red url=" http://www.zippyraceresults.com/search.php?ID=4647″ target="_self" position="left"] Results [/button-red]"It's D.C. winter, it's fun out here," he said. "Running is hard as it is, so you just have to adjust and kind of go with what the weather gives you and just try to finish faster than you started."
Running sub-5:00 miles, Kwiatowski finished about two minutes ahead of the next runner, Gregory Mariano from Capital Area Runners in 32:15.
Kwiatowski said he used Sunday's event as a springboard for his upcoming Spring races, including the Cherry Blossom 10 Miler and some outdoor track events.
The race was a departure from its old venue at Freedom Plaza, where for nearly a decade it was run as an 8k. Construction on that course forced December's Jingle all the Way race to shorten to 5k from its normal 8k, and Pacers Events decided instead to try a new format, with courses looping the Tidal Basin.
[button-red url=" http://www.zippyraceresults.com/search.php?ID=4678″ target="_self" position="left"] 5k Results [/button-red]For the women, Amy Laskowske won the 10k in 35:20 and said she actually enjoyed the winter weather conditions "to take your mind off the pain of the race."
Laskowske said she enjoyed having other people around her for the racing, including another woman a pack of men behind the leaders.
"They were ticking off pretty even splits so it was nice to have people around me," she said.
Tripp Southerland, running for Pacers, won the 5k in 15:52. The race came down to the finish, as Cabell Willis finished just one second behind him.
Southerland said the two ran together for almost the entire race. While he lead the first mile, Willis took the lead around the halfway point.
"I sat on the guy who got second for a while then, I have a pretty good kick, so I relied on my kick to pull away from him after he came up that last hill, I took it," Southerland said. "Kind of a slow time, but the conditions are really, really not great."
Despite the bad weather, Southerland said he didn't encounter any slippery spots on the course, though other runners complained of issues on the painted parts of the road.
"It was kind of like freezing rain. You could hear us crushing it, but it wasn't slick," he said. "I was worried at the turn around, because we're running pretty fast and then you got to do a 180 and I've fallen before doing that. So I was pretty careful on that turn, but no one fell."
His next race is the Gate River Run 15k in Jacksonville, Fla., later this month.
Emily Potter won the 5k for the women, with a time of 18:12. She had had finished fourth at the 2013 Marine Corps Marathon.
For some runners, picking between the 5k and 10k proved too difficult and they chose to double up, running both races back-to-back. Jack DaSilva of Arlington was the first 10k finisher who also ran the 5k and, while he wasn't happy with his 5k time, he said the first race set him up well to run a good 10k.
"I just warmed up for the 10k and felt great. I was hanging with the top women for a while and then I surged with another guy and just kept going and going," he said. "It felt good, I got lucky."
He finished both races with a combined time of 51:42 and said everyone seemed to adapt well to the difficult weather conditions.
"It was challenging. Wind, snow, slick surfaces," he said. "Everyone out here was battling with pretty challenging conditions."
His next race is the Rock 'n Roll half marathon in a few weeks.
Chester Kraft also did the double and loved the scenery of running around all the monuments – though it almost wasn't enough to get him back on the course for the second race.
"I was just trying to convince myself to still do the 10k after the 5k," he said.
Kraft did the race in full leprechaun garb, including a blazer and bow tie.
While many complained about the weather and didn't stick around long at the finish line, the cold didn't bother everyone, including North Dakota native Erin Vranish who loved the wintry backdrop.
"It was a fun course and the snow coming down, it was beautiful," she said.
Lauren Krause of Alexandria said she was afraid people would decide to skip the race because of the weather, but was excited that so many people showed up in costume and excited to run.
"I really excited to see how many people came out even though it was freezing rain, it was a really great crowd," she said.