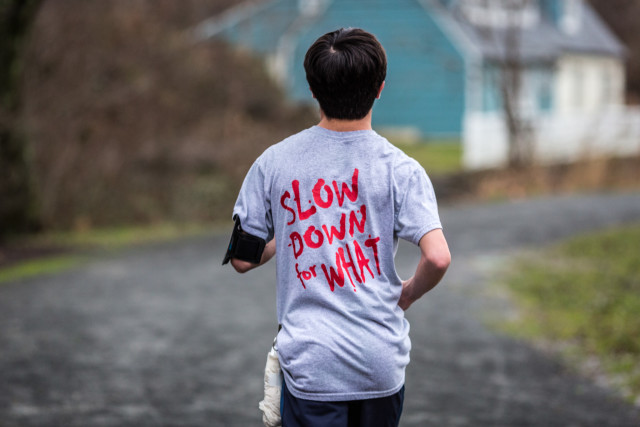 Matthew Hua relished his first season of cross country at J.E.B. Stuart High School. With no prior athletic background, his 24-minute three mile time is a point of pride. Lifelong health problems have been an obstacle in his running career, but they haven't stopped him from fully participating as part of the team — except maybe in the team dinners.
Matthew's gastrointestinal system has never functioned normally. He is unable to eat at all and drinks very little. In fact, virtually every one of his bodily systems is compromised. He is deaf in his left ear and his left vocal cord is paralyzed. Underdeveloped lungs have led to chronic conditions such as tracheomalacia (softened cartilage around the trachea) and asthma. He has ongoing orthopedic problems and his immune system is compromised, leaving him susceptible to infection and illness.
Each of these conditions would be a challenge to a runner's career. At times, these complications have threatened Matthew's life.
"He was in the hospital for quite a long time at birth," recalled his mother, Lori-Beth Hua, including more than two months in the Neonatal Intensive Care Unit. "[He] had his first surgery at 31 days, and since then, he has spent probably the better part of three-plus years of time in the hospital and has undergone more than 40 surgical procedures."
Managing this complex series of conditions has become familiar to Matthew, if not exactly comfortable.
"I guess I'm not 'used to' this," he said. "It's more like, well, how am I going to adapt?"
At school, Matthew is accompanied at all times by private-duty nurses. Before this year, his parents and nurses kept oxygen on hand at all times. He's reached a point where he's strong enough to keep the oxygen at home.
He also carries a small backpack attached to feeding tubes for at least 16 hours each day. A pump in the backpack provides his body with a specially-prepared nutritional formula, while a separate decompressor in his stomach relieves him of what he calls "the sewage," a term at which his mother balks.
Because of his frequent trips to medical centers, Matthew's childhood was somewhat solitary. But he nonetheless has a rich personal life, playing the violin in the Stuart orchestra and taking college courses each summer through the Johns Hopkins University Center for Talented Youth. He plays video games, reads John Grisham novels and likes fantasy stories like Harry Potter. In middle school, he began archery lessons to help develop his upper body strength. His mother remembers the early lessons resembling "20 minutes of archery skills … and 40 minutes of weightlifting."
Now 14 and a freshman at Stuart, Matthew said he has "always been optimistic, following my mom's example plus my family's and doctors'. I can't recall a time when I've said, 'Well this is just impossible, I cannot do it.'"
As he approached high school, knowing his health had improved over the years, Matthew wanted to be part of a team. Most team sports — carrying the risk of contact dislodging his feeding tubes — were not an option, so Matthew looked to his older siblings, Michael and Megan, for suggestions. Michael was a soccer player who ran cross country for conditioning and camaraderie. Megan, also on the soccer team, ran indoor track. Running would give Matthew the physical security and team support he so desired. He signed up without hesitation.
Megan helped Matthew pick out his own running gear and shoes. Then Matthew and Michael began running together, first at home, then later at the team's summer workouts. Michael "taught me how to run, in a way," Matthew said, "and also transitioned me so the teammates felt comfortable and the coach felt comfortable." Thanks to Michael's support, Matthew immediately felt welcomed onto the team and at his new school.
Meanwhile, the Hua family worked with Matthew's medical team and the Fairfax County School District to ensure Matthew's safety at practice and during meets. It's tough to say whether his mother taught Matthew his can-do attitude or she espouses it because she's seen him beat the odds over and over again, but her motto is, "No is simply a starting point of negotiation."
Their biggest challenge was making sure Matthew stayed in his nurses' sights in case of emergency. For practices, Matthew has to train almost entirely on the school track, alone.
"It would be nice if I could run with somebody," Matthew said, but added, "The individual training always helps me. The more individualized I work, the more I focus, sometimes."
He also carries a cell phone at all workouts and before races. At meets, though, Matthew has more leeway. His parents come to every race and assume responsibility for him, while his nurses wait near the finish line with his medical equipment.
"Standing at a meet and watching Matthew running the race and seeing Matthew in a team uniform. That one was huge for me," his mother said. With two athletic older children, "this was the first time that we got to be a bit overrun with Matthew's cross country uniforms and smelly socks and shoes and stinky stuff."
Lori-Beth says they were thrilled to have the opportunity. At the end of each race, the nurses check Matthew's vitals to make sure all is well, perform any necessary interventions, help him hydrate and send him off to cheer for his teammates.
For both situations, Matthew's doctors adjusted the 16 hours of each day that he
wears his feeding pump so that he could train and race without it. And they constantly finetune the nutrients and calories contained in his formula to maintain his weight and hydration. The formulas are medically prescribed but his nutritional needs won't surprise experienced runners. "There's an enteral version of Gatorade," Lori-Beth mentioned.
"I can't imagine not running," Matthew said, after just one season.
It was humbling to learn not to be arrogant or "overdo it" keeping up with his more experienced teammates, but the highlight of his season was that he could keep up with them and even race alongside them. He is hoping to keep working with his brother next summer, when he returns home from college.
"I think I will start to hate [Michael's training ideas] at first, and then I will realize how right he is," Matthew said. "That has always been the pattern."
But he's grateful to his brother for showing him the ropes, believing in him from the start, and introducing him to his friends on the team. This sounds typical for Michael.
"He's always there for people," Matthew said with pride.
Overall, Stuart cross country coach Ron Kronlage doesn't hesitate to call Matthew's season a success. He recites some of Matthew's times along with the distances, terrain, and weather conditions from the season, including a 25:17 finish at their first meet at Burke Lake's 2.98 mile course, a minute improvement over the week between two home meets, and a personal record at Franconia Park of just over 24 minutes. Kronlage has the usual coach's caution when asked about Matthew's potential. A "typical" first-year runner dropping almost two minutes would probably continue to progress each year, but that depends on the runner's consistent, hard work each year.
Matthew is eager, enthusiastic, and "very coachable," so Kronlage expects he would do the work, but his physical limitations as a runner are unpredictable.
"I'm not sure, if [Matthew] puts in the work, if he's going to have the typical improvement curve that others are going to have," Kronlage said. "That's hard to judge. But he doesn't seem to be one to get into any kind of handicap he has, so I wouldn't want to bet against him, either."
Rightfully so: since cross country season, Matthew has been running 300 and 500 meters for the winter track team and he speaks expectantly of spring track and of next year's cross country season. His goal for next fall is to be "fast for the slow group," a goal his mother prodded him about. He sighed, still shy about his ambition, and amended, "to beat my time and be fast for the slow group." But he is already planning how he can improve next year, making the most of his track experience and his brother's knowledge to train harder and get faster.
Doctors and specialists are shocked to learn that Matthew runs at all, let alone miles at a time, according to his mother. But he would like to one day run longer distances if his caloric intake can keep up.
"Even beyond the cross country, Matthew has definitely pushed the norms for a whole lot of issues within the school system," Lori-Beth said. "We have been very appreciative that people have been very willing to set aside some skepticism and knee-jerk reaction to say no, to [instead] say, 'Well, maybe so.'"
That Matthew can run is less remarkable than that he should choose to: that his health has not bent him, but has steeled him for challenges so many others never confront. Truly, the most remarkable thing about Matthew Hua is that, at 14, and with so much already behind him, his story as a runner is just beginning.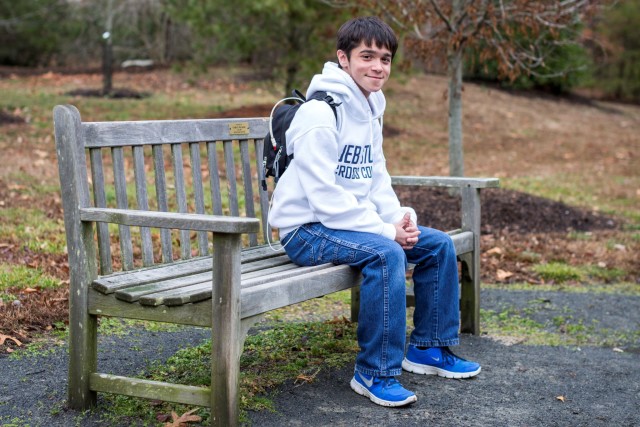 This article originally appeared in the Spring 2015 issue of RunWashington.