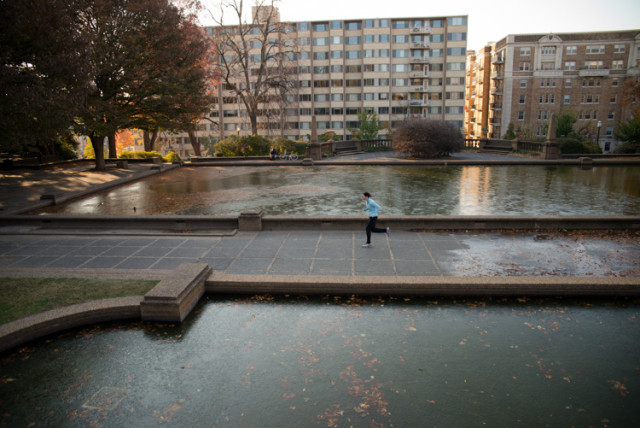 I rolled over on an air mattress in my empty apartment and glanced at the clock that read 4 a.m. I couldn't fall back asleep — my entire body ached, chills ran through my bloodstream and I had severe nausea. I was just hours away from a 15-hour car ride to Wisconsin and there I was — grappling with the flu. But the car ride was the least of my concern. In just a few hours, I was supposed to lace up my shoes to go for my last run before I moved to Madison.
The sky got lighter but my body still ached. The nausea had only gotten worse and the thought of going outside exacerbated my chills. Nevertheless, it was my last opportunity to "run the District," the phrase I've used throughout the years as a Washington running blogger, and I planned on taking full advantage. So I layered up and stepped out the door.
While the first few steps were painful, the thought of heading back to my warm apartment didn't cross my mind for a second. I ran down 16th street, past the White House. I ran up and down the steps of the Lincoln Memorial and then circled the Washington Monument where I looked out at the Jefferson Memorial and U.S. Capitol. Albeit a few structural changes, these historical buildings haven't changed, they're still the same landmarks with the same purpose — but the way I looked at them had changed.
I stopped seeing these structures as important buildings that changed history and eventually thought of these landmarks as mile markers for runs. The Lincoln Memorial: my halfway point of a five-mile route after work. The Washington Monument: a bathroom stop and a beacon for water fountains. The Jefferson  Memorial: an indication that I'm in for a long run that day.
These buildings will always be the iconic symbols of Washington, but to me they'll always be routes along a run that hold athletic import.
I'm not the first and definitely won't be the last person to part with this town. The revolving door is part of living in Washington. Many runners like myself have escaped the busy streets of D.C. and found themselves running in quieter parts of the country.
After living in Washington for six years, former D.C. runner Doug Hay moved to North Carolina with his wife. His runs now mostly consist of exploring the mountains and trails of North Carolina, but he says he'll "forever miss the familiar singletrack (trail)" that was one of his only constants during the six years that he lived in D.C.
"There is something magical about having Rock Creek Park as a natural oasis in the middle of a bustling city," Hay said. "The rush I got from the instant transition of horns and crowded sidewalks to dirt trails and swaying Beech trees is unmatched here in Western North Carolina."
While Hay still runs and trains for races, after leaving D.C., Jake Marren's life took a different turn. He went from constantly complaining about 90-degrees and smog to bundling up and exploring quiet snowmobile tracks in single-digit temperatures.
After living in D.C. for three years, Marren and his wife moved to Vermont, where they started a family and bought a house in Montpelier. The 2013 Boston Marathon was his last competitive race.
"Georgetown Running Club was the center of my social scene and the central part of my life while I was in D.C.," he said. "It's a very different lifestyle (in Vermont). I still run quite a bit… but it's definitely not the same running scene that D.C. had. I really do miss having a club and things like that — on the other hand, my lifestyle is so different. I still run six days a week, at least. But I probably put in
less miles because I'm not putting in a 20-miler with the club on Sundays, which would be the kind of thing I'd do when I was in D.C. But now when it's Sunday, I want to drink coffee and hang out, and if I go for a run, great."
Marren and I aren't the only ones who are welcoming the escape from 90-degree temperatures. According to the D.C. Office of Planning, 44.1 percent of  millennials (individuals between the ages of 20-34 years old) from other states moved out of the city in 2012.
But that same city data also showed that 51.5 percent of millennials from other states are moving into the city. There's a reason so many of us move to D.C. in the first place. From vibrant neighborhoods to numerous career opportunities, D.C. has lots to offer. The same is true in terms of running. D.C. gave me the confidence and resources to complete 26.2 miles. If I was ever lacking motivation, I could tap into any of the numerous running groups. If I ever needed a race to gauge my speed, I could choose from dozens of races in the area every month, no matter what time of year it was. The top-notch running stores alone make this town a runner's heaven. I'm well aware that every other city I live in will never come close to the running community in D.C.
Ellen Gilmer is back in D.C. after attending graduate school in Portland, Ore., another community where running is pervasive. As great as Portland was, her career steered her back here.
"Portland is a running mecca, but when I returned to D.C., I remembered how much I love running in the glow of the Capitol building and the monuments. I've rediscovered other local gems like Rock Creek Park, the National Arboretum and the Potomac Heritage Trail, and I'm always inspired by my surroundings and fellow runners," she said.
After making a loop around the Washington Monument, I made my way back north toward my apartment. I stopped in Logan and Dupont Circles. I purposely ran in the middle of side streets lined with brownstones, the roads covered in fallen Ginko Tree leaves. I ran every corner of Meridian Hill Park, and took a sip of water out of my favorite water fountain in Mitchell Park.
One of the last stops on my run involved sneaking on private property: Just a few blocks north of U Street lies a street filled with several townhomes. If I'm able to get on the edge of one of the properties at the right time in the morning, I can usually see what I think is one of the best views of the city. Fortunately, none of the residents were awake yet, and I arrived just in time to watch the sunrise stretch  across the monuments, various buildings downtown, the row houses of Adams Morgan and parts of Virginia for one last time.
Just as I saw the sun stretch across the entire city, I thought about how my life — running life, that is — in D.C. stretched across the city: When my running shoes and I made the most out of the closed streets to traffic as the rest of the city followed the president on the parade route or stayed at home and watched on TV. When I conquered the last hill of the Marine Corps Marathon in 2011 and then again in 2013; or that time I live-tweeted a 20-mile run.
Nearly every run, every race and every speed workout the last four years took place in D.C. And that's why it was so important to ignore my fever and nausea that morning — I had to run through my city one last time for a proper goodbye.