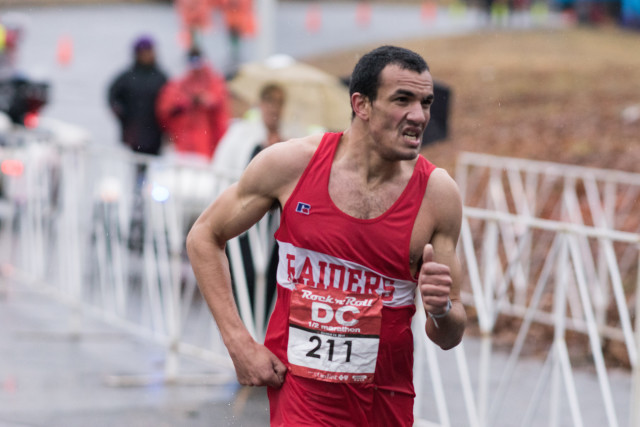 History repeated itself for Patrick Moulton at 2015's Rock 'n' Roll D.C. Marathon.
The Providence, R.I. native earned a first-place finish with a time of 2:32:54. He also finished first (2:21:17) in 2009 when the race was then called the Suntrust National and Half Marathon.
[button-red url=" http://running.competitor.com/cgiresults?eId=54&eiId=227″ target="_self" position="left"] Results [/button-red]"It's been a while, so it's nice to come back," the 2008 Olympic Trials qualifier said. "The biggest challenges today were the elements. There was the cold rain. I just tried to finish as strong as I could and took it mile after mile. I caught [second-place finisher] Mynor Lopez (2:34:25) around mile 23 or 24 and I actually felt great coming in. The finish is awesome because you see the [Robert F. Kennedy Memorial] stadium and it's a nice backdrop. That's really cool."
Lopez, who lives in Guatemala, decided to run his first Rock 'n' Roll race to qualify for a future race in Canada. It didn't hurt that his cousin, Danny Lopez, also lives in the area.
"It is a very nice race and it is very organized. The weather just did not cooperate very well," Mynor Lopez said, through his cousin Danny who served as his translator.
While Lopez, 31, didn't get time he needed to qualify for his race in Canada, he said he will compete again in next year's race.
The Moulton-Lopez battle wasn't the only one to occur in the course's final miles.
Rebecca Bader (2:55:53) and Martha Nelson (2:55:36) remained on each other's heels through the course's final stretch as they neared the finish line. Bader, who finished as runner-up in last year's race, held a slim lead as she sprinted toward the inflatable arch near course's end. And like last year, she also saw her lead dwindle in the race's final moments.
When asked if she plans to give it another try next year, Bader, who lives in Syracuse, N.Y., laughed.
"I thought this time would be the time, but it happens in racing. I came in second place last year, too. You just never know," Bader, 37, said.
This year's Rock 'n' Roll marathon, half marathon and 5k drew more than 25,000 entrants from around the world. Early morning rain and 40-degree temperatures greeted participants upon arrival and remained throughout the duration of the race.  Event staff provided runners with ponchos, but they offered little protection from the elements.
Participants in the half marathon didn't have to endure the weather's wrath for as long.
American University's Carlos Jamieson (1:07:43) edged Andrew Brodeur (1:08:50) to finish first among men's runners in the half, and mere seconds separated Hirut Beyene Guangul (1:15:54) from Rachel Schneider (1:16:24).
Saturday's half marathon was a first for Brodeur, who is a fixture at local races.
"I really didn't know how to pace myself for the first part of it," Brodeur, 24, said. "But at about five or six miles I had [third-place half finisher] Kevin Hoyt (1:08:54) around and he had a real good idea of what his pace should be. I just kind of tried to stick with him the whole rest of the race. Probably at the last 200 meters we started sprinting… we actually thought the blue blowup [arch] was the finish, but it wasn't. We had an extra 150 meters after that."
Marcello Simoes, 25, made the five-hour drive from his home in Fairfield, Conn., to Washington, D.C., to run in his first Rock 'n' Roll half.
"I heard about it through the Boston Marathon so I decided to run it with my girlfriend," he said. "We got into town yesterday and we're heading back up tomorrow. "The weather is terrible. It was very cold, but I think we're going to do it again."
Despite the weather, a multitude of fans still traveled to Southeast D.C. to cheer on marathoners.
Potomac Runners and D.C. Triathlon Club member Becky Hirselj (2:08:06) has participated in the yearly event since it was called the Suntrust National and Half. Hirselj said the amount of fan support was impressive.
"I would have guessed that everyone would have stayed home," Hirselj, 41, who ran the half, said.  "No pun intended, but it didn't seem to dampen anyone's spirits. There were a lot of people out cheering in costumes. It was great. I would have had a hard time getting out of bed. I was pleasantly surprised."
Saturday's marathon marked the 100th for Fairfax, Va., resident Joe Harris (2:27:00). Former Congressman Jim Ryun (R-Kan.), who won a silver medal at the 1968 Mexico City Olympic Games in the mile, presented Harris with a plaque to commemorate the milestone.
Harris, a Vietnam veteran, said his inspiration to run long-distance races came from an unlikely source.
"In November of 2004 I got a phone call from my company commander in Vietnam who I hadn't spoken to in about 30 years. He found my name and he gave me call and said 'there's a half marathon out here in Arizona in January. Let's run it together,'" Harris, 65, said. "I did, and it was a Rock 'n' Roll half marathon. It was my first ever half."
Harris has run 85 half marathons and 15 full marathons. He's even convinced others to join him.
"I have a special group of friends and we call ourselves the Rock 'n' Roll gypsies. We travel all over the country and we see each other at different events," he said. They're just the greatest group of people in the world and they've stayed with me, they've run with me and they've pushed me on when I've gotten tired. Just having them with me gives me so much motivation. And that's what running is really all about–being with friends."
Harris doesn't plan to slow down now that he's reached the century mark. In fact, he and the Rock 'n' Roll gypsies will soon head to East Texas.  "I have Rock 'n' Roll Dallas next week, and then San Francisco. This year I have at least 12," he said.
Recent Stories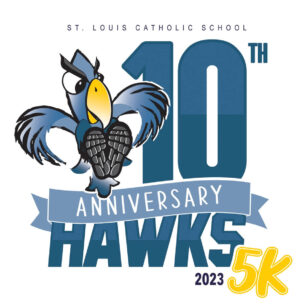 2023 will be the 10 year anniversary of the St. Louis Hawks 5K and Fun Run for Health & Wellness. The USATF certified course runs through the historic Hollin Hills neighborhood in Alexandria, VA.
The Hawks 5K goal, in conjunction