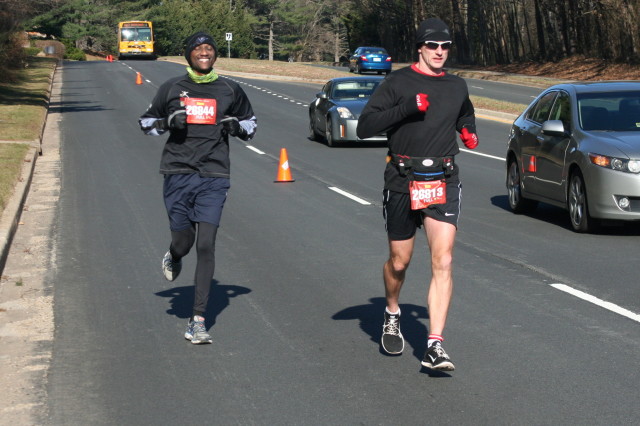 As important as discipline and determination can be when training for distance running, the trait that was most valuable to a lot of racers at Runners Marathon of Reston was adaptability.
[button-red url="http://www.amazingracetiming.com/events/2015/runners-marathon-of-reston" target="_self" position="left"] Results [/button-red]Chris Compson adapted when, after 24 miles of just trying to improve on his personal best time, he found himself in a position to win the race, after his best finish to date being ninth place at the Toronto Marathon. He was on spring break from his job teaching English and coaching track at Pittsford-Mendon High School near Rochester, N.Y. and his 2:50:35 finishing time was agonizingly close to a PR.
"I was just training to maintain my pace," he said of the move into the lead. "In my quality of runner, I'm not making the big moves like Olympians, not making any surges."
But there he was, able to carry his 18-month daughter across the finish line, at which point she claimed his medal, because after all, she finished in front of him.
Adaptations helped out other runners, too, when 21 marathoners saw their plans change twice when their original race, Greenbelt, Md.'s George Washington's Birthday Marathon, was postponed and then cancelled in February because of cold weather and then heavy snow. The Reston Runners welcomed those racers onto the course as a kind of  independent subsidiary of the club's marquee event. The man Compson passed, James Downey, was one such race refugee, who went on to win the Washington's Birthday Marathon (in exile) in 2:54:14.
The situation was becoming familiar to Annapolis' Mitch Keiler.
"Picture somebody carefully paintbrushing their marathon training, step-by-step, heading into an April target race," he said. "All of a sudden, your races are all cancelled, and when they reschedule them, they're all back-to-back."
He was left with the rescheduled Seneca Creek Trail 50k in Maryland (originally earlier in March) seven days before the rescheduled GW's Birthday Marathon/Runners Marathon, which was the same day as the B&A Trail Marathon in Annapolis, which he was also planning to race. He did the 50k and saw the hilly Reston course as an improvement. He still volunteered for the B&A packet pickup, though he couldn't race.
He's now off to the Athens Marathon, in Ohio, which itself has seen course changes due to construction and river flooding in the years Keiler, an Ohio University alumnus, has raced near his alma mater.
"I got time on my feet and tried out at different race," he said. "It would have been easier to roll out of bed and drive 20 minutes to the B&A starting line, but I had a good time."
Emma Johnston, from Alexandria, was another GW refugee, and she ended up being the first woman across the finish line in  3:24:58, ahead of Runners Marathon winner Kimberli O'Connell.
Johnston tired to race the rescheduled GW Marathon, along with four other runners, by her count, but the race was cancelled at 17 miles when heavy snow and wind picked up.
Though Reston's 30 degrees was warmer than GW's weather, Johnston, like many runners, decked out in all black, in hopes of capturing as many rays of sun to help her warm up, though the weather was a marked improvement from 2014's rain, sleet, hail and snow. A chest cold scuttled Johnston's plans to chase a 2:55 finishing time, but she felt fortunate to keep her lead up.
She ran most of the race alone, but she was ready for that, having trained alone. The volunteers, she said, helped keep her on track, and she remarked that given the size of the race, she was surprised how many course marshals she came across for roughly 155 marathoners and nearly 300 half marathoners.
For Reston champion O'Connell, from Frederick, her entry was predicated on trying other races besides Marine Corps and Baltimore. Like Johnston, she's a solitary runner, hitting a lot of 4 a.m. headlamp training runs. Here, a line of traffic cones gave her more of a buffer from cars than she typically enjoys during training runs.
"I wanted to see what I was capable of, how strong I could be," she said. "This was a good test. There are some hills here, but I have a great sense of accomplishment."
Ben Adams, of Arlington, ran the race to get some time on his legs in preparation for his native Pittsburgh Marathon, where he hopes to run under 3:25. He's been putting in some hard training pushing his son, decked out in a tiny track suit, in a jogging stroller, but worries the W&OD might not be his best choice for training.
"When I race hills these days, they get me," he said. "I think I'm getting weak not running them enough."
Recent Stories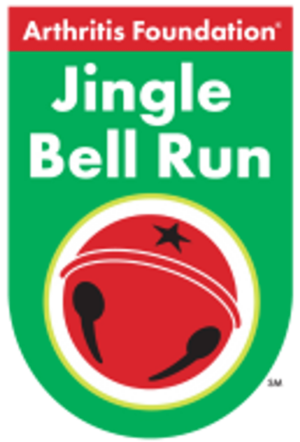 Be part of the original festive race for charity and signature Arthritis Foundation holiday event! Wear your favorite holiday attire and together, we'll jingle all the way to a cure! Register as an individual or bring a team of friends,