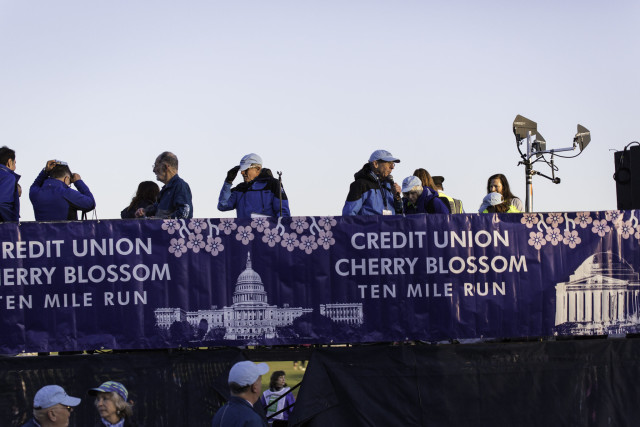 A morning traffic accident and resulting crime scene near the Kutz Bridge forced the Cherry Blossom Ten Mile Run to cut roughly .61 miles from the course.
U.S. Park Police Sgt. Lelani Woods said the accident happened at 5:52 a.m., when a man on a motorcycle heading east on Independence Avenue struck a woman who was crossing the road near the bridge, away from a crosswalk. Woods said that portion of Independence Avenue, along with others in the area, were already closed in preparation for the race. The pedestrian, an "older woman" was transported to George Washington University Hospital, where she died  April 21. Charges against the driver are pending.
Less than 90 minutes after the accident, the elite women's race started on time, followed by the rest of the race field.
Race Director Phil Stewart said that once the crew in the race's unified command heard about the accident, it was apparent that rerouting the course down West Basin Drive, past the Martin Luther King Jr. Memorial, back onto Ohio Drive and over Inlet Bridge, was the best contingency to keep the race going.
The altered distance was announced before the elite women's advanced start.
"If the accident had to happen, it happened in a place where it was relatively easy to adjust," he said. "There could have been places where it had happened and it would have been more difficult.
We knew it would be a little short, but it would enable to preserve 9.5 miles."
Runners' splits could be trusted up until the four mile mark and beyond the six mile mark. The redirection eliminated the lap around the Tidal Basin, past the Jefferson Memorial.
"Based on times runners had hit previously, we figure it was about a half a mile," Stewart said. "The times are the times, but we'll project their times to give people a sense of what they would have run had they finished 10 miles."
An added wrinkle for organizers was managing the departure of the final waves of runners, versus the arrival of the first female finishers. That time, Stewart said was typically nine minutes, so the expected loss of less than three minutes would not be onerous, but it was enough to try to create some space for runners to finish.
"There was a lot of pent-up anticipation for Spring, so people had invested a lot in the event," Stewart said.
Recent Stories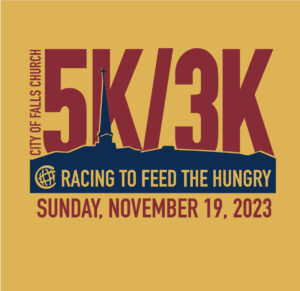 The out and back Falls Church City 5K/3K course is mostly flat on the W&OD Trail starting and finishing at 103 Columbia Street. Overall male and female winners earn free shoes and medals are awarded to all categories. Great family