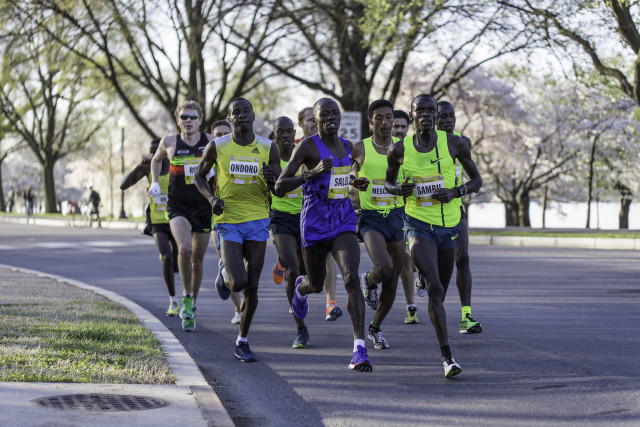 ---
Editor's note: A version of this story published Sunday night indicated the course had been remeasured at 9.54 miles and bonuses would be paid. As of Monday morning, Race Director Phil Stewart said the course would be remeasured again and the plan to pay bonuses based on that measurement was off.
---
We still don't have a course measurement for the Cherry Blossom Ten Mile Run after a morning traffic accident shortened the course by roughly half a mile, but we know who won.
Kenyans once again swept the individual titles, with Stephen Sambu repeating his 2014 title and  Mary Wacera edging countrywoman Cynthia Limo.
American Jacob Riley made a splash in second place, and when the course was intially measured at 9.54 miles, his 43:28  time extrapolated to 10 miles indicated he'd have run around 45:34, which would have broken the American Record, set in 1983 by Greg Meyer in 46:13. Early Monday morning, race officials said the measurement would have to be taken again, and an initial plan to pay performance bonuses was scrapped.
[button-red url="http://trackshackresults.com/cherryblossom/2015/" target="_self" position="left"] Results [/button-red]"Before the race, there was talk about going after the American Record, the conditions were right for it," Riley said. "Once we found out the course wasn't going to be 10 miles, it took a lot of pressure off because we weren't worrying about the watch, it was all about competition."
Though he was one of four runners Sambu shed with two miles to go, heading north from Hains Point, Riley kept his wits about him to nab the runner-up spot.
"We watched videos from previous races last night at dinner, and I noticed that (Daniel) Salel liked to make a move the last few years at 400 meters to go," Riley said. "I knew I had to get on my horse if I wanted to hold him off."
So Riley moved with 500 to go, catching Salel, and Elisa Barno, by surprise and finishing second, eight seconds behind Sambu.
"Ten miles isn't a distance I run much, so running a little less wasn't much of a problem for me," Riley said.
In defending his title, Sambu, a Kenyan who ran for the University of Arizona and lives in Tucson, ran 43:20 for the shortened course, compared to 45:29 last year, when he nipped Salel at the line.
"I love this course, it's flat and very fast," Sambu said. "I've run this three times. I knew that change was coming (in miles five and six, where the course was altered), so I know not to think about those miles. Once I got to seven I was feeling very good."
Other Americans in the field included U.S. marathon champion Jared Ward in 10th (44:20), Luke Puskedra in 12th (45:25) and Arlington's Chris Kwiatkowski in 13th, in 45:43.
"I just wanted to get in there and hang as long as I could," Kwiatkowski said.
The women's race had all the drama of last year's race, with Wacera and Limo finishing in 48:35.
"I didn't have a plan, so nothing changed," Wachera said. "It didn't me too much. I made my move, maybe, in the last 800."
Stafford County, Va. resident Serena Burla was the first American finisher in sixth place, running 50:18.
"Everyone had been asking me when I was going to run Cherry Blossom," she said. "I drive these streets every day, and it finally worked out in my schedule to race here. It's a local fixture with a worldly feel."
She went out early in the lead pack, then packed off in the second and third miles.
"I wanted to make sure I had something left for the finish," she said. "I had to focus on being the best me I could be."
Despite earning her living as a professional runner for Mizuno, winning U.S. half marathon championships in 2014, she said she drew inspiration from "the masses."
"The people who are running before dawn or after they get home, when I'm already in my pajamas," she said.
"It's a great tribute to the sport and the city."
Mizuno teammate and first immediate D.C. area finisher Lindsay Flanagan finished 10th overall in 51:15.
"If I had run this again, I would have committed to racing earlier," she said. "I hesitated when I thought about breaking away."
The Silver Spring resident raced her first local competition after a tenure in the area that saw her run the Olympic Marathon A standard at the Houston Marathon this year.
"I wish I had that extra half mile," she added. "I like long stuff, so I think I could have done something with that extra room on the course."
Falls Church's Susanna Sullivan, fourth last year in the U.S. 10 Mile Championships when they were held here, was 11th in 51:44.