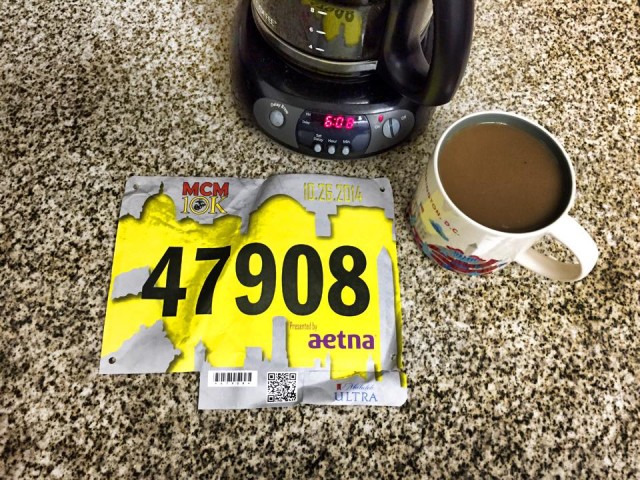 Cannon-Marie Green called her shot with confidence that would make Babe Ruth blush.
Living in California in 2014, she was determined to get into the Cherry Blossom Ten Mile Run. She knew volunteering was her best chance to ensure she got in the next year, so she signed up to help out. After flying to Lexington, Ky. and picking up her car (long story), she drove it to Washington, D.C. At the end of her road trip home, she walked into her parents' house and announced she was moving to D.C.
That move was unthinkable years before, when she was a smoker whose anxiety was, at times, crippling.
Hooked
Green took her first drag from a cigarette as a high school senior while visiting a former exchange student in Paris.
"I asked her to teach me how to inhale," she said. "I turned into that after-school special cautionary tale, where you have one cigarette and you're hooked."
Cigarettes became a bandage over her fundamental inability to manage her stress. They also provided her a refuge.
"People didn't want to hang around with a smoker," she said. "So when I would have a cigarette, I'd be off on my own and alone with my thoughts," which she liked.
She first tried to quit as a college senior, 15 years ago.
"It was part of a big effort for me to do everything right," she said. "I was going to eat healthy, take care of myself, drink more water. It was a lot to change at once."
Despite taking an optimistic attitude into it, the chemical dependency was too much, and it was the first of several failed attempts.
"When you're trying to break a habit involving a substance, you have to face how ugly it can get," she said. "I didn't, for a long time."
Law school and a subsequent career practicing law didn't help matters. Stress was part of her daily routine.
"She was feeling hopeless, in her career and marriage," said Caroline Ramierez, one of her closest friends. "She was going through the motions, but a lot of her life seemed out of control."
In 2011, then living in Kentucky, she was ready to kick her habit, and this time she made a comprehensive effort. A month's preparation involved thorough analysis of her mental state, tracing back the feelings that accompanied her reach for her cigarettes.
"It wasn't like when I eat because I'm hungry; there was a reason I was choosing to light something on fire and put it in my mouth," she said.
She tried "the gum," but soon discovered that the ultra-light cigarettes she smoked had far less nicotine than she was chewing.
"That was nice, at least I wasn't coming down from as high of a tolerance to nicotine."
This time, she was entirely focused on the smoking cessation. The diet, exercise, all of that was secondary and would wait. But she was lucky and found those variables took care of themselves. Within a month of her last smoke, she was in the gym, walking on the treadmill. Five months after that, she decided to start running.
It was going to be gradual, but significant. The first day, she ran a quarter mile, then the next day, a half mile. Three-quarters on the third day. Then she ran an entire mile. It was the first non-stop mile of her life.
"Once I finished that mile, I was hooked," she said. "I never expected I'd like running, but I was getting so bored on the treadmill."
Her cousin, a national-class triathlete, was one of her biggest supporters, both emotionally and technically.
"She encouraged me very early to do races," she said. "Once a month, try different kinds of races, different conditions."
And she did, but that, too, like her drive from Kentucky to California, by way of D.C., was complicated.
The other thing
Overwhelming anxiety had accompanied her cigarette addiction. Leaving her house to go to the grocery store a challenge. Her life was out of her control. She constantly assessed her environment and ways it could harm her, a condition known as hypervigilance.
"I had doctors who were telling me, 'this is how it's going to be for the rest of your life, kid,'" she said.
And it could have been. Hypervigilance is considered a component of post-traumatic stress disorder, which gets a lot of attention in the context of veterans, but less so in more mundane circumstances, where it can go undiagnosed. Green has not been around any improvised explosive devices or gunshots, but trauma comes in many forms and exists on a spectrum, said Kristal Wortham, executive director of the D.C. chapter of the National Alliance on Mental Illness.
She described her own experience with PTSD, when tripping on a sidewalk left her with a torn ligament in her leg.
"Now when I'm walking down the street, I'm looking two, three, four steps ahead to make sure the sidewalk is level," Wortham said. "It was a trauma, not the kind people normally associate with that word, but it was traumatic to me.
"Our society has almost pigeonholed these conditions and our perspective of what PTSD can mean."
Green identifies the underlying trauma as her consistent anxiety, being unable to cope with demands placed on her, many times demands she welcomed because she never said no.
"I would run myself ragged and just accept it," she said. "I was anxious as a teenager and in college. When I was an adult, the stakes were higher and I had a tendency to hide from my problems. When I'd look out, I saw they had just gotten worse."
Her key, she said, has been to be willing to say no to things, to keep her plate clean, something Wortham said is fundamental to managing a mental illness.
"Self awareness is priceless," she said. "If you don't understand your triggers, you won't be able to enjoy the longevity of recovery."
Green anchors herself with her planner, which she uses to budget her time and her peace of mind.
"I like the tactile sensation of having something I can touch," she said. "It's more real than the calendar on my phone."
But running helps, too
With hypervigilance, concerns over how much a person can control rule the day, so going outside into an uncertain world is a terrifying gamble.
"It interfered with my quality of life," she said. "Leaving my house to go grocery shopping was frankly, an ordeal."
But when it came to running outside, where anything could happen, the pros far outweighed the cons for Green.
"Running kicked out the walls and reminded me that I am fearless," she said. "People who aren't runners can feel intimidated by what we do, but it's such a warm, welcoming community. I wouldn't enjoy this nearly as much without the community."
She rolls out of bed to run to the Lincoln Memorial from her home in D.C. She keeps focusing her running energy on enjoying the sport, and places no expectations on it.
"I never want to get too serious about it," she said.
That makes a lot of sense to Wortham.
"Mental illness often results from a chemical imbalance, and physical activity is a major factor in producing those chemicals," she said. "And it helps to find something you love, something you'd move around other parts of your life to do."
It fits into Green's philosophy of doing only what she cares about now, putting her effort into 50 things, rather than a lesser effort into 100. And she cares more about running than being afraid.
"I wish I could go back and change things, but I worked with amazing people along the way," she said. "And I realized that we don't talk, as a society, enough about hypervigilance."
Wortham concurs.
"People experience trauma all the time, they may not identify it that way, but things that could be underlying problems that develop years later," she said. "An experience during childhood, something that happens when you're asleep and don't even notice, they could all contribute."
It wasn't all easy after she started running. She separated from her husband — amicably — moved and found a new job. But she was coping in a way she hadn't before.
"After being unable to change so many things, running gave her a way to literally move forward and take her life back," Ramirez said. "It's empowered her in a way nothing else has in other areas of her life, too."
The morning of last year's Navy-Air Force Half Marathon was the anniversary of Green's separation. And she was doing great.
"My cousin told me to make a list of one person to think about each mile," she said. "I still have that sweaty piece of paper."
She was about to run in a crowd of thousands of strangers. As she fed off them, and later, as her friends fed her pancakes, she felt like it was the best day of her life. She proved that she hadn't just come from Kentucky and California to come to D.C. She had come even further.
Likewise, when she ran Cherry Blossom this year, a dream after childhood visits to the Tidal Basin when her Navy dad was stationed here a smile spread across her face.
"My cousin had me run in all kinds of conditions, so I was ready for anything," she said. "When I finally got here, the sun was in my face, and I just ran into it."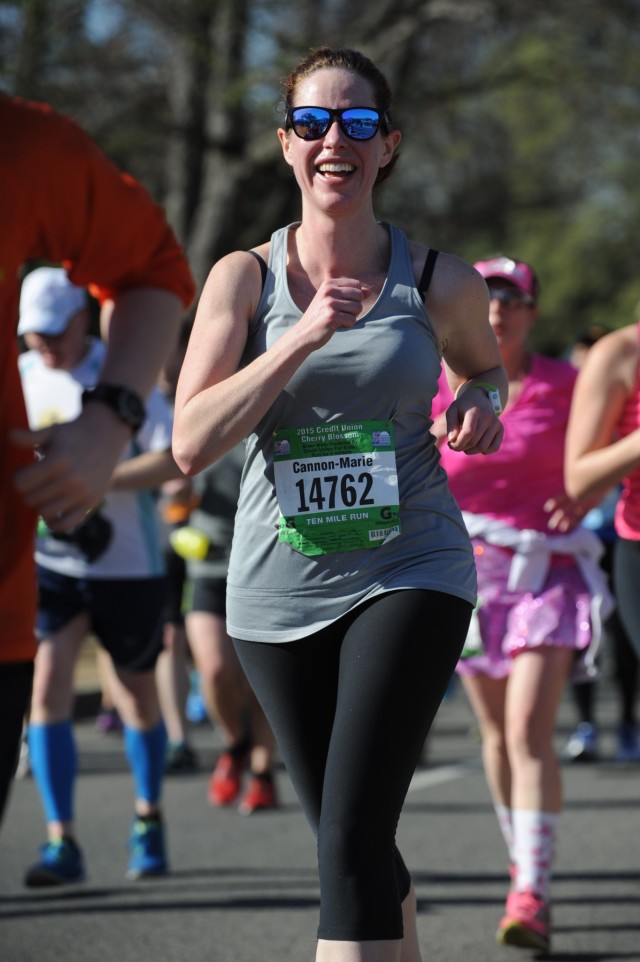 Recent Stories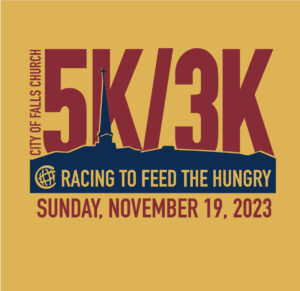 The out and back Falls Church City 5K/3K course is mostly flat on the W&OD Trail starting and finishing at 103 Columbia Street. Overall male and female winners earn free shoes and medals are awarded to all categories. Great family