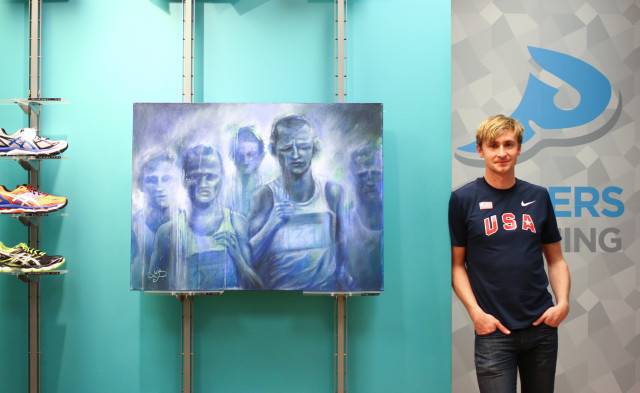 A college textile design class marked the beginning of the end of Landon Peacock's competitive racing career.
Sure, he finished his collegiate career at the University of Wisconsin — Madison as a two-time All American and a Big 10 Conference Champion in cross country. But he'd found his next passion in that introductory art class.
Peacock didn't explore the art world in high school. He was winning a Michigan state title in cross country, setting the Division 2 record for the 3200 meter run at the state track meet, and finishing fifth at the Foot Locker Cross Country National Championships.
"I've always liked anything that involved self-expression," he said, in a reference to his art.
The sentiment could have also applied to his running, but now instead of sweat and laces, Peacock's translation of the world happens in brush strokes and swipes of a palette knife.
Only recently has he discovered that his two worlds can merge with beautiful results. Running is his latest artistic muse.
"That experience is so familiar to me," he says. "It doesn't take a lot of effort to put myself in a certain mood when I'm painting. Those intangible things you're attempting to represent on canvas, expressing through color or surface."
Peacock moved to the area a few years ago to work at his uncle's Alexandria studio. The experience granted him the space to explore his world in oil paints instead of rubber soles.
He's moved into DC now, and the lack of a formal studio has unexpectedly provided a better way to work. It forced him to switch to acrylic paints, which don't stay as wet and unworkable as oil paints.
"I can layer so fast, I can lose myself in the painting a little bit more. When you spend that time with a painting and that constant conversation, you get lost in it more and find something in the paint."
However, regret is not something mixed into those coatings of color.
"It's not about reliving the glory days," Peacock said. "It's about communicating a feeling with the medium of paint. The running is important because it's so alive in my mind and because running is so emotional. I'm completely content."
Check out Landon's paintings in Pacers stores around the area or at www.landonpeacock.com.
Recent Stories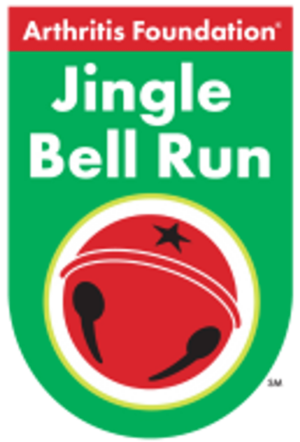 Be part of the original festive race for charity and signature Arthritis Foundation holiday event! Wear your favorite holiday attire and together, we'll jingle all the way to a cure! Register as an individual or bring a team of friends,