In the months leading up to 2015's Fall marathons, RunWashington will follow several local runners as they prepare for their races. We'll chart their progress as they train their legs, lungs and minds for the challenges they'll race on race day. Each week, we'll catch up with our runners and see how they're doing. This week, say hello to Joe Divel of Rockville, Md., who is taking his second shot at the Marine Corps Marathon.
---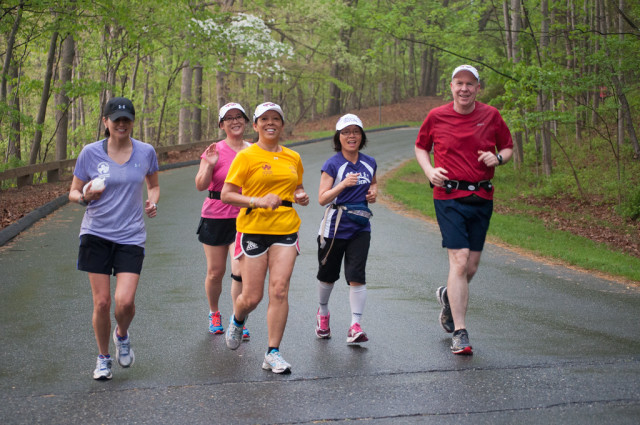 If enthusiasm and steadfastness could complete a marathon, Joe Divel would probably already have a few under his belt already.  However, for most people, training is an important component for preparing to run 26.2 miles.  Joe Divel is making his second attempt to complete a marathon, and for this fall's Marine Corps Marathon, he is changing his training completely.
Divel was an intermittent runner for years, but when he turned 50, his mind turned to running a marathon.  The D.C.-area native and married father of two wanted to run one during this milestone year and turned to an online program for help, but found training alone to be grueling and troublesome.  The monotony of long, solo runs was unengaging and, without any fellow training companions to inspire him, he stopped training and never did the race.
He started running recreationally in college, when he took a running class at the University of Maryland with a 5k as a final.  While he exercised over the years when he could, Joe spent more of his weekends coaching his daughters in AAU basketball than attempting to grind out twenty milers.  Now, with both girls successfully launched from the nest, one to Texas and the other to California, Joe has more time on his hands and decided to tackle the marathon.
Now 55, the home remodeling agency manager knew that if he was going to run this marathon he wasn't going to do it alone. He signed on with the Montgomery County Road Runners Club's  First Time Marathoners group and has jumped in with both sneakers. He speaks enthusiastically about the support it provides, "having coaches train you in person sets you up for success," he said. "Doing it by yourself is harder.  There's no way I would have been able to do this on my own."
His coach, Conroy Zien, said he can tell Divel is making a strong and valuable foundation. "Our program has someone like him in mind when we start," he said, adding that getting runners to buy in to running all their long runs slow is one of the biggest challenges, but Divel is the type that listens and takes in all the information.
When nutrition or conditioning coaches come in to talk to the group, Zien looks around to see how the runners receive them, and Divel is always one who "attentively listens to everything and asks engaging questions."  It's apparent when talking to Joe that he is taking in every nugget of marathon knowledge that comes his way and storing up to use it in the future.
Divel has so much faith in the program he doesn't foresee any challenges. "I'm conscientious about not getting injures, and the coaches are so knowledgeable I'm not as worried about getting injured as I was doing it on my own."  After listening to talks at their long runs, he's made adaptions like changing his stretching routine and his pre-run meal timing.
"My goal for Joe would be to just get him to the start line healthy," Zien said of Divel, "because I know if he gets there he'll finish."
First Time Marathoners follows a slow and methodical, mileage approach to training runs, with the idea that people build up gradually, with conservatively paced runs, to get where they're going.  "We build up mileage slowly, between long runs and weekly runs," Zien said. " We start out slow, stop and hydrate, try different nutrition."
When Divel first saw the schedule of long runs and weekly runs, he didn't believe it was possible.  If he follows the schedule, he'll log a total of 800 miles by the time they make it to the marathon – and he said it was skeptical that it could be done.  Now, he not only believes he'll complete it but said, "next year I'll be with this group and we'll do another marathon."
Divel said an added perk of joining the club has been discovering his own stomping grounds in a different light.  He said he's seen parts of Maryland and D.C. he would have never found on his own, and that "going on trails I've never been on before is like a little adventure."
Divel's pace group leader at FTM, Glenda Garcia, said that Joe is so attentive, "I have to be extra careful what I say because he's hanging on every word," knowing that he will put into practice whatever he's able to learn from the group emails and from the training sessions.
Garcia is confident in Divel's success in the marathon on this attempt, saying "I have no doubt that he'll finish the program successfully – he's highly motivated, very, very committed, consistent, and setting up to have a great first marathon."
She hones in on his consistency as another trait that stands out about him.  He shows up for all the group runs, weekend and midweek, and puts in all the miles in between, something the coaches know not everyone is able to do, but makes a big difference.
Diven is one of the few men in the 12:00 pace group and Garcia said some men in that position would roll their eyes at what she describes as a lot of "women talking about women problems" but Divel is "great to have in the group – he listens and gets along with everybody.  He can be very chatty, and is easy to talk to."
The group just started their training runs in May (the FTM 6 moth training program is longer than some, focusing on a long slow build to the marathon), and the group is still gelling, "each run we learn a little more about each other," Garcia said, but Divel is definitely a positive, motivated participant within the group.
She knows he's looking forward to a 14-mile run that the group has ahead of them, since that will be the furthest he's ever run.  After a recent 11-mile run, he started to get excited that he had passed his first "never before" distance milestone, until he remembered that his previously half marathon exceeded that by 2.1 miles.  Garcia is looking forward to seeing Joe pass that and the ensuing milestones on the way to his goal.
Recent Stories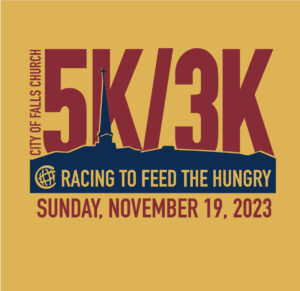 The out and back Falls Church City 5K/3K course is mostly flat on the W&OD Trail starting and finishing at 103 Columbia Street. Overall male and female winners earn free shoes and medals are awarded to all categories. Great family