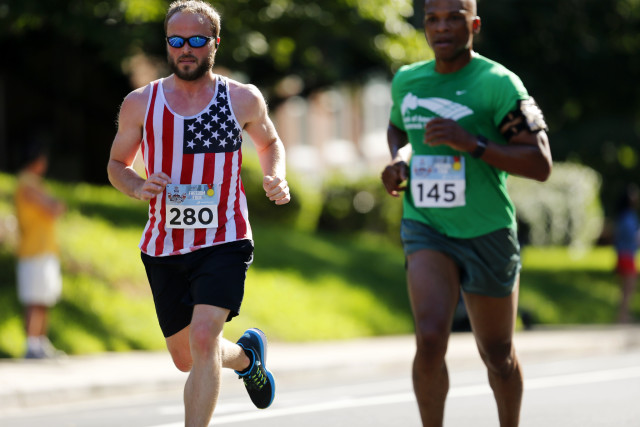 When it comes to the Freedom Four, there's only one rule: you must respect the hill. You have two miles to contemplate it on the way down, and a moment of reckoning when you turn back to face it. Did you burn yourself out on the downhill? Were you so cautious that you can't make up the difference in the climb? The hill can make or break a race.
Now in its second year, the Freedom Four takes the out-and-back, down-and-up course of the Four Courts Four Miler and drops it in the middle of summer. Now they've combined a demanding course with unpredictable weather. The race could be unforgiving–this year, the weeks preceding it were unusually hot for June, and severe storms pummeled the region through Saturday. Fortunately, race day dawned clear and mild, with temperatures about 10 degrees cooler than they had been. A breeze blew often enough to be welcome as it provided relief from the baking sun.
Just before 8 a.m., runners gathered at the top of Wilson Boulevard and Courthouse Road, where they peered down the vertiginous drop before them. When the gun went off, they came down like an avalanche, resting their legs on the two-mile flat before an unforgiving climb back to the finish. The men's race was tight to the end, with Julian Meyer, 24, of Peninsula, Ohio, edging out locals Matt Rand, 23, of Alexandria and Mynor Lopez, 31, of Falls Church. All three finished within the 20th minute of the race, and Meyer came within 5 seconds of the course record set last year.
The first woman to finish, Alexandria's Emily Potter, 36, seemed almost in disbelief at her victory, despite finishing in 23:53, a comfortable near-minute ahead of her next competitor, Megan Haberle, 35, of DC.  "I just got back from a week at the beach last night" she says. Like many others, she gives thanks that the weather took an agreeable turn. But she's no stranger to hills, and it becomes apparent why her performance was so strong: "I like hills," she says with a laugh. "I train pushing my double running stroller most of the time, so it felt pretty good to be able to run a hill by myself." Rachel Clattenburg, 31, of DC rounded out the top women's finishers.
In the crowd, runners remained spirited. They gritted their teeth til the finish line, streaming sweat and often looking a little nauseous as they crossed. But by the time they had water and a banana in hand, everyone was smiling again. Many were experienced runners drawn to the unique distance, challenging course, and festive atmosphere. Dani Lager, 28, of Silver Spring, and Hanna Pillion, 26, of DC were two of just a few costumed runners on the course. While most runners opted for red, white, or blue shorts, Lager sported a tank top and shorts covered in American flags and Pillion a Wonder Woman costume. "It's not breathable, no," said Pillion, tugging the synthetic fabric. "It was kind of hot, actually. But running as Wonder Woman, you get a lot of extra people cheering for you, so that helps you run faster." Lager seconds the motivational effects of crowd support, then flips it: "Hopefully, we're inspiring others. People see us and they're like, 'Yeah, I'm gonna keep going!'" Both are training for longer distances in the Fall and were excited to "celebrate America" at the Freedom Four.
10-year-old Madelyn Stokes runs with her father, Marc Stokes, 43, to stay fit for soccer. She finished the race in 32:30, winning the group for girls under 14. Asked how the course was, Maddie stuck out her tongue and panted "Hard!" The Fairfax native had her own approach to conquering the hill that humbled many older runners: "I was looking down the entire way, so I didn't really know what was going on," she admitted.
At the other end of the age groups, John Finney Jr. raised a beer to the cheering crowd as he accepted his own award. The unstoppable 75-year-old runs almost 30 races per year and is training to complete his 26th marathon this fall. He's overjoyed to be part of the running community and an avowed fan of Pacers events like the Freedom Four. "It was a terrific race, well managed, well organized, good water stop," he said. "It got a little bit hot towards the end, and the two hills are character-building." With such a positive attitude, it's no wonder he's still running as much and as fast as he does. He finished in 42:43.
Finney gushes about running, "It's a privilege to be out there. It's wonderful to feel the energy and the excitement of the younger runners, and then when I see the older runners like myself, it's wonderful to be out there with them striving and working and doing the best we can to keep up with the younger generation. […] It really is a blessing and it keeps us young and it keeps us agile and it's really exciting to be a part of these Pacers runs and I'm a huge fan of your magazine." Then Finney introduces his friend Shaun Mistlebauer, 57, of Arlington. "He's going to help me train for a triathlon in August!" Finney grinned.
"We love to run. We wanted to try something new," said Giovanni Harrison, 34, of Clinton, MD. He and Nelson Flores, 28, of Hyattsville ran the race as part of a three-race package they purchased. Both were worn out from the hill but nonetheless spoke excitedly about their upcoming summer races, including the Crystal City Twilighter. Flores laughed, "Hopefully there's no more hills like this!"
In all, over 700 runners from across the region faced the hill with some balance of caution and confidence and came away eager to continue their running seasons. "I will never look at that road the same," Flores said. "I have a whole new respect for Wilson Boulevard."
Recent Stories

Both 5K and 1 mile courses are USATF certified. The 5K course has some moderate hills. The 1 mile course is flat making this a perfect PR course. We are really looking to get a broader participation base.
Funds go